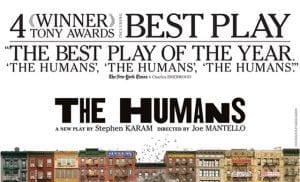 Unlike many family dramas, The Humans is not a story about a dysfunctional family who spend most of their time screaming at each other. No, in fact, the entire Blake clan is most loving, caring and supportive of each other, including the matriarch of their family, Momo, who is battling Alzheimer's. At the heart of this Tony Award-winning play lies life's most basic fears – illness, poverty, and losing your job, or worse, your family.
The setting is Thanksgiving dinner at the New York City apartment of Brigid Blake (Daisy Egan) and her boyfriend, Richard (Luis Vega). Brigid's mother (Pamela Reed) and father Erik (Richard Thomas, known for his portrayal of John-Boy in The Waltons), sister Aimee (Therese Plaehn) and Momo (Lauren Klein) come from Pennsylvania to celebrate the holiday. Each one has problems as well as secrets, which are revealed as the play progresses.
In this 90-minute play with no intermission, The Humans deals with issues of unemployment, career derailments, illness and fear of the future. All the while, horrific sounds emanate from the apartment above as a foreboding sign. Lights go on and off and there's a chill in the air. Is gloom and doom forthcoming?
Winner of four Tony Awards, including Best Play for 2016, Best Play by the New York Drama Critics Award, Drama Desk Awards and a Pulitzer Prize Finalist, The Humans was written by award-winning playwright, Stephen Karam. The entire creative team from the Broadway production are featured, including director Joe Mantello, scene designer David Zinn, lighting designer Justin Townsend, and sound designer Fitz Patton. Mention must be made of the light and sound engineering that take on their own characters.
The Humans is playing at the Cadillac Palace Theatre, 151 West Randolph Street, through February 11, 2018. For tickets and more information, call (800) 775-2000 or visit Broadway In Chicago or The Humans on Broadway.
Featured Image Credit: Julieta Cervantes