Look, Chicago is no stranger to giant food. From deep dish pizza to Italian beef – hell, even chocolate-cake-shakes – super-sized meals are pretty much a daily occurrence 'round these parts.
But if for some ungodly reason your usual enormous meal just ain't cutting it, it just so happens that our city is also home to a few of the most ridiculous, delicious and down-right intimidating food competitions in the country.
So grab your stretchiest pants and your competitive spirit, here are the 9 best eating challenges in Chicago.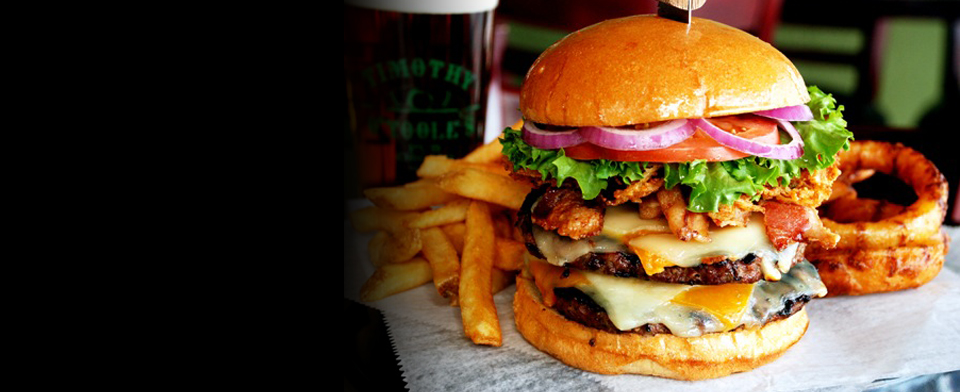 Honestly, anything with the name "Big Timmy's" is almost guaranteed to wreck your stomach. This burger comes with two– yes, TWO – half pound burger patties, cheddar, jack, mozzarella, swiss, bacon, BBQ sauce, lettuce, tomato, red onions, onion straws and a giant side of "Irish Style" fries, which I can only imagine are the cool, European cousin of loaded cheese fries. And as if that wasn't enough for you, the Big Timmy also comes with an optional side of onion rings. I'm already sweating.
Eat it all in one sitting and you get your picture on the Timothy O'Tooles wall of fame, a free t-shirt and a nasty case of heart burn, probably.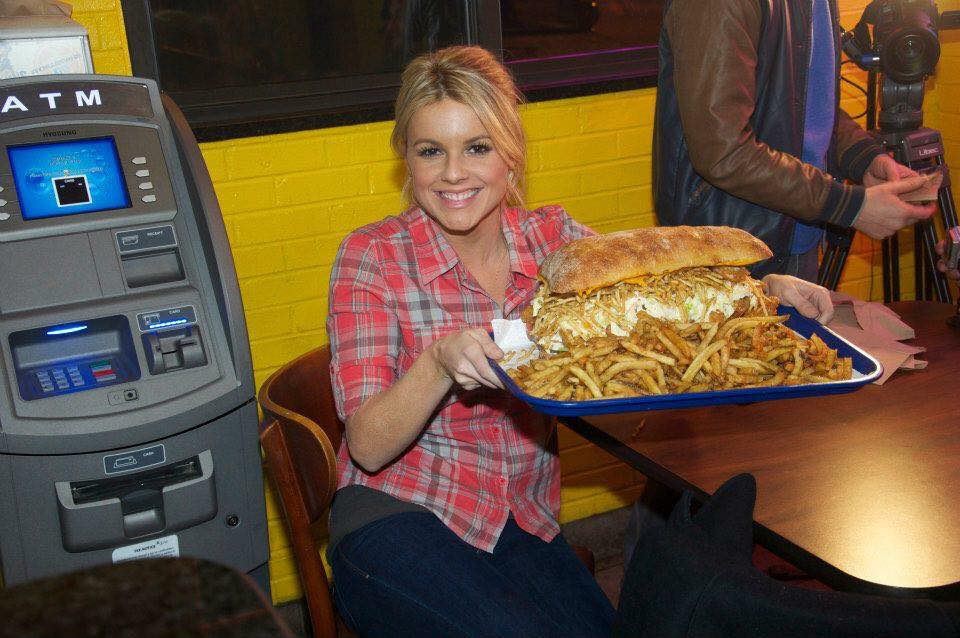 Imagine, if you will, a 7-pound po'boy, piled high with 2-pounds of fried shrimp, topped with lettuce, tomato, coleslaw, cheddar cheese sauce, pickles, special sauce and shoestring fries, served with another, heaping pile of french fries AND a 32oz soft drink. Feeling overwhelmed? Yeah, same.
Now imagine having only 45 minutes to eat it.
If you can somehow manage to complete the Po'Boy Challenge at Fatso's Last Stand – which, like, good luck with that – you'll win yourself a t-shirt, a place on the restaurant's winners plaque, a comped meal and a $50 gift card.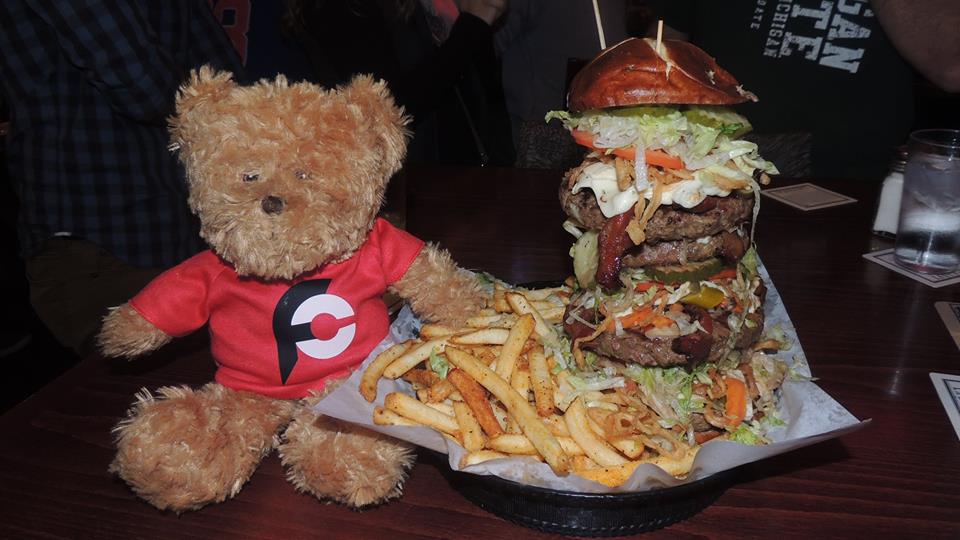 You'd have to be a real glutton for punishment (get it? glutton? lol) to take on The ROCKStar Challenge at Rocks Bar & Grill in Lakeview. This absolute beast of a meal starts with a pretzel roll, 4 angus beef patties, 8 slices of pepper jack cheese, 8 pieces of bacon, giardinera, onion strings, lettuce, tomato and a whoLE POUND OF FRIES. See teddy bear for scale.
To win, you must eat the whole thing in under 30 minutes with no outside help whatsoever. Champions will have their meal paid for, receive a t-shirt and get bragging rights for the rest of time.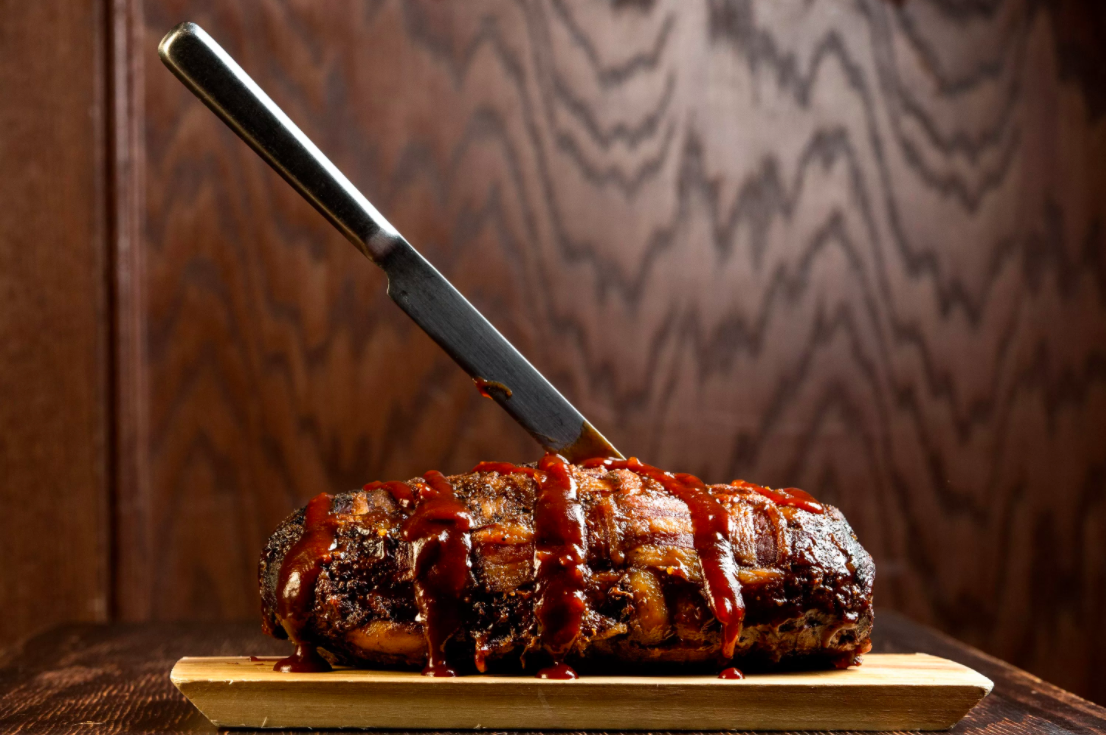 If you have a hankering to bacon, then this is the eating challenge for you. Paddy Long's Bacon Bomb is a 5-pound behemoth comprised of ground sausage, pork and beef, wrapped in mouthwatering brown sugar bacon and cooked in a pig roaster. Each bomb comes with your choice of fries or potato salad and usually serves 6-8 people, easy.
To take up the challenge, you must eat the whole Bacon Bomb, by yourself,  in under 45 minutes. Do so, and not only will you be rewarded with a rad t-shirt, but also with the most horrendous case of the meat sweats anyone has ever seen.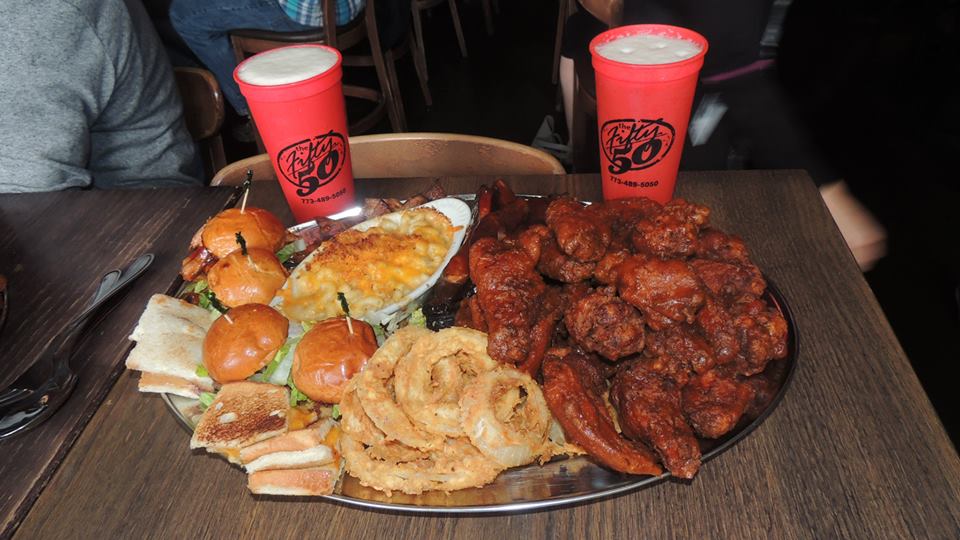 The premise of the Fifty/50 Ultimate Eating Challenge is simple, you just have to have to eat 30 Buffalo wings,  five onion rings, five strips of bacon, one side of mac & cheese, a half rack of ribs, one turkey burger slider, one regular burger slider, one pulled pork slider, one grilled cheese slider, one duck slider, one crab cake slider, one PB&J slider and 50oz of beer in under 50 minutes.
No biggie.
The grand prize for finishing this literal feast of a food challenge is a t-shirt, a comped meal, a place on the Fifty/50 wall of fame and what I'm sure will be one helluva post-lunch nap.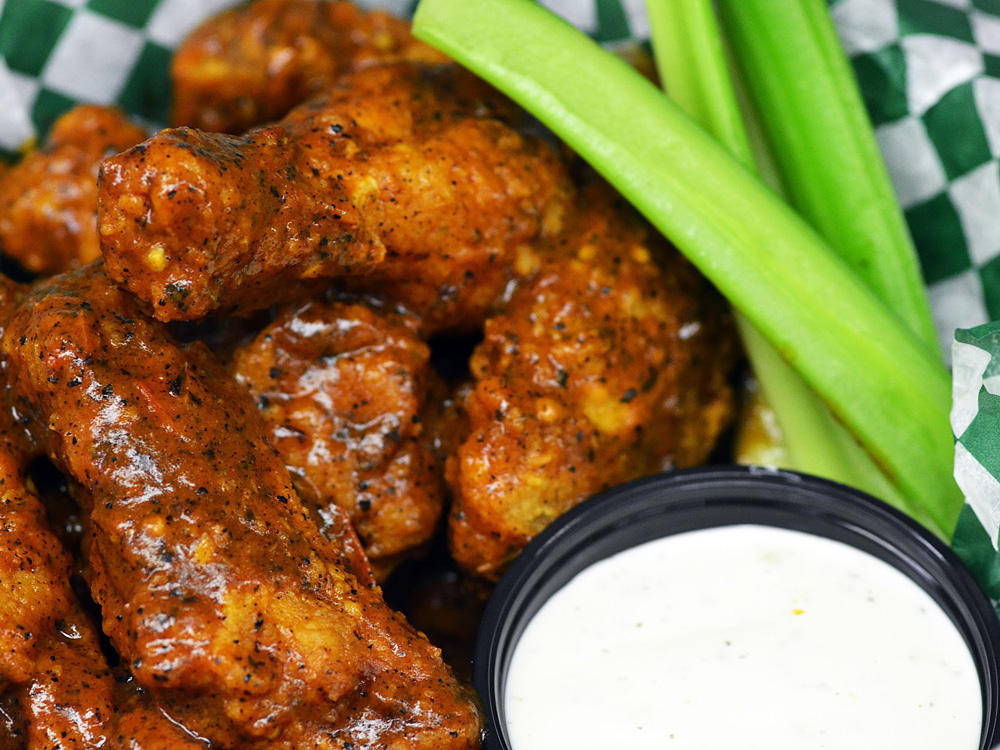 Do you live for spice? Do you crave even the hottest of hot sauce? Jake Melnick's XXX Hot Wing Challenges dares even the bravest of spice-obsessed eaters to try and finish off 8 Trinidad-sauce covered wings in one sitting. Oh, and if don't know, Trinidad sauce uses a scorpion pepper so hot, you have to sign a waiver before you dig in. Yikes.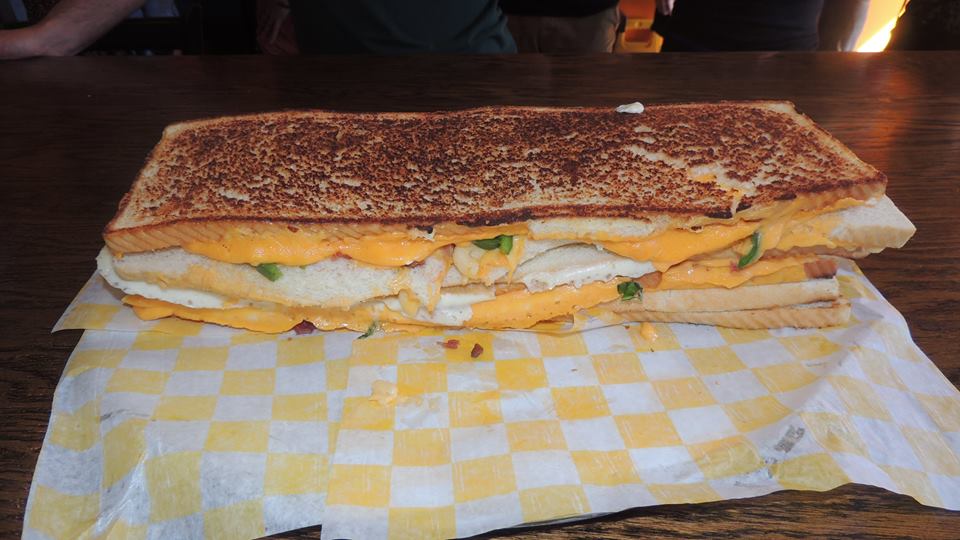 Chicago's very own grilled cheese Mecca, Cheesie's, has not one, but TWO absurd eating challenges for you to take on. The first consists of a four-pound grilled cheese, a full 8" long and comprised of 5 different sandwiches and serves with one-pound of fries. If you finish it all, you'll get a $50 gift card, a sick T-shirt, a 10% off slap bracelet for their rewards program and, of course, unlimited high fives.
The second Cheesie's Challenge ups the ante by featuring an EIGHT POUND version of the aforementioned grilled-cheese-monstrosity. Best this ridiculous sandwich and you'll receive a $100 gift card, a 2 hour complimentary drink package for you and 3 friends, your picture on what is known as "The Wall of Cheese," and, obviously, even more high fives.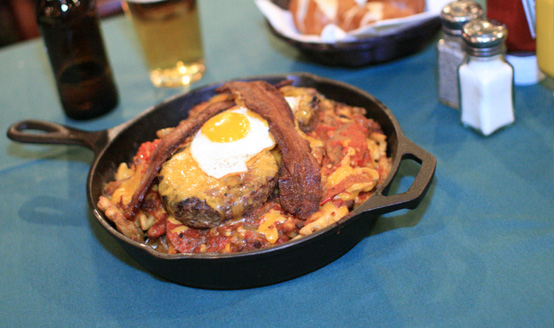 Rudy's Bar & Grill reinvents the classic burger food challenge by serving an enormous burger on top of a bed of hashbrowns, fries, a fried egg and, like, soooo much bacon. Coming to a grand total of 5.5-pounds of food, polish off this skillet in under 30 minutes and you'll win a t-shirt, a free meal and a $100 gift card. Unreal.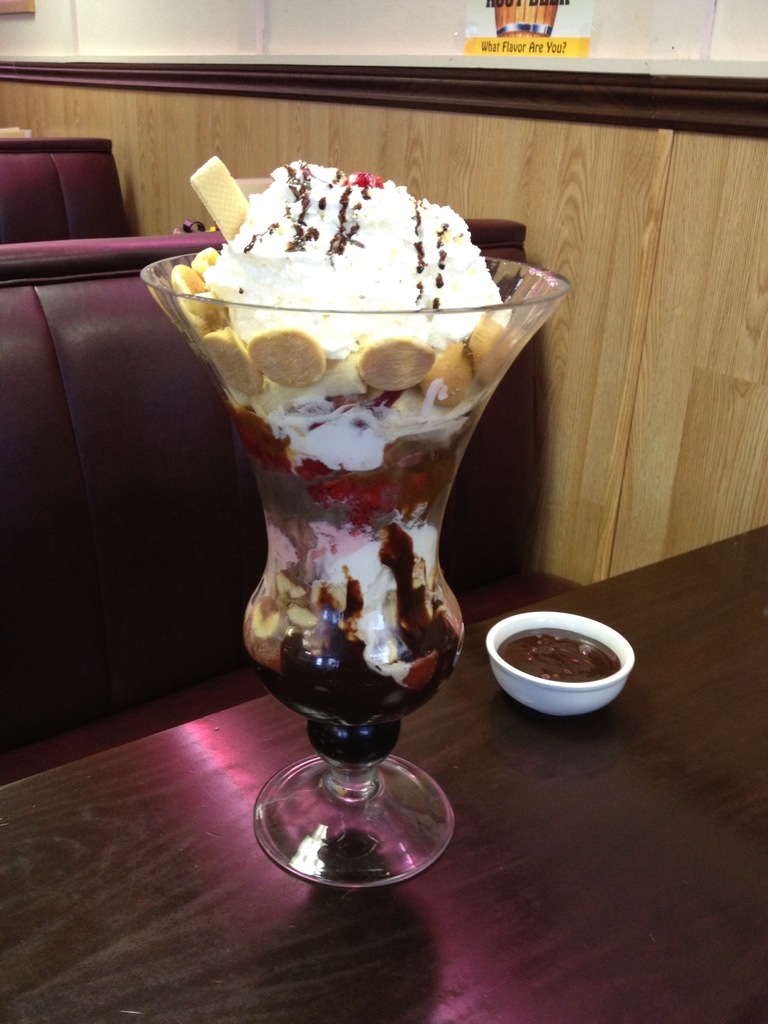 Finish off your tour de giant food with a little lot of ice cream at Lindy's and Gertie's. Known only as "The Beast", this sundae comes with 18 scoops of premium ice cream, 2 whole apples, 6 whole bananas, a bunch of sauces, a couple of brownies, vanilla wafers, whipped cream and, to top it all off, a pile of cherries. Eat the whole thing within the 1-hour time limit and you'll receive a free meal, a t-shirt and your picture on the wall of fame. That is, of course, in addition to your raging brain freeze.