Most Desired Neighborhoods in Chicagoland
Most of us LOVE our neighborhoods, so much so that we become the annoying people who constantly chat about how great they are at family parties, work outings, or on social media.
But where would you live if you could pick any place in Chicagoland?
In a recent survey from brokerage and banking company Charles Schwab (polling 1,002 locals) the top choice was the prosperous suburban haven of Naperville. That's right, Naperville topped the list over River North, Gold Coast, Lincoln Park, and all of the other popular Chicago neighborhoods. Here's the breakdown: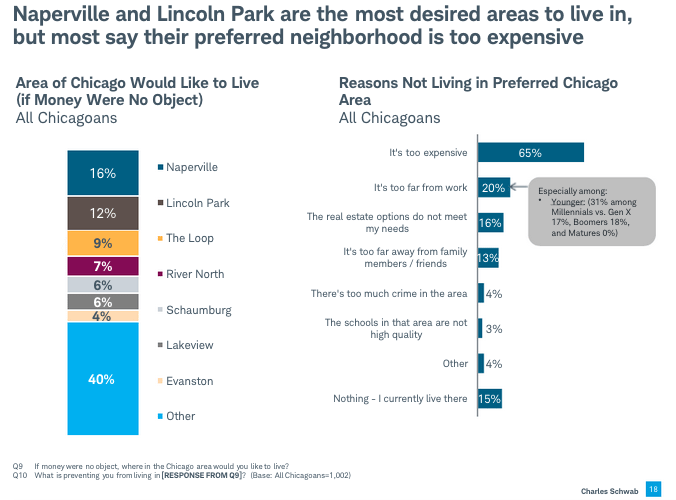 The same group was also polled on their views of Chicago's characteristics, and the difference in what they believed to be local facts vs. outsider perspectives was pretty astounding on some counts. A whopping 85% of respondents viewed Chicago's theaters, operas, museums, and diehard sports fans as local facts, believing that Chicagoans perpetuate these characteristics much more than outsiders too. On the flip side, notions of the city's current economy, booming tech scene, and commitment to clean energy were mostly split down the middle. Take a look for yourself: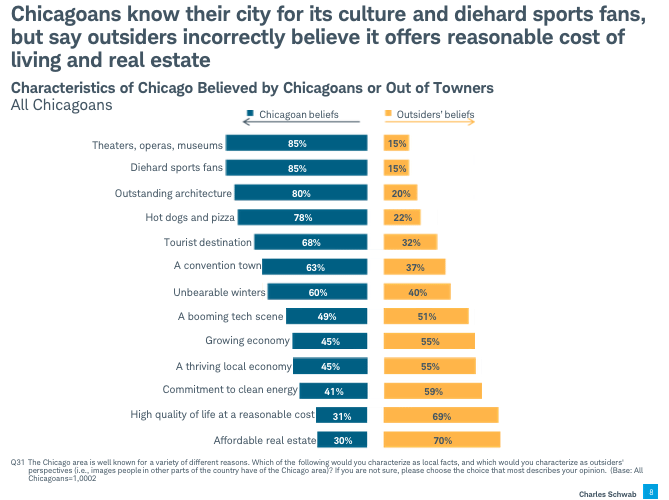 Lastly, respondents were polled on how many years they've lived in Chicago, and an astounding 74% of them have lived in the city their entire lives. Among those who moved here, the average (mean) amount of time they've lived in the city came out to 20.8 years. Considering that 24% of respondents were between 21 to 33 years of age, this number is fairly surprising.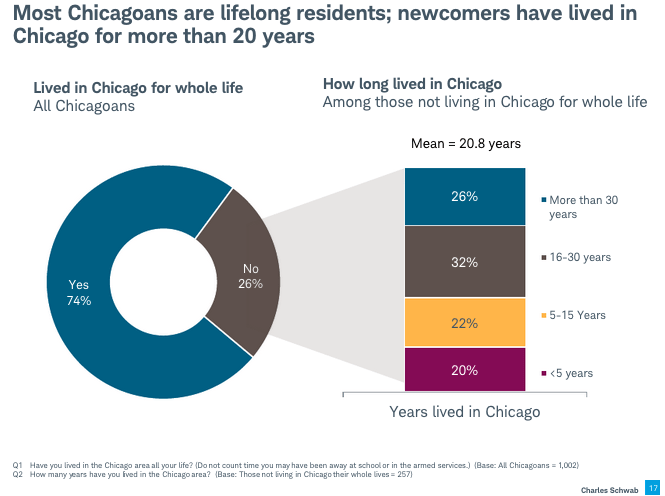 Believe it or not, these three questions are only a fraction of the total study. You can view the entire questionnaire with plenty of additional financial facts here.
Photo Credit: City Data