The South Loop area is filled with restaurants and bars, and while many of the larger ones get some publicity, the hidden gems are really what make the area so great. This isn't a huge party neighborhood, so you're not going to see anything crazy here at night for the most part. But, if you're looking for a great night out or a nice dinner, here are some of the best places in not just the South Loop, but also the entire city.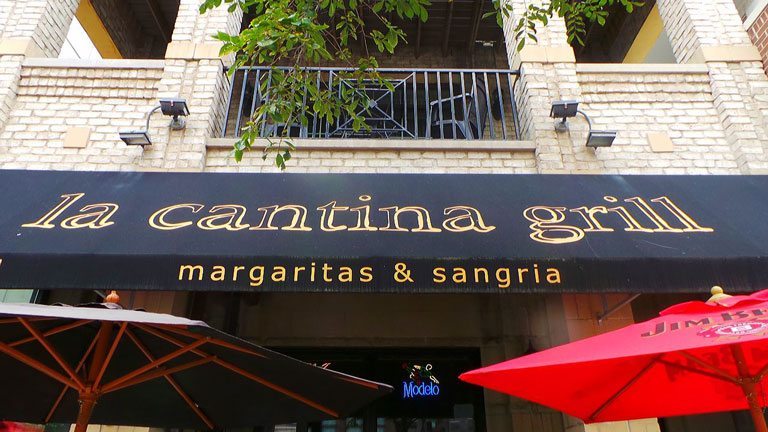 5) La Cantina Grill
1911 S. Michigan Ave.
Literally translated to the canteen, or the restaurant, La Cantina is a small Mexican restaurant with the BEST Mexican food in the South Loop, period. Trust me on this one. Not only is the food absolutely divine, but the portion sizes are absolutely massive. If you're looking for a big ol' steak burrito, this is the number one place in the area by far. I recommend the steak tinga though. You won't be disappointed.
La Cantina has reasonable prices and everyday drink specials too. Their known for their sangria margarita, and even though I'm not a big margarita guy, my taste buds easily convinced me otherwise.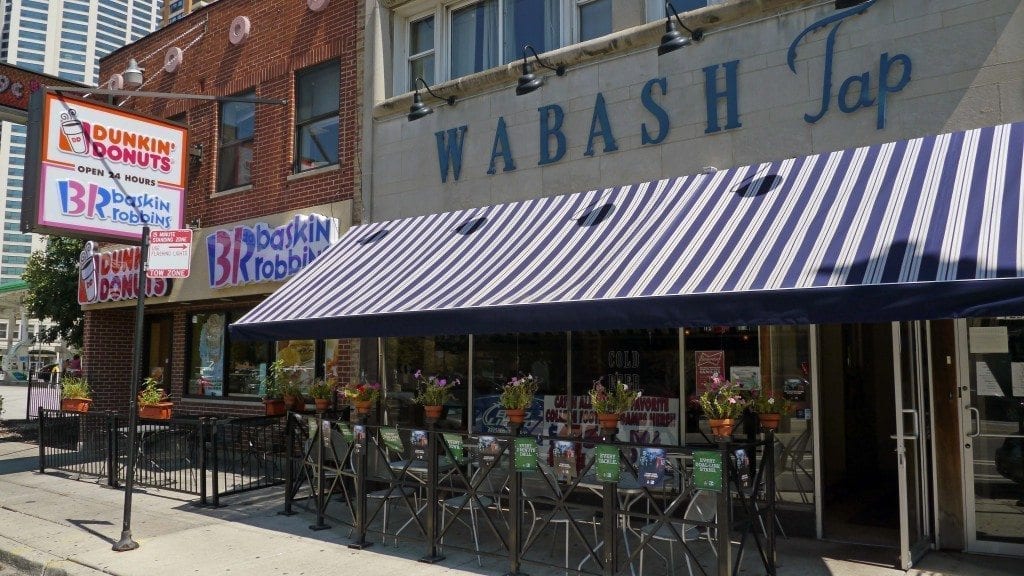 4) Wabash Tap
1233 S Wabash Ave.
It's fairly easy to walk right past Wabash Tap without even noticing that you missed it. From the outside, the bar looks like any other, with a sign that doesn't particularly stand out and a usual bar look going on inside. It's nothing fancy, but the place itself is a blast on the weekends. The kitchen stays open late, and free popcorn is generally served to keep those alcohol-induced, late night hunger pangs at bay. This is also the only bar I've ever been to that has a ping pong table in it. Though I've never seen anyone play beer pong there, many other hybrid drinking games have been developed at Wabash Tap over the years.
Side note: If you happen to walk in and a genie challenges you to a game of ping pong, save yourself the embarrassment and enjoy your free popcorn in the corner.
When looking at the sign on Clark, Blackie's gives off the impression of a dive bar, though that couldn't be any further from the truth. Take one step inside and you'll see that this place is actually as elegant as could be. The restaurant itself gives you a throwback feel while maintaining a modern look at the same time, coming equipped with mahogany & walnut bars, vaulted ceilings, and a private door in the back. The lower level is fashioned as a speakeasy and modeled after the S.S. Normandie Smoker's Lounge, while the upper level features the main hall.
The restaurant serves breakfast, lunch, dinner, and the signature Blackie's Burger, which comes fully loaded with everything you've ever thought of putting on a burger. What else? Blackie's has the largest dog-friendly patio in the area and they have been family owned/operated since 1939 (75 years). Personally, I also find the history of the place to be amazing (clientele ranging from Frank Sinatra, Dean Martin, Glenn Miller, Tommy Dorsey, the Harlem Globe Trotters, Rocky Marciano, the Marx Brothers, and the Three Stooges).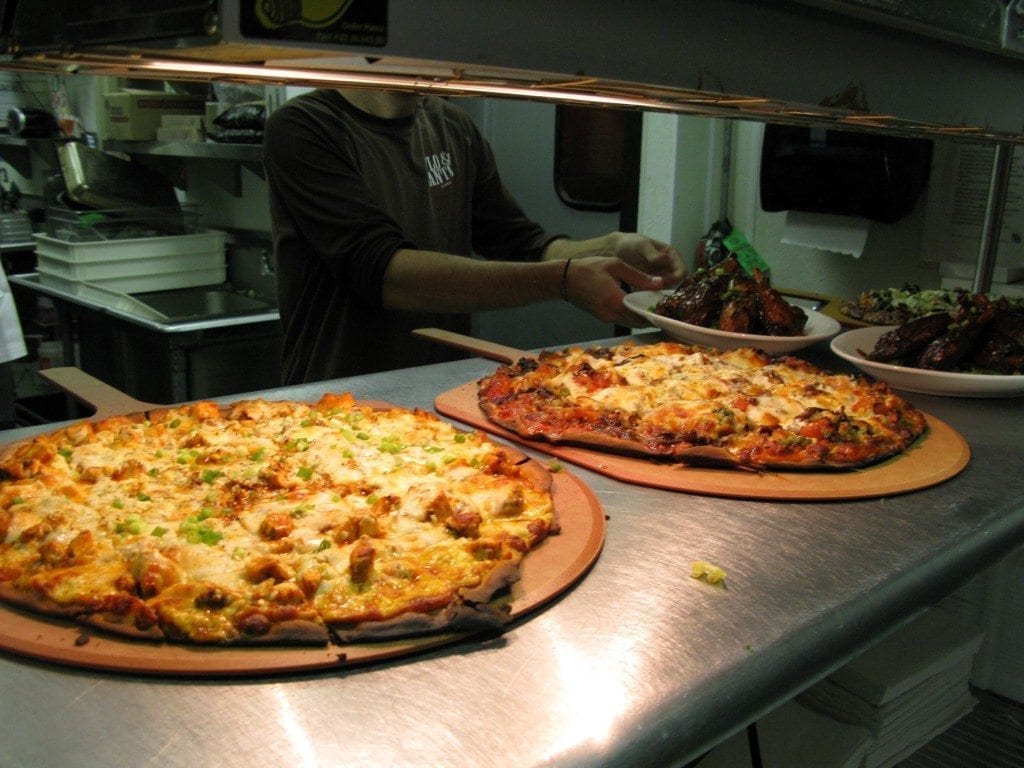 2) Flo & Santos
1310 S. Wabash Ave.

Tavern style pizza, Polish classics, and an extensive craft beer menu make Flo & Santos one of the best places in the South Loop to grab a bite. The restaurant offers plenty of specialty pizzas with a couple varying pizzas of the week and completely customizable options to top it off. The place is loaded with huge TVs, so you can always catch the game at Flo's. Like any good pizza place, they also offer delivery and carry out, so if you'd rather grab some good food and stay in, F & S has you covered.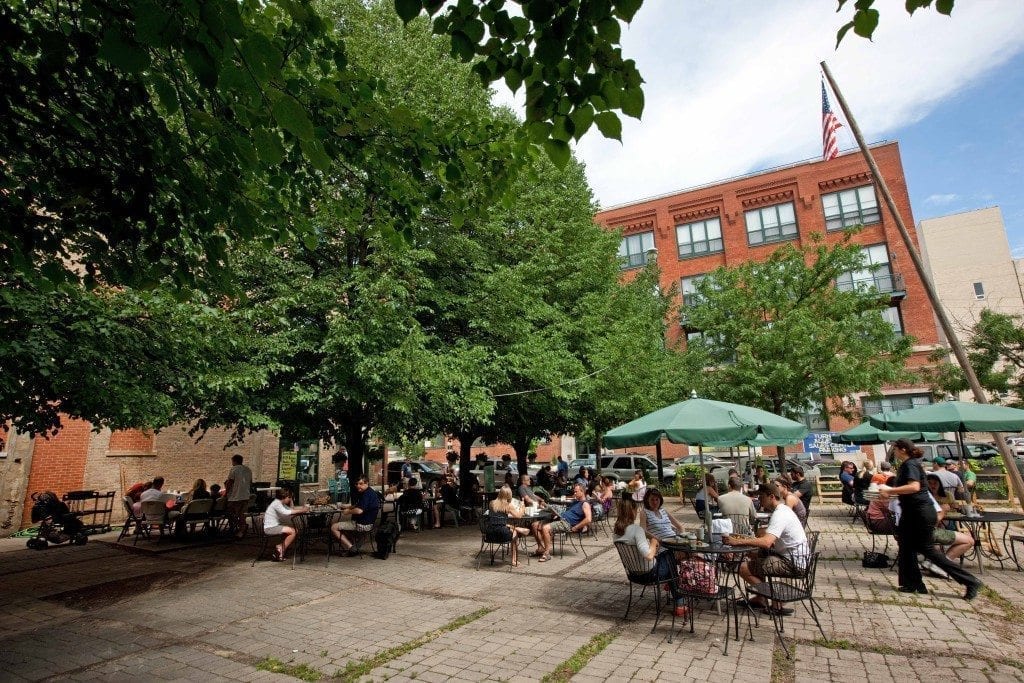 1) Spoke & Bird
205 E. 18th St.
This one is relatively new, but it's pretty much becoming an instant hit with everyone in the neighborhood. Spoke & Bird uses fresh, organic ingredients at reasonable prices, and the food is delicious. Some of the fixings are a bit quirky & eclectic, and that's really what makes this place so cool and the food so delicious. I don't even know what pecorino is… but they have it. Apple-daikon slaw? No idea, but it's tasty!
You'll also want to check out the Jamburger. This mouth-watering burger is a combination of grass fed beef & lamb, butterkase, tomato jam, iceberg lettuce, and onions on a challah bun. And it's damn good. I don't normally say things like "to die for," but I'd probably go with something along those lines to describe it.