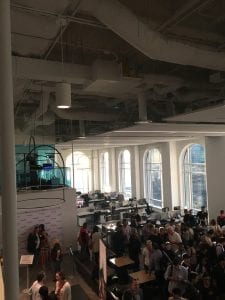 Chicago's Techweek brought together burgeoning start-ups and entrepreneurs alike to bring knowledge and camaraderie among techies. The event took on a different approach this year, offering more panels and discussions in order to teach avid professionals in the start-up sector the ins and outs of starting a business, running a business, and keeping a business alive.
Capital One hosted one of the premiere parties, and they offered a virtual reality experience, as well as unveiled the 50th floor remodel, which showed the growth of the company's technology sector, and was the perfect setting with amazing views of the city.
A panel was hosted the next day at MHub, "The Immersion of Tech into Real Estate for Better & Stronger Builds," with speakers from @properties, Drone Media, and CannonDesign talking about innovations in Real Estate technology, from paperless transactions to usings drones to take aerial photos, as well as using virtual reality to go inside homes from the comfort of your home.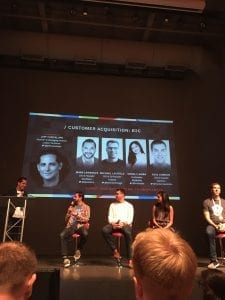 The Launch Start-up Showcase, hosted at the Bottom Lounge, offered advice from CEOs who've recently established a start-up in Chicago, and talked about the success and failures of buliding a company from scratch. Start-ups in the panel included Crafty Delivers, Shopping Gives, Jiobit, Akouba Credit, and Tovala. Panelists spoke of everything from who they look for when they're hiring, what their biggest mistake was starting out, to how they learned from their mistakes.
Following the showcase was a party at The Nerdery in West Loop, where they made it more of a scavenger hunt for guests, who were able to tour their office space while viewing their holographic dog, play VeeR Pong, and interact with Microsoft holonens.
Syndio and Capital One hosted the Women in Tech Breakfast at Venue Six10, where women gathered at tables and discussed topics given to them amongst themselves, talking about anything from what they can do to empower women in the tech field and dealing with career advancement in a male-dominated field.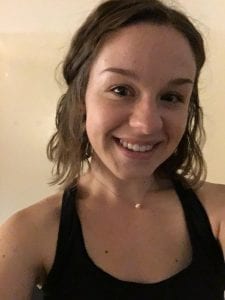 The Growth Summit followed, which had panel after panel, speaking about Data Intelligence, Customer Acquisition, Engineering, Mergers and Acquisitions, Navigating Legal Mines and Regulatory Challenges, and Growth Financing. Mayor Rahm Emmanuel also joined Techweek to speak with the tech community about the importance of women entrepreneurs in Chicago.
Gogo, an inflight internet company, hosted an event showcasing the "Passenger Experience of the Future," which displayed the latest connectivity and entertainment products. 1871 hosted a "Diversity in Tech Breakfast" and WeWork hosted a panel on "How to Start Your Start-up" where Ryan Fischer, founder of TwentySpokes, discussed how to go from an idea to developing and launching a product.
In previous years, Techweek showcased start-ups as more of a convention, and this year proved to be more of a learning and interactive experience, inspiring and teaching the future entrepreneurs of Chicago.