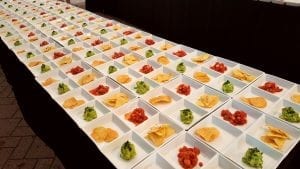 Nacional 27 has become Chicago's premier destination for Latin-inspired cuisine since it began almost 20 years ago. Taking its cue from Central and South America and the Latin Caribbean, there's no shortage of inspiration to be had for their menu. Under the guidance of Chef Chico Vilchez, Nacional 27 has become known for everything from classics like empanadas and Brazilian gauchos to full, family-style dinner parties, in addition to its rich nightlife. So of course, when they decide to come to the Taste of Chicago, you beat feet to the door.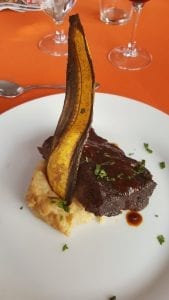 Remote operations can be difficult. The goal of events like this is to give potential new guests a taste of what they can expect back at the brick-and-mortar restaurant. This means setting the mood for the evening. The second you walk into the event, two things are readily available – mojitos and music by Chico Alvarez, curated by DJ-X. Mission accomplished for setting the tone.
Dinner starts with the Latin Trio, comprised of Ahi Tuna and Watermelon Ceviche, Guacamole, and Homemade Tortilla Chips. The first thing you notice is the bright flavors of the ceviche. It's lightly spicy as a good ceviche should be, but juicy enough from the watermelon to cleanse the palate. The second thing you notice is how quiet everyone has gone because they're too busy shoveling back the ceviche. The mark of a good meal is that people eat it all before they can put it up on their Instagram. Again, Nacional 27 is doing very well with the crowd.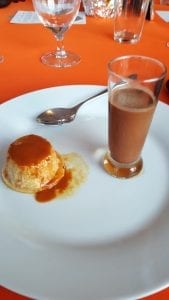 After the appetizer is finished, the main course arrives; Braised Short Rib on a bed of Mashed Boniato, topped with an Ancho Malbec reduction. A few guests' eyes go wide as their plates arrive. You can hear them say, "Oh my God," over the music, which has now switched to the Rhythms del Mundo album. The dinner has now progressed from "showcase" to "shock and awe." Again, most go for their forks rather than their cameras and all the plates become clean. Nacional 27 is now two for two on this outing. Three for three if you're still counting the music (and you should).
Finally, of course, is dessert. A paring of Coffee Flan over a Brazilian Nut Cookie with a Mini Mexican Milkshake, made from rich chocolate and spiked with Kahlua and cayenne pepper. They play well together. The cookie and flan help to extinguish the heat from the cayenne, then the chocolate makes the flan richer. It's a fine end to the meal.
Altogether, if Nacional 27 can make a party tent feel like a Latin vacation, trust that what goes on within its own walls is incredible. If you're looking to try it , check out their website for a reservation. Make plans for dinner and dancing.