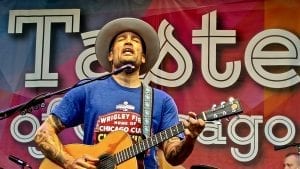 Everyone knows that music informs and influences us. We create moods with tunes. Nothing sets the tone for a long night out like a four-on-the-floor disco beat. Want to rage and tear up a hotel room? Put on a little Fugazi, specifically "Merchandise" if you're going for the whole anti-capitalism pastiche. Like a good diet, a well-rounded life is benefitted by well-rounded tastes in music, but if you're an audiophile this isn't news to you. With so much out there, though, the problem isn't which acts to see but making time for the acts you need to see.
Ben Harper and the Innocent Criminals is one of those acts you need to see.
Since dropping Welcome to the Cruel World in 1994, Ben Harper's sound has become easily identifiable. It's like The Edge's harmonic guitar riffs or David Ruffin's voice – the second you hear it you know who it belongs to. It's a heady mix of folk, blues, reggae, rock and other genres tossed and blended together into a smooth cocktail. Disparate elements bounce and play off each other in complex compositions, but can still be distilled into quieter solo acoustic performances. His lyrics are alternatively mournful and full of hope for redemption. In short, Ben Harper's music is uniquely human.
"This is all well and good," you might say to yourself, "but I can listen to this at home. Why go see it live?" Go see it for the weissenborn.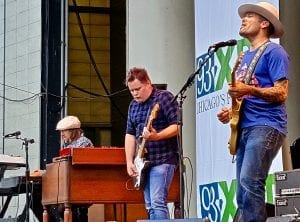 Louis CK had a thing where he talked about building his act by opening with his weakest joke. If he could make it kill, he knew the rest of his set would be all the stronger following it. To quote the great American, Pepper Brooks, "Bold strategy, Cotton."
That's how the set began at the Taste of Chicago – just Ben Harper walking confidently to center stage with nothing but a lap guitar. He's got three Grammys and a 20-year career still rolling, but for a moment, it feels like a bit of a gamble. And then he starts to play. It's a complex, sweet, wholesome and round sound. It's atmospheric and warm like Brian Eno, or a less abrasive John Cage. If you can break yourself away for a moment and turn to the audience, you see there's a literal horde of people on their feet. They watch with rapt like they're waiting for the crack of the bat that never comes. There's just the silence when Ben puts down the weissenborn. Then they erupt in applause.
Then the party starts. Ben brings out the band and the set proper begins, kicking off with "Don't Take That Attitude To Your Grave." Like any good set, there's fan classics like "Diamonds On The Inside," but it keeps its roots in activism with darker, accusatory tracks like "Call It What It Is." The energy stays high, the set stays tight, and the audience stays locked in as they sing along. It's over almost too soon, but it's everything you want from a good song or any good concert; you come in a person, you leave as a part of humanity.
If you want to get in on that little piece of humanity, check out Ben Harper's site for tour dates.