A Chef who's transporting Chicagoans to new places, one dish at a time.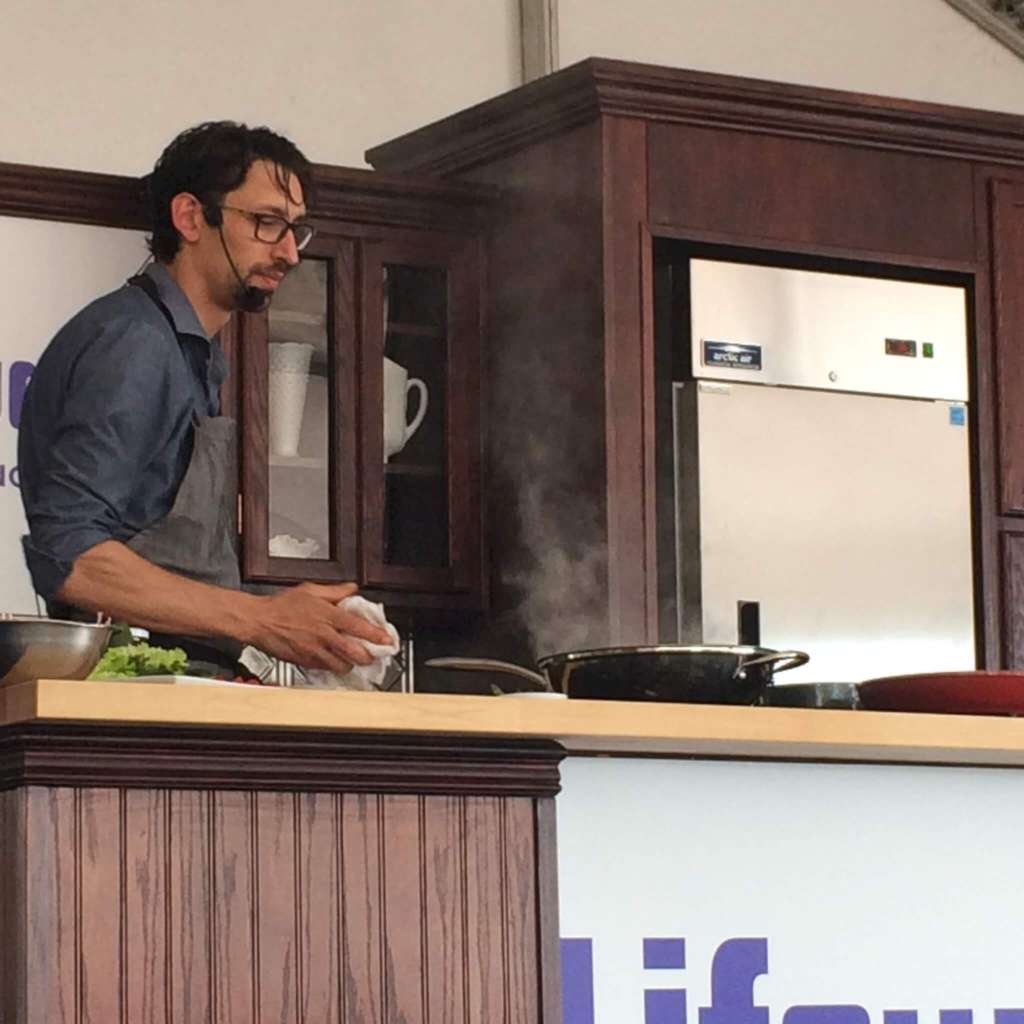 Sunday marked the final day of the Taste of Chicago 2016, and UrbanMatter had the opportunity to attend and witness the rock star talent of one of the city's most interesting and in-demand names in the business, Chef Abraham Conlon of Fat Rice.
Chef Conlon opened with an exciting cooking demo for the public at the Lifeway Foods tent, and the dish of the day was Chilled Sambal Squid Salad. It's a light, refreshing dish rooted in Macanese influences, with umami flavors and kick of heat. Here's a fun fact – no need to avoid spicy foods in hot weather. According to the Chef, sweating from spicy foods actually helps cool you off. Great news to us!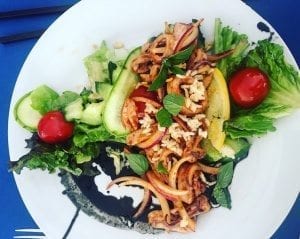 Chef Conlon's dish is comprised of fresh squid, sambal sauce, fresh greens, and finished with the striking color of squid ink. The base of the dish is balachan, a shrimp paste with a very pungent odor, one that'll have your neighbors complaining. "Make this dish the day before your lease is up," joked Chef Conlon.
Along with a great backstory of Macanese, Portuguese, and other cultures integral to his cooking, we had three key takeaways from the Chef: "Food is medicine," "Support your local farmers' market," and "Pay attention to your boil, don't let it overflow!"
The Celebrity Chef du Jour event began in the early evening and Chef Conlon was the star. Guests were treated to a three-course meal that told a delicious story from start to finish. The bread course was a soft, curry-infused bun filled with sausage from The Bakery at Fat Rice, one of the restaurant's newest concepts. The Chilled Sambal Squid Salad appeared as the appetizer. The main course was a Nasi Lemak with Chicken Kapitan, featuring flavors of curry, coconut rice, and a black tea egg. This dish is best understood when all the components are mixed, making for a truly unique experience. Finally, the Mango Gelee with Pandan Cream was served last and it was the perfect ending. Each and every bite of the entire meal was different than the last, and it was unforgettable.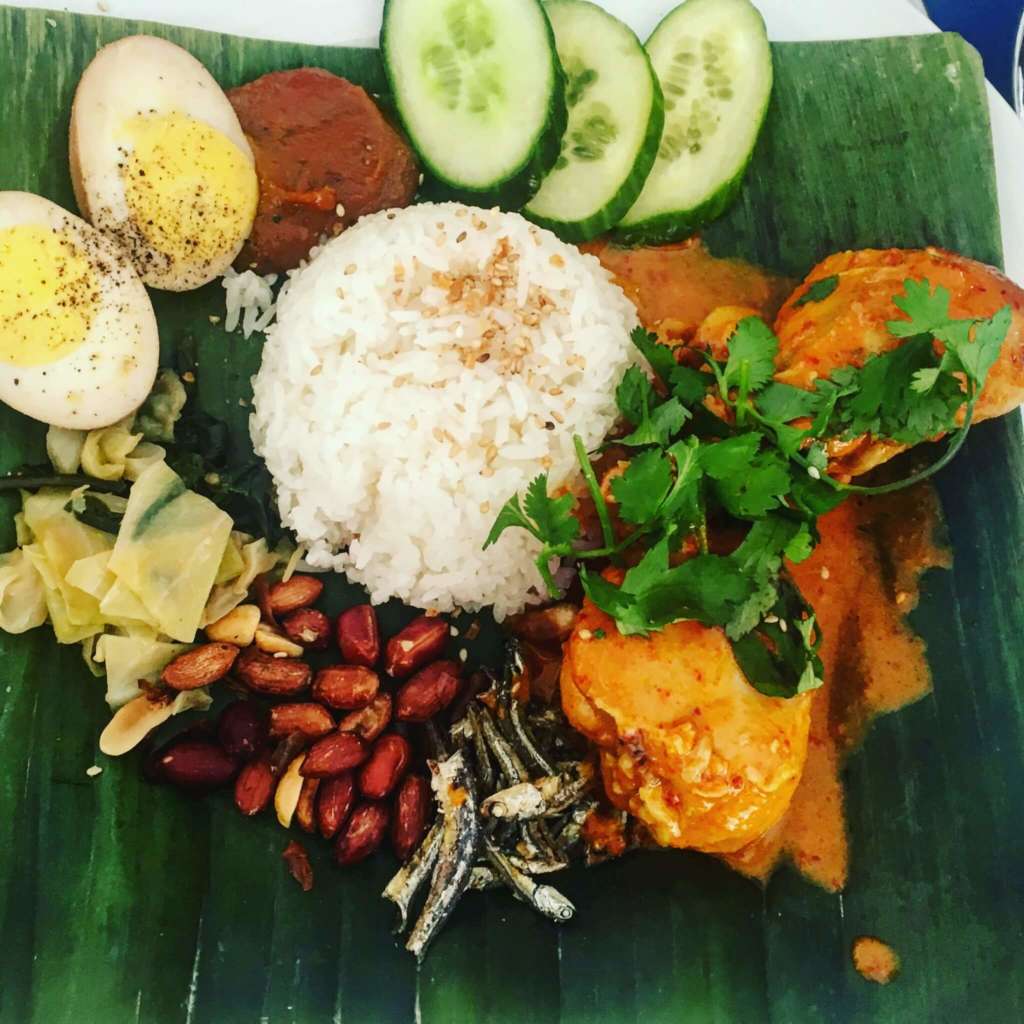 The food of Fat Rice can be best described as complex yet approachable, and luckily, so can its Chef. He kindly agreed to answer some of our questions.
Have you been featured at the Taste of Chicago before?
This is my first year at the Taste of Chicago, I haven't had a chance to come down before but I've been enticed by the music acts, especially like The Roots and Salt n' Pepa, I grew up with that music. I'm really honored to be here. I want my food to appeal to all people, not just gourmet or fancy people. I want everyone to enjoy it. I love the diversity that the Taste of Chicago brings because it connects chefs to the people.
What influenced your menu for this event?
The main influence is Malaysia. We started off by exploring the Eurasian cuisine of Macau, that's what our cookbook is about. What you'll find in mixed racial families is an interesting mixture of flavors. The father wants one thing, the mother wants another, and the kid just wants to eat. So they throw it all together and call it a day. Then that becomes a tradition. A lot of these cultures are dying off and they're using food as a form of preservation. People I've met say, "This is my grandmother's recipe, take it and show it to people." We figured out how to tie it all together.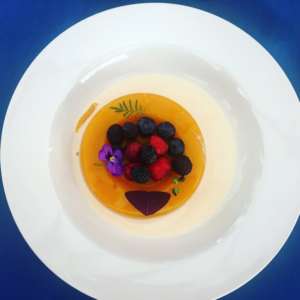 How did you learn so much about this type of food?
I'm Portuguese and I grew up in Lowell, Massachusetts. It's a town with a thirty percent Southeast Asian population. I was surrounded by a lot of Vietnamese, Thai, and Cambodian flavors and I was always interested in exploring things that were new to me. I read an article in 1999 about the dispersing of Macanese culture, and I eventually went there. I met people that I had read about in this article, learned from them and how they wanted to utilize their food as a method of cultural preservation. I tasted my grandmother's cooking in that food, I tasted Vietnamese markets in that food, I tasted Indian dishes in that food. It's something unique. I found every bit of information I could through these people.
What do you think about the culinary trends of Chicago?
As culture and palates develop, you start seeking more things, especially as we become a global society. Being so connected makes it easier for us to interrelate and become one. We're privy to more ingredients as we globalize. Chicago is no different than other cities, there's a lot of information flowing in and fueling it. Chefs are on the forefront of this, we're looking to diversify the dining scene.
What's next for you?
We opened two new concepts this week. The Bakery at Fat Rice is casual and has some great comfort items, like curry buns, pastries flavored with things like sweet potato and coconut, fresh baked bread, and fresh coffee and teas. Then The Ladies' Room is a kind of a backroom speakeasy in a casino. Macau is ten times Las Vegas, believe it or not, and we wanted to show this. It's lush, extravagant, and people can come there to ball out. It's got vintage Shanghai ads from the '20s, fun and interesting cocktails, and fine wines and cognacs.
What do you love about Chicago most?
I love all the different neighborhoods, and the classic, Midwestern attitude people have. I came from East Coast feeling very welcomed. It's innovative and always on the cusp. The food community is really willing to try new things. People sat on my floor before the restaurant opened ready to try my food with strangers, I don't know where else that would happen. It's also a great music town. I can't get out that much but my chefs and managers, we try to get out there for the music. I've been here for 9 years now and I'm not going anywhere.
Visit Fat Rice, The Bakery at Fat Rice, and The Ladies' Room for some amazing eats by an incredible chef. His cookbook releases on October 25, 2016 and is available for pre-order now on Amazon.