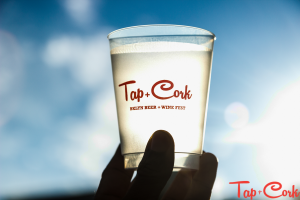 Summer festivals, block parties, live musical performances and tastings are happening all over the city, but what happens when they're all joined into one day? Brooklyn's own Tap + Cork Beer and Wine Festival returns for its fifth year — and you don't want to miss out.
On Saturday, August 12, the festival will be taking over Bedford-Stuyvesant's Restoration Plaza. Throughout the day-long event, guests can enjoy various selections from 50+ breweries and over 25 artisanal wineries will be present. Sip on some fresh drinks, try some cuisine from local food vendors, and enjoy live musical performances and guest DJs for the ultimate summer party.
Fullsteam Brewery, Het Anker, Uinta Brewing, Brooklyn Winery, Theopolis Vineyards, and Adirondack Winery are just a sneak peek of some of the beer and wine vendors that will be present. As for the food, you'll just have to wait and see.
A general admission ticket permits a commemorative tasting cup along with 15 sample tastings. But don't worry – additional tickets may be purchased at the door; one ticket covers one three-ounce serving of beer or one two-ounce serving of wine.
Spend your Saturday night the right way – drinking booze, rosé and jamming out to some tunes. Catch the fun from 2pm to 8pm at 1368 Fulton Street in Brooklyn. Must be 21+ to attend. Event tickets can be purchased here and additional information can be found at Tap + Cork's website.
Although the August 12 event requires a ticket, Tap + Cork will hold a pre-party at Fulton Street's new bar, Basquiat's Bottle, for free with RSVP at 8pm. There will also be a post-festival event on August 13 where party-goers can relax with an afternoon of tasty food from 11am to 4pm. (Location TBD)
Featured Image Credit: Nicholas Nichols