On the fourth floor of the Museum of Contemporary Art, Mr. DOB touches down on rolling hills, surrounded by fellow freaky creatures. Psychedelic vomit oozes over his jagged fangs, looking more like radioactive globs of ice cream than any sort of bodily fluid. Who knew barf could be so beautiful?
Welcome to "Tan Tan Bo Puking—a.k.a. Gero Tan" and the world of Japanese contemporary artist Takashi Murakami, brought to life right here in Chicago. "Takashi Murakami: The Octopus Eats its Own Leg," a 30-year retrospective of the artist's work, opens June 6 at MCA and runs through September 24.
Murakami might be best known for his celebrity collaborations (Louis Vuitton, Kanye West), or his brightly colored, cartoon daisies, but this retrospective presents material that greatly exceeds audience expectation. More than 50 works of art were selected from museums and private collections all over the world, as well as works created just for this event and never-before-seen early material, steeped in the Japanese Nihonga tradition. These hint at a young Murakami cementing his foundations and finding his style. As you navigate the exhibition, you literally witness that style taking shape as Eastern traditions and influences take on Western contemporary art conventions.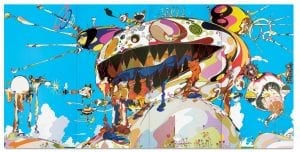 Meet Mr. DOB
The 15-foot tall, 24-foot wide "Tan Tan Bo Puking – a.k.a. Gero Tan" is a perfect materialization of Murakami's famous "Superflat" concept laced with influences of Japanese anime and monster films. The catalogue that accompanies the exhibition features an essay in which MCA Chief Curator Michael Darling describes Superflat as "a superficial gloss that covers contemporary society" in which "distinctions between high and low, new and old, original and derivative are flattened." That idea glimmers here in the form of Mr. DOB, a recurring character often thought of as Murakami's cartoonish alter-ego. At a preview of the exhibition, Darling described Mr. DOB here as being at his "most grotesque but also most cinematic."
The stylized mouse has evolved throughout Murakami's career both in painting and sculpture, starting as just a head, then growing limbs and expressions, as well as taking the form of keychains, plush toys, and skateboard decks. This brings Superflat to life: Art can come in any shape, cover any surface. This is how Murakami seeks to disrupt the exclusivity and elitism of the contemporary art world. But Superflat isn't just about a medium; it's also about subject matter. Murakami's work is highly influenced by Post-World War II Japan—the literal, horrific flattening as a result of atomic bombs, as well as Japan's relationship to Western pop culture and conventions. Those themes present themselves through depictions of mushroom clouds and mutating characters.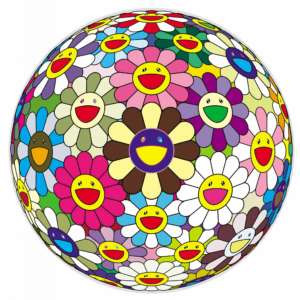 Murakami assures that he is not the type of contemporary artist locked away, developing ideas alone. He looks to tastemakers like fashion designers and film directors for inspiration and relies on his team in Tokyo to help cultivate and develop his ideas. One room of the exhibition plays video of that process, following Murakami and his crew as they develop and produce a piece using silk screens.
In another room, a truly jaw-drop-inducing work spans an entire wall. "Dragon in Clouds—Indigo Blue," an 11-foot tall, nearly 63-foot wide hand-painted canvas, winks at Japanese art history influence via twisting, turning dragon motif with an expression that's unmistakably Murakami.
The exhibition is crawling with fantastic characters: Towering, mischievous demon sculptures that look like they'd bop you on the head if you turned your back for too long. Buddhist monks in a state of either euphoria or desperation printed in such incredible detail that you can count each rainbow nose hair. Even Kanye Bear makes an appearance.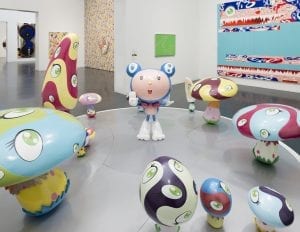 And mischievous Mr. DOB, whether he's puking or traversing a forest of trippy mushrooms, is omnipresent—your guide through Murakami's mind.
Tour de Force
"Takashi Murakami: The Octopus Eats Its Own Leg" rides the waves of the artist's career from his beginnings and birth of Superflat, to his departure from celebrity culture and return to an exploration of Japanese and Chinese traditions. His extraordinary vision and skill do not go unnoticed in this first serious survey of his work as a painter. Even his most complex works that come to life with the help of digital technology maintain a hand-crafted quality.
"His use of complicated computer renderings and silk screens are some of the most complicated, spectacular paintings I think anyone is making anywhere in the world today," Darling says.
The retrospective's conclusion is something to behold. The final room features a 114-foot long technicolor supernova of a painting that took more than 2,000 silk screens to produce. It was started in Murakami's Tokyo studio and finished here in Chicago—his team flew in earlier this week to apply the finishing touches. A description won't do it justice, you'll have to see it for yourself.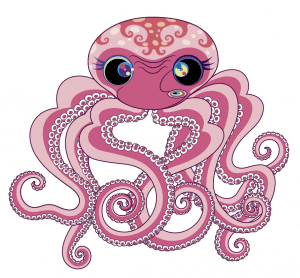 And fresh material keeps coming as a new collaboration presents itself, as well. Murakami and MCA have teamed up with Marc Ecko and Complex to deliver an interactive experience in the form of a pop-up truck. The truck will sell limited edition and exclusive Murakami merch on MCA's plaza select weekends throughout the show's run. For updates on that, you can follow @ComplexCon on Instagram.
This must-see exhibition's title comes from a Japanese folk saying that refers to the fact that an octopus in distress will eat its own leg to survive, knowing a new one will eventually replace it. This illustrates the idea that sacrifice is necessary in order to make room for new growth. The cannibalization and regeneration present in this retrospective make it clear that Murakami has his tentacles wrapped around mastery.