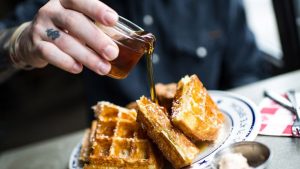 Chicken and waffle fans, take note! Sweet Chick is opening its newest location in Prospect Heights this summer. It will be the third branch of John Seymour's comfort food hot spot in New York City (there is also a location in Los Angeles for West Coasters seeking upgraded Southern favorites.)
Sweet Chick's expansion has been aided, at least in part, by its music industry connections. Rap icon Nas joined as a business partner in late 2016 and the restaurant has been frequented by other big-name artists, including Joey Bada$$ and Raekwon. The Lower East Side location was also temporarily transformed into a pop-up tribute cafe for the late Tupac Shakur and served food based on the artist's own recipes and menu ideas.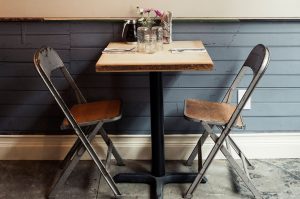 Seymour opened his first restaurant, Pops of Brooklyn, eight years ago in Williamsburg, where he lives with his wife and three young daughters. He originally became interested in the Prospect Heights storefront on 341 Flatbush Avenue because of its proximity to Prospect Park, where he often goes with his family.
The entrepreneur explains that like all other Sweet Chick locations, the Prospect Heights branch will have a unique feel and nuanced menu options that cater to the tastes of the community. However, staples such as mac and cheese, crawfish hush puppies, vegetarian meatloaf, and shrimp and grits will all be included as standard fare. The restaurant has already received its liquor license, so cocktail favorites like spiked sweet tea and rye-ball are likely to make an appearance as well.
The restaurant will hold around 34 diners sitting at tables and about 10 more at the bar. There is outdoor seating space as well, although dining al fresco will not be an option at the time of the restaurant's opening. Sweet Chick's Prospect Heights location is slated to open this week, on July 31.