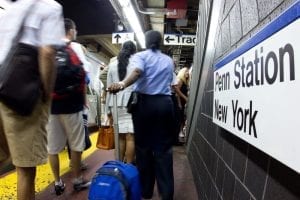 The honking of the horns that sing for miles won't be the only noise coming from traffic this summer. The emergency Amtrak repair work at Penn Station will cause delays for the LIRR, New Jersey Transit and Amtrak services until September 1.
In response to this change, NJT is offering additional bus services for their customers from 7am to 9am. Commuters who are headed to the city will have buses from Summit and Maplewood stations to Port Authority Bus Terminal, according to the NJT website.
For LIRR riders commuting into the city, there might be a way to avoid delays. Instead of taking a train to Penn Station, take the Atlantic Terminal train to the last stop and transfer to a subway train. This route will be a smoother ride for those who work in downtown Manhattan or Brooklyn.
The effects of the railroad construction can inspire a positive impact for tourists and local commuters. By channeling their inner New Yorker, using phone apps and maps will make rerouting a simple task. The NYC Subway app, for example, provides service status, travel alerts and other information that assist with route planning.
Driving halfway en route to the city could be an alternative commute for LIRR and NJT customers. One possible option for people coming from Long Island or Queens, is driving to the Queensbridge and taking a subway train from there to Manhattan. For New Jersey residents, driving to Hoboken station and taking the PABT-bound bus in the morning and the PATH train to Hoboken station in the evening could provide less traffic.
Staying alert on the delays and status of public transportation will make this 'summer of hell' into a summer of cool transition. Whether you own an android or an iPhone, there are free MTA, LIRR and NJT apps that include updates on their services. Focusing on what can be adjusted and less on what is out of your control will make the difference in how well you can commute throughout the summer.
Follow UrbanMatter New York on Facebook and Twitter for daily updates on local events and news.