By Bob & Sandy Nesoff
Christmas and New Years have passed us by, but Valentine's Day is looming right around the corner and your taste buds want in on the festivities!
Forget that heart-shaped box of candy for the sweet one in your life. Head out for a sugar-laden tour that'll make her/him have a sweet tooth treat that will be remembered for years to come.
There's no better way to celebrate the season than by indulging in Sugartooth Tours' Sweeter Than Sugar Valentine Dessert Tour. This "heart-felt" tour will take your taste buds on a holiday journey, enjoying the best holiday sweets and treats New York City has to offer.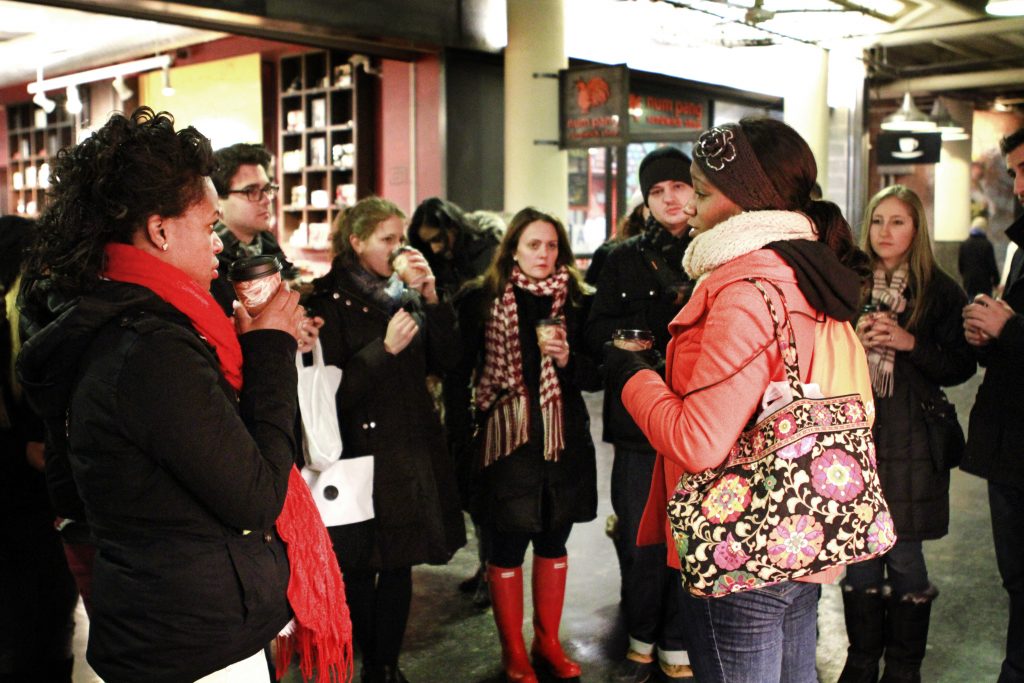 Candy hearts may be one of the most iconic Valentine's Day treats, as there are about eight billion made annually. That's actually a sugar high with enough sweet stuff to stretch from Rome, Italy all the way to Valentine, Arizona back and forth about 20 times. What a dentist's delight.
Take your loved one and walk arm-in-arm through New York's iconic Chelsea neighborhood, where you'll find half-pound cookies and then through the stone-walled Chelsea Market with its scores of interesting shops and more sweets than a competitive eater could handle in one shot. Chelsea Market, not surprisingly, is home to a number of televised cooking shows on its upper floors and it isn't unusual to see familiar faces from The Tube coming off the elevator and walking through the throng.
"Participants will learn about Chelsea's significant culinary past as well as delve into Valentine's Day trivia while walking arm-in-arm or taking a break on one of the Market's stone benches. The tour provides a unique opportunity for friends and families to come together to enjoy the city's sweetest festive treats and get into the holiday spirit," said Sugartooth Tours co-owner Sarah Rolleston.
Weather permitting, the tour will take lovers on a walk along the High Line, the abandoned railroad right of way that has been transformed into one of the hottest urban walkways for both tourists and locals. The landscaped walkway offers beautiful views of the area from up high.
From the High Line, drop down into one of the trendiest districts this side of Los Angeles' Rodeo Drive, the Meatpacking District. Formerly rife with businesses that befitted the district's name, it now offers fabulously trendy (and not all that inexpensive) boutiques, shops and eateries that regularly cater to celebrities and The City's upper crust. And, since this is a Valentine's Day tour, there will be stops at locations that will take care of that longing for a sugar fix.
From the Meatpacking District, the tour wends its way to one of the more picturesque locales in New York, Greenwich Village, still populated by writers, artists and what were once called "Bohemians." The Village is also Ground Zero for members of the LGBT community and throws a magnificent Halloween parade… but that's a story for another time.
The tour, hosted by a licensed guide, is intentionally held to a small number of people to enhance the experience for each participant. It kicks off in Chelsea at the southwest corner of 8th Avenue and 18th Street. It ends in the West Village near West 4th Street.
For those who can't make the Valentine romp, there is a non-Valentine themed tour available year-round on Sundays at 4pm. The Valentine Tour will be available on Saturday, February 10 and Sunday, February 11th at 4pm. It will also be available Wednesday, February 14th (Valentine's Day) at 6pm. The tours tend to sell out quickly.
For information and reservations, check out http://sugartoothtours.com/sweeter-than-sugar-valentines-dessert-tour/.
For those unable to make the tour, Sugartooth Tours' gift certificates make a delectable gift idea. Give a one-of-a-kind culinary experience as a gift to your favorite foodie or sweet-tooth, by purchasing a gift certificate on the company's website. Gift certificates are good for any tour and can be used year round.
ABOUT SUGARTOOTH TOURS
Sugartooth Tours specializes in dessert tasting food tours in New York City—a perfect excursion for all ages, and for locals and visitors to the Big Apple alike! The company's tours are small in size, with no more than sixteen people per group for an intimate experience. Sugartooth Tours is dedicated to serving the sweet tooth in everyone, providing the best customer experience through high quality tastings, superior customer service, and friendly and informed licensed tour guides.
Contact: (917) 856-6761 or Info@Sugartoothtours.com for more information.
Photos courtesy of Sugar Tooth Tours.