According to NBC Chicago, the city's beloved Tyrannosaurus Rex fossil, Sue, will no longer reign in the main hall of the Field Museum. In celebration of the museum's 125th anniversary, a new, larger resident will take her place. And by larger, we mean colossal.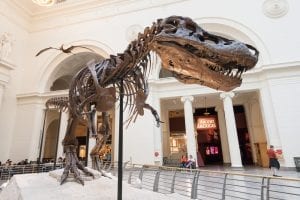 Specifically, a titanosaur will be moving in and calling the Field Museum home. Living up to its name, this long-necked herbivore is the largest dinosaur fossil in history to be discovered, maxing out at 122 feet (what NBC Chicago says is longer than two CTA buses back-to-back). It's also longer than the blue whale, the largest living animal on Earth.
Hailing from Argentina, a cast of the fossilized titanosaur will take the spotlight as museum visitors interact with it. Unlike Sue, there'll be no rope blocking you from touching this one! There'll be no escaping its magnitude, as its even visible at eye-level from the second floor of the museum.
But what about Sue? Even though T. Rex's are impressive, they're relatively small compared to other dinosaur species. The iconic fossil who has become the Field Museum's mascot of sorts, will be moved to the Evolving Planet exhibit, which is much more suited to her size. She departs from her current spot in February of next year, while the new guy moves in during spring.
What do you think of this momentous change at the Field Museum? Will you miss having Sue greet you as you walk in the lobby? Let us know your thoughts!
Featured Image Credit: Field Museum; Originally Reported by NBC Chicago