FOCO is known to be a leading manufacturer of sports and entertainment merchandise. Its product lines include apparel, accessories, toys, collectibles and novelty items, including properly-licensed products related to the NFL, MLB, NBA, NHL, NASCAR, MLS, Disney, Warner Bros/DC Comics, Nickelodeon, Sanrio, WWE, and over 100 colleges and universities.
Undoubtedly one of the first programs to have everyone talking during the COVID-19 pandemic was the ESPN docu-series The Last Dance. Telling the big picture story of Michael Jordan's last season with the NBA's Chicago Bulls, it helped many millions of people remember the unique life that Number 23 has lived both on and off the court for decades.
Beyond the 100 prominent individuals for The Last Dance, the miniseries — as co-produced by Netflix — included tons of never-before aired video footage from the 1997-98 NBA season. In turn, we saw lots of previously unseen video of legendary coach Phil Jackson and even a Jerry Seinfeld cameo. But The Last Dance also helped remind us of how many other important players were part of the Bulls organization in the 1990s beyond Michael Jordan.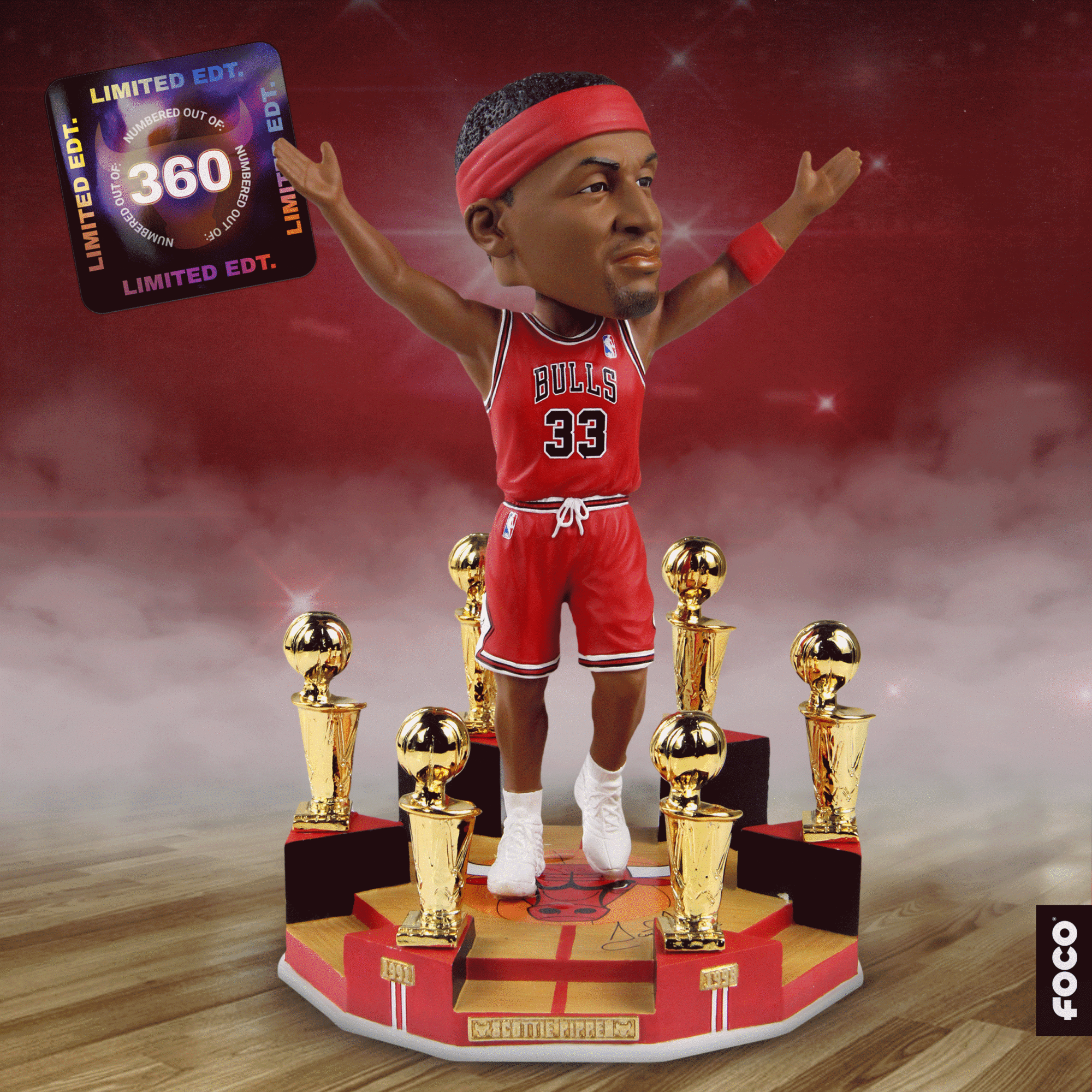 For starters, Michael Jordan was not the only notable Bull that was part of the U.S. Olympic Gold Medal-winning squad known as "The Dream Team," as teammate Scottie Pippen played on that team in both 1992 and 1996. Dennis Rodman is considered one of the best rebounders in basketball history. Horace Grace was an NBA All-Star who also won a championship with the Los Angeles Lakers. Steve Kerr has held multiple NBA records related to shooting three-pointers.
Tying in The Last Dance with FOCO comes a line of fun Chicago Bulls bobbleheads. Beyond the players mentioned above, other notable Bulls who got the bobblehead treatment from FOCO are John Paxson, BJ Armstrong, and Bill Cartwright. Pippen has multiple editions, including a "dual" bobblehead alongside Rodman. And you crave further unique merchandising beyond bobbleheads, FOCO also has a Bulls light-up Bluetooth sweater, LEGO-esque statues, gaiter scarfs, COVID-19-friendly facemasks, straw hats and holiday ornaments of the Bulls variety on the market.
Naturally, the Chicago Bulls are not the only Chicago sports-related institution featured on the FOCO site. Baseball's Cubs and White Sox, football's Bears, hockey's Blackhawks, and soccer's Fire all have their own merchandising sections. And on the White Sox and Cubs ends, that includes pop-culture-themed merch, as both MLB teams have bobbleheads related to Stranger Things; Chicago teams also have themed swag related to Superman and Game Of Thrones to check out. On the college end, multiple Illinois institutions are also featured on the site.
FOCO had made the Chicago Sun-Times earlier in the year when it was announced that the Chicago Bears were getting their own Day Of The Dead-inspired bobblehead. Commented Matthew Katz, Senior Licensing Manager at FOCO: "We are very excited to introduce these new bobbleheads, inspired by traditional Day Of The Dead imagery. While Day Of The Dead festivities take place in late October, we think fans will be eager to get their hands on these colorful, unique bobbleheads all year round." Thus, plenty more to look forward to from Chicagoland sports fans.
More on the aforementioned Chicago Bulls collectibles, which are currently available on pre-order for shipment in the coming months, can be found online.