Steak is best eaten with yearning in your heart and a big smile on your face.
From the moment you step into your car, the genesis of your journey is an afterthought. How could you wish for anything in your past when food heaven is on your horizon? Steak48 has this way of creating that sense of yearning, imprinting an indelible smile on your face as your car reverses out of the driveway. You could call this another steakhouse, but that'd be giving other steakhouses in Chicago too much credit.
Steak48 is a destination. An experience. It can only be described as Chicago's premiere contemporary steakhouse. In fact, you can call 615 N Wabash Ave a microcosm of the allure of the city itself. In a way only the City on the Lake can shine amongst its peers of the metropolii, Steak48 has a way of radiating brighter than other steakhouses in Chicago in a competitive culinary landscape.
It isn't easy to stand out amongst the culinary titans in River North. The luminous Steak48 on the facade certainly aids it visually as the backdrop of the barren stone of the Medinah Temple stares back. The warmth of a perfectly done steak, the freshest seafood flown in daily, and a bottle of red wine beckons as the chilling freeze of one of Chicago's most historic structures slips into irrelevance.
Entering Steak48 in and of itself is a memorable stroll. The large wooden doors of this Chicago steakhouse protect a mystifying walkway lined with cleavers and knives that would make an aged butcher wish to come out of retirement. A glass enclosure of a 3,000-wine vault greets you alongside a smile from the hostess stand. Atmosphere and service is the true sixth sense when it comes to your culinary experience, and by way of appetizers, your first 90 seconds inside Steak48 sets the tone for the rest of your evening.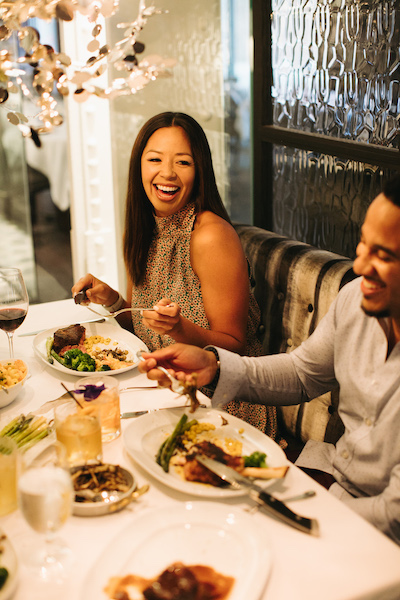 The venue is large, yet intimate. As you pass by sections of tables nestled in private rooms and a large wrap-around bar serving premium cocktails to patrons, all 12,000 square feet of elegance at Steak48 is drowned out by one thing—a light beaming from a distance, there to ask you all of the right questions. What is back there? Who is in there? Why am I drawn to this, attracted by it? Any steakhouse in Chicago brave enough to beg its patrons to gaze beyond its pass with an exposed kitchen is a restaurant operating with a level of confidence that permeates through every single aspect of your experience. 
The atmosphere at Steak48 is designed to make you feel important. It suppresses the delusion of inflated self-worth with the portrait of true value. You're supposed to be here. Tonight. This is your destination, and it's going to be one you speak about to anyone willing to listen. There's no shortage of individuals—celebrity or everyday person—willing to endorse this steakhouse with equal pride. 
The menu is large. You feel it in your hand and you're overwhelmed by the expanse of options and an endless list of potential wine pairings on the back. The weight of it is unimportant, however, as the immediate understanding that every potential combination of food and beverage is primed to be a memorable one. 
It didn't take long with the cocktail menu to gravitate towards a winner. I instantly went for the Paloma—a smoky rendition with mezcal and fresh grapefruit—while my mother (yes you read that right I treated my mother to a much-deserved dinner) went for the Stone Fruit Martini. 
Cocktail hour might as well have been for a show rather than a 5-star dinner because a mere 20 feet from us, behind the glass enclosure of the kitchen, stood Chef Brian Key. The revered Executive Chef and Chicago native is a natural in his domain. Confident and talented, yet jovial, the Chef interacted with us and other customers at Steak48 from a distance as he orchestrated the pass, carefully approving each plate for service. Too often steakhouses carry a stuffy aura of condescending luxury, but not Steak48 and not Chef Brian Key. His demeanor and ability to relate to us as customers made the experience comfortable and only built our excitement to navigate his menu.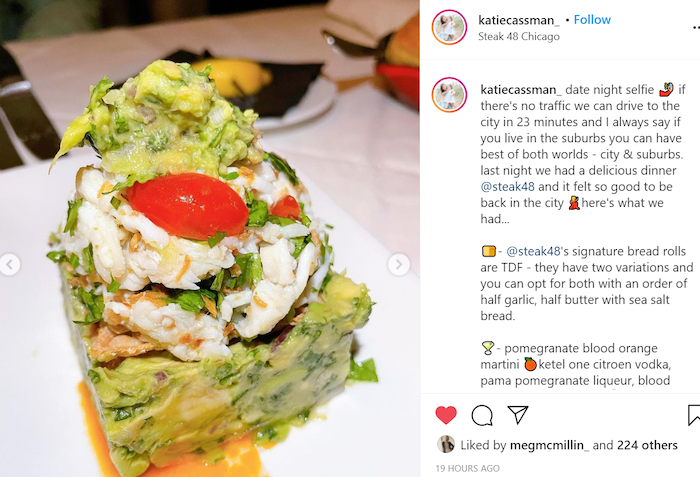 There's a heightened sense of awareness in the appetizer section of the menu at this steakhouse in Chicago. You're probably wondering what the hell that means, so hear me out. With 17 different side dish options, some of the thickest, juiciest steaks around, and a raw bar so fresh and succulent you could easily mistake your location for Maine, it needs to be. It's Chef Key's arena to showcase his creativity while not exhausting you before you even contemplate the main attractions. 
Items such as the Chicken Fried Lobster and the King Crab & Avocado Stack is Chef Key personified. Crab and lobster are steakhouse staples, but the reimagination of these favorites is what sets the Chef and ultimately, Steak48 apart. 
That main attraction being of course, steak. I could go on for hours about the quality of the cuts, how both plates came out cooked to perfect temperature, how the flavor of the crust enhanced the entire meal, or how each and every bite will melt in your mouth. That's not why you're still reading this. No, you're still reading this because you're immersed in the feeling of what eating the off-the-menu Butcher's Cut would mean to you, transporting yourself to a time and place you've imagined at a pivotal point in your life. Or you're picturing yourself sitting in my shoes and having an 18-oz bone-in Filet Mignon on a 500 degree plate being set on the table, tantalizing you before you even bury your knife in it.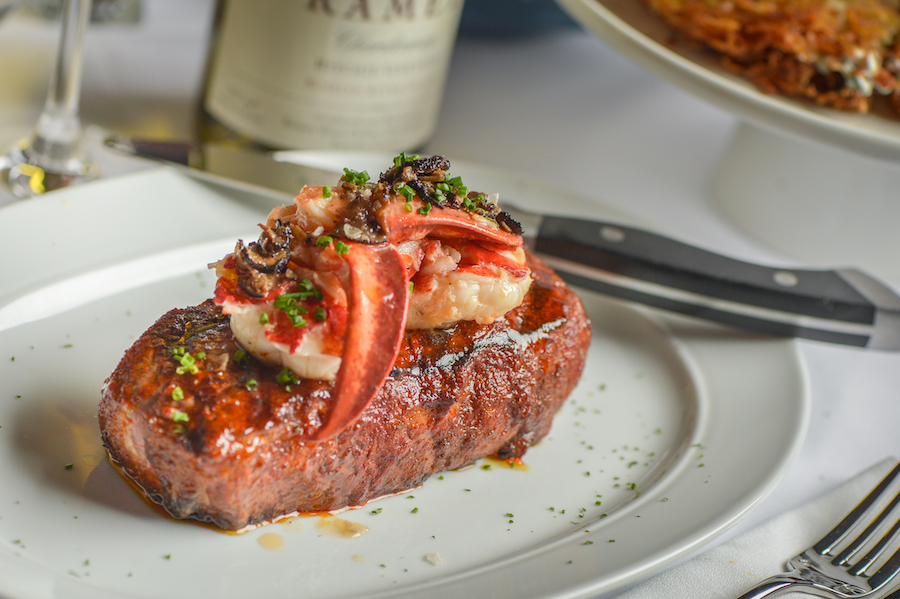 Truth be told, steak is steak and if done properly will be delicious no matter what. We are carnivores and red meat is the holy grail in the same way two plus two equals four. 
But you simply cannot embark on the journey of Steak48 without first understanding that you are there for an incredible steak that highlights the entirety of a memorable experience. It's the warmth of the sunshine beating down upon your face at the first Cubs game of the season, an ice cold beer in hand as you sit in the bleachers amongst 15,000 people chasing that same high. 
In these moments, there is nothing wrong. You take your first bite of Chef Key's main attraction and in that moment, the world halts. There is nothing wrong. 
Every main attraction needs a supporting cast and Steak48 is no different. If the steak is Michael Jordan then the Chef's variety of side dishes is the rest of the 1998 Chicago Bulls. Classic vegetable dishes such as broccoli, creamed spinach, asparagus, sweet corn, and brussel sprouts are done to absolute perfection. If that's your preference, you have a full endorsement. But you're here to make a memory, step outside the comfort zone and enhance your meal with the Alaskan King Crab & Rock Shrimp Mac & Cheese, the Asparagus Fries or the Corn Creme Brulee. It's one thing to head back to Winnetka enjoying a medium rare steak and sauteed sweet corn, it's another to tell your neighbor the next day that you experienced a dinner Downtown Chicago so unique that the only way they'd understand is if they tried it for themselves. 
In this day and age we are forever moving the boundary of what it means to be "traditional". The definition of what a steakhouse is supposed to look like is no longer predetermined. Steak48 understands that notion and embraces that. As I stated, the genesis of your journey is irrelevant when the ability to harness a fleeting moment and expand on it knowing the result is more than a meal, but a memorable experience centered around a destination of a restaurant; your possibilities are endless. 
Be real with yourself, though. Just like your suburban neighbor, you're only going to understand if you put your key in the ignition and go experience it for yourself. 
Steak48 is located at 615 N Wabash Ave. Chicago, IL 60611. To service hours, history, or to make a reservation visit their website at www.steak48.com/steakhouses/chicago/ or call (312) 266-4848. Valet parking is available or accessible parking can be found off of Ohio St at the iPark garage.