At four stories, it will be the brand's largest location in the world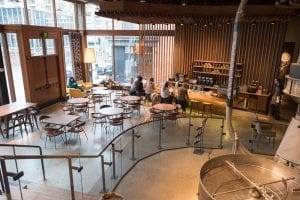 An announcement from Starbucks stated that in the year 2019, a Starbucks Roastery will open on Chicago's Magnificent Mile at Michigan Avenue and Erie Street, which is currently occupied by Crate & Barrel.
The Roastery flagship will be the third announced thus far, outside of an existing one in its headquarters city Seattle and one in New York that's set to open this year. There are also international roasteries planned for Tokyo, Shanghai, and Milan. At 43,000 square-feet, Chicago's location is one that the brand is particularly excited about.
"To be located on one of the best-known retail streets in the world is a proud moment for all of us and we can't wait to bring Chicago and the world a coffee experience worthy of their most premier real estate," says Howard Schulz, Starbucks Executive Chairman.
The Roastery will be an experience unlike any other you'd find at an ordinary Starbucks. Emphasizing interactive elements, the location will feature tours, demonstrations of the roasting and brewing process, specialty drinks, and dining options that span breakfast, lunch and dinner, courtesy of the Roastery's signature bakery partner, Princi. With the Magnificent Mile being a site that welcomes visitors from all over the world, this addition will surely become a popular tourist destination.
Crate & Barrel is expected to close early next year, and customers can still shop at their location on Clybourn and North Avenue. Starbucks plans to open up to 30 roasteries worldwide and 1,000 of their Reserve stores, of which four are currently located in the Chicagoland area.
Late last year, it was announced that a stand-alone Princi bakery would be opening in Chicago in the near future as well, as Starbucks increasingly looks to Chicago to debut its new brand experiences.