Chicago is a theatre town. It has pre-Broadway runs and national tours of some of the most popular darlings of the Great White Way. But it's the smaller theaters, such as Steppenwolf, that are displaying the smaller gems that are necessary viewing for any theatre fan.
Case in point: the current run of St. Nicholas at the Goodman Theatre.
St. Nicholas stars Downton Abbey fan-favorite star Brendan Coyle in a solo performance you'd never expect. The play previously debuted to sold-out audiences in London at the Donmar Warehouse and has come to the Windy City for a very limited engagement that will end this Sunday, January 27th.
The play, which has a 2-hour run time with a 15-minute intermission, focuses solely on Nick, a theatre critic from Dublin who gets burnt out on not only his job but also the life he's living. His wife will do anything for him, yet he feels nothing for her. His children, eh, he could probably walk away and be okay with it. It's when he's assigned a production of Salome that he sees the trigger for a life change: Helen, a woman he falls for immediately. He follows her to London and that choice, that decision to follow her and see what could happen sets off a chain of events that he scarcely could have imagined.
He begins a spell of servitude to vampires.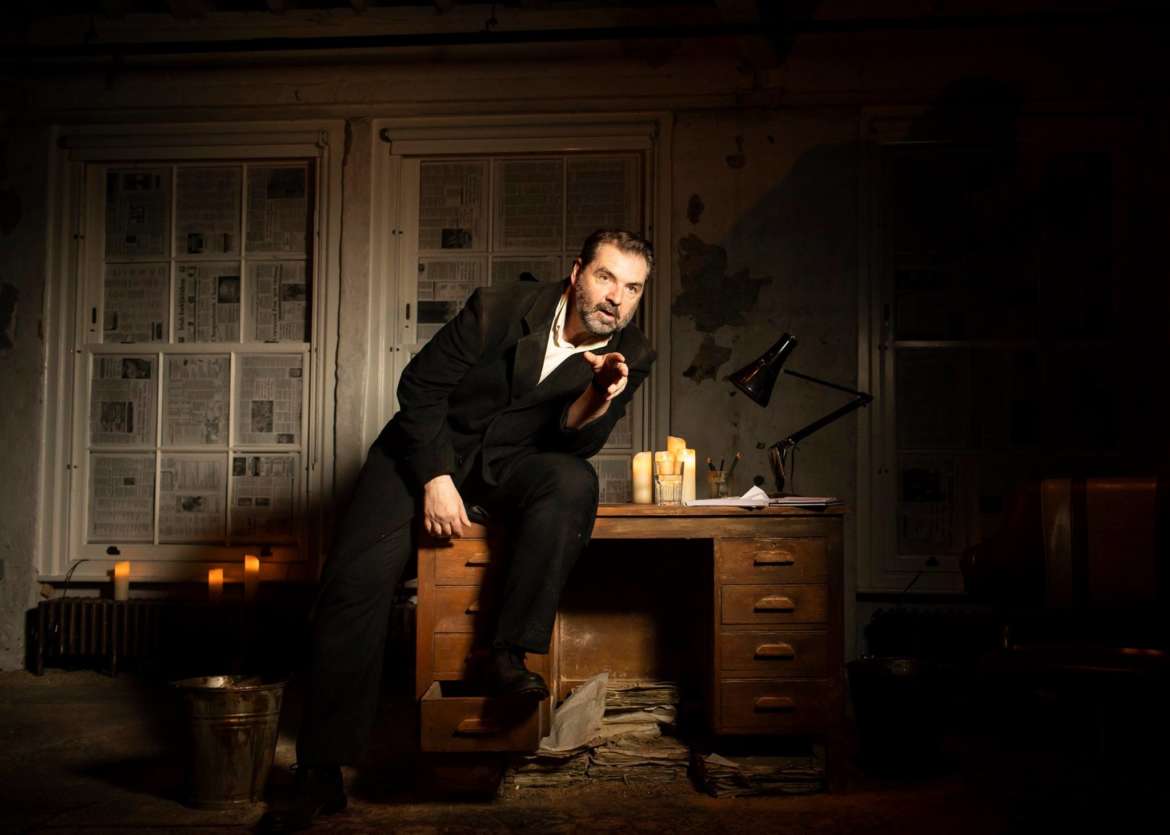 And I know what you're thinking. It sounds pretty weird, right? And, to be frank, I felt the same way. But what writer Conor McPherson does with the story, with what Nick goes through both mentally and emotionally, is truly spellbinding. You're transfixed for the two hours Coyle speaks to you as Nick. It's as if you're having a chat at a pub and he's telling you a story you'd never believe.
But yet you do. You believe every word he's saying. You believe that a vampire found him in a park, piss-drunk, and said that they're not bloodthirsty. No, on the contrary. They wish they could be human and have the human experience. After all, they're not the creatures of lore that drain bodies of their blood and turn others for the fun of it. They simply take what they need and everyone moves on. You think, "Yeah, that makes sense. I see what he's saying" as if it's the most normal thing in the world.
That sort of power over a crowd proves just how incendiary Brendan Coyle is in this role. His storytelling is so robust that you forget entirely that he's the only actor on the rather sparse stage. You don't even need any other actors as this performance was enough to have you talking about it for hours after.
I would run, not walk, to see this again. It's compelling and enthralling and a play that will stick out in your mind. Performances continue tonight through Sunday, January 27th. For more ticket information, visit the play's page on the Goodman Theatre website.
Featured Image Credit: Helen Maybanks