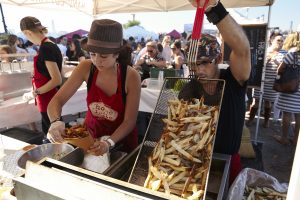 Make some room in your appetite! The wildly popular weekend pop-up market, Smorgasburg, is getting its own Manhattan edition. Debuting this Saturday, August 19 is Smorg Square, a 23,000 square-foot outdoor food market to be located at the corner of Canal and Varick.
Like Brooklyn's Smorgasburg, Smorg Square will feature eats from the city's best restaurants. However, unlike Brooklyn's version, Smorg Square will be open throughout the weekend, from 11am – 10pm on Fridays and Saturdays and from 11am – 9pm on Sundays. Although its counterpart is typically only open during the summer months, this one will operate through Christmas. Smorg Square will also include a patio deck and plans to reveal a full-service bar next month.
Smorgasburg is the largest open-air food market in America, and bringing it to Manhattan is sure to be a highly-attended success, attracting tourists and locals alike.
Check out the complete lineup of Smorg Square vendors below:
All Images Courtesy of John von Pamer for Smorgasburg