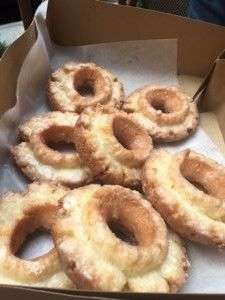 Great for locals and tourists alike, Sidewalk Food Tours of Chicago takes you around Chicago's most interesting neighborhoods to sample their culinary delights. This three-hour food and history walking tour lets you taste five of the best at amazing specialty food stores, ethnic eateries, well-known food purveyors, and off-the-radar establishments. Expert guide Brent led us at a leisurely pace through the River North neighborhood, while sharing his vast knowledge of the city. First stop was Doughnut Vault, where we tasted their most popular Buttermilk Doughnut, so delicious. Then it was on to Lou Malnati's for a slice of their deep dish pizza; cheesy and cooked to perfection. Along the way, Brent told us about the unique architecture of the Harry Caray restaurant building. This was once headquarters for the Chicago Varnish Company, built in 1895, an example of Dutch Renaissance Revival-style architecture.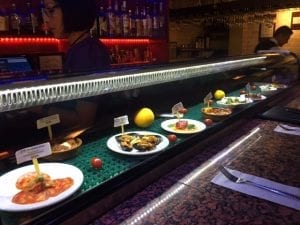 Next up was Mexican street food at Rick Bayles's XOCO for a Woodland Mushroom Torta, which was fabulous. One look at their Guacamole Bar and you'll be back! A few blocks down was Café Iberico, where we savored Pincho de Pollo, a chicken brochette with caramelized onions and rice. Our last stop was dessert at the European café, Fabcakes, for a Nutella cookie. What a fun and fabulous time!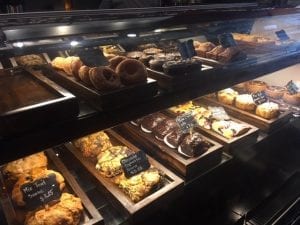 Tours are leisurely paced and suitable for all age groups and fitness levels. Food tours are also available in Wicker Park and custom tours can be arranged. While stops are subject to change, here's more information on the locations.
• The Doughnut Vault (est. 2011): Food & Wine Magazine named it the best doughnut in America in 2012
• Lou Malnati's (est. 1971): Rudy Malnati is generally considered to be the inventor of Chicago deep-dish pizza
• XOCO (est. 2009): Top Chef Masters winner Rick Bayless is one of the best know chefs for Mexican cuisine in America
• Café Iberico (est. 1992): Serving you the most authentic tapas and regional specialties from all across Spain
• Al's Beef (est. 1938): Founder Al Ferrari invented the sandwich in Chicago's Little Italy back in 1938
• Fabcakes Bakery (est. 2012): Delicious pastries inspired by the seasons
Food tours are also available in New York, Los Angeles, Paris, and San Francisco. The tour was as interesting as it was tasty. For more information or to book a tour, call 877-568-6877 or visit foodtourofchicago.com
Featured Image Credit: Sidewalk Food Tours of Chicago