Whether you're a city resident or a non-city resident, making a trip to the Shedd Aquarium is an essential Chicago activity. The Shedd is filled with over 32,000 animals and is one of the world's first inland aquariums.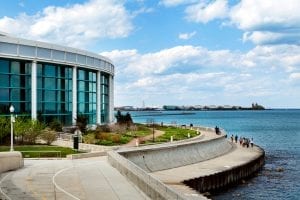 The current general admission prices are $5 for city residents and $8 for non-city residents. On the outside looking in, someone would think, "Wow, those cheap prices are way too good to be true." Well, that's because they are. The general admission passes are an extremely inexpensive way to get people in the doors and walking through the first-floor galleries. Where the Shedd makes its bucks is in its tiered pricing system.
The Shedd offers package deals that allow you to experience exclusive exhibits, but the prices easily jump to $30+. Two packages offered are $27.95 for a Shedd Pass and $36.95 for an All Access Pass. Both passes provide an exclusive experience and have become a standard when buying tickets. Imagine how a parent feels taking their kids to the aquarium for a quick day trip, first paying the cheap general admission fee, then having them see all the other cool places that they can't get into?
Is not paying the $30+ per person worth your child's disappointment? Probably not. The Shedd is probably thinking the same way, as they're now proposing a more straightforward pricing system. It would allow city residents 12 or older entry for $19.95, and city resident children three to 11 years old entry for $14.95. Also, adults who are non-city residents would pay $39.95; non-city resident children's admission would be $29.95. Although it might annoy people from the 'burbs, the purpose of changing their pricing system would be to reach people more efficiently, which seems to be a smart and analyzed decision. Here's why:
They're saving time by not having to sell and explain the package deals at the door to parents with tons of questions. And saving time is saving money.
They're becoming a much more affordable option, which will likely attract more people.
They can get rid of annoying airport-like checkpoints within the giant aquarium that people hate bustling through.
Overall, The Shedd Aquarium is a Chicago landmark that people of all ages love to go see. The aquarium and staff do a great job at informing people on the importance of preserving marine life. This non-for-profit organization is a Chicago asset that people from all over Chicagoland should visit.