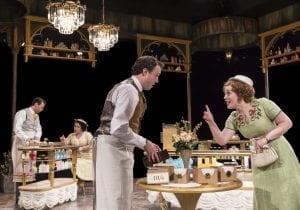 She Loves Me is the original story that served as the impetus for several movie adaptations, The Shop Around the Corner and Tom Hanks and Meg Ryan's hit, You've Got Mail. The Marriott Theatre sets the stage in a lavish backdrop of a 1930s Hungarian perfume shop, which continues to charm audiences with its romantic story and timeless score. She Loves Me features a soaring score by Tony Award-winning composers Jerry Bock and Sheldon Harnick (Fiddler on the Roof), and book by Joe Masteroff (Cabaret). With musical direction by Matt Deitchman, Marriott Theatre Lead Artistic Director and Jeff Award-winner Aaron Thielen directs and choreographs this feel-good comedy.
This captivating musical follows Georg and Amalia, two parfumerie clerks who work together, but don't see eye to eye and are constantly putting each other down at work, creating what we could call today, a "hostile work environment." Once they close the door, they retreat to communicating with their anonymous romantic pen pals, not knowing their respective correspondents are actually each other. Chaos ensues as a tangle of mistaken identity and hilarious encounters finally bring the soulmates together, leading them to realize their fights were nothing less than love in disguise. Songs like, "Vanilla Ice Cream," "Tonight at 8" and "She Loves Me" reinforce the lovers' feelings that are shared with the audience.
Elizabeth Telford as Amalia Balash is outstanding with gorgeous vocals and great comedic timing. Jeff Award winner Alex Goodrich as Georg Nowack (the star of Marriott Theatre's Elf and How to Succeed in Business Without Really Trying) is perfect as the lovable guy who can't get out of his own way to find true love. Jeff Award winner Terry Hamilton as Mr. Maraczek is the owner who runs the store like a drill sergeant but has his own marital problems. Jeff Award winner David Schlumpf as Steven Kodaly is the ladies' man who hits on everyone. And Jessica Naimy is the adorable Ilona Ritter who finally sees the light. The set is pure magic with classic props and elegant costumes that recreate the romance of a time gone by.
She Loves Me plays now through June 18, on Wednesdays at 1pm and 8pm, Thursdays and Fridays at 8pm, Saturdays at 4:30pm and 8pm, Sundays at 1pm and 5pm, with select Thursday 1pm shows. Call 847.634.0100 or visit www.ticketmaster.com, www.MarriottTheatre.com for tickets.