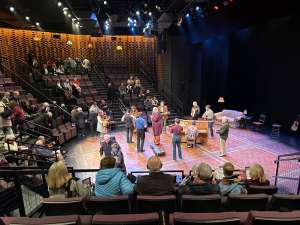 My first recommendation in seeing "Once," the Tony-award winning musical based on the 2007 film, is to come to Writers Theatre in Glencoe early. Enjoy their pre-show Irish music jam session and get a taste of what you're about to experience.
It sets the mood for the entire performance. And it is spectacular.
Everything about "Once" is spectacular. From the simple, clever staging to the snappy dialogue laced with humor and pathos, and yes, the music. As the story unfolds, the audience becomes aware that they are witnessing something truly special in the world of theatre.
"Once" features music & lyrics written by Glen Hansard and Markéta Irglová, based on the book by Enda Walsh.
"Once" is really about love, all kinds of love — the deeply-felt emotions that compel us to reach out to one another, a love between parent and child, and love between friends.
The main male character Guy, (Matt Mueller of the Mueller family fame: think Broadway star Jessica) is a young Dublin musician ready to give up on his career because his songs, written about his ex-girlfriend, are too difficult to perform. He meets cute the character Girl, (Dana Saleh Omar) an optimistic young Czech woman who believes he could win back his ex-girlfriend by playing those songs to her.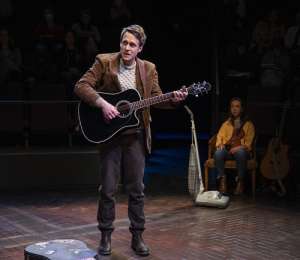 They form their own band with the help of a rag-tag team group of musicians. After getting a bank loan for studio time, the group records a collection of soulful songs that touch the heart. Even their bank loan manager becomes a part of the band as long as he doesn't sing!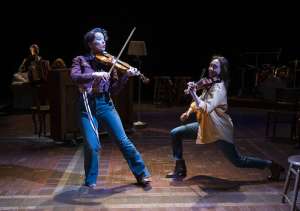 The haunting, Oscar-winning song, "Falling Slowly" will stay with you long after the show ends.
Dana Saleh Omar as Girl plays the role with authenticity as she grapples between the love she feels for Guy and her husband who is on his back home to her. She sings and plays the piano beautifully as the audience applauds her performance. Matt Mueller has a soulful voice and plays the role with both despair and hope for the future. The show received a well-deserved standing ovation.
Kudos to Katie Spelman (Director & Choreographer) for having the actors play their own instruments and for creating great moments of emotional intimacy. Bringing on the laughs are show Emcee Jordan Golding and music store owner, Billy.
Mention must go to Music Direction by Matt Deitchman for bringing together such a wonderful group of actor/musicians.
"Once" has just been extended to April 2, 2023. Writers Theatre is located at 325 Tudor Court in Glencoe. For tickets, call 847-242-6000 or go to https://www.writerstheatre.org/once.