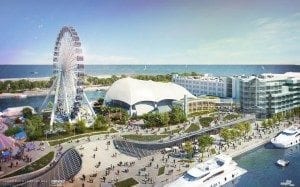 Navy Pier welcomes nine million visitors each year, and they're looking to expand on that number even further for their 100th year anniversary.
To do so, the pier has rolled out a plan called the Navy Pier Centennial Vision, a rough outline of what's to come between now and the end of 2017. The new Ferris wheel has been the main subject of discussion thus far, but new details on another large feature have just emerged.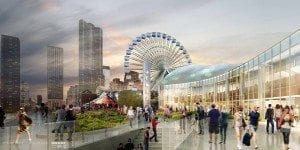 Chicago Shakespeare and Navy Pier are opening a brand new theater, and it's unlike anything the theater world has seen before. The venue will consist of nine distinct towers than can be moved for each performance. This will allow the artists behind the scenes to create the atmosphere they desire – whether it's small and intimate or large and open. Construction of the structure, called The Yard, will begin this spring.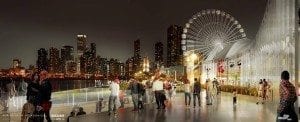 "Creating this state-of-the-art performance venue is another step in the redevelopment of Navy Pier to ensure that it remains one of Chicago's premier centers for commerce but also for culture and I want to thank Chicago Shakespeare for their tremendous contribution to that effort," said Mayor Rahm Emanuel. "There is no better time to announce this new performance space than in the year when we will bring local and international artists together for Shakespeare 400 Chicago, which will keep the spirit of Shakespeare alive in our schools and on our stages. I look forward to watching The Yard at Chicago Shakespeare become one of Chicago's next great cultural jewels for years to come."
The Yard will stage its first production in the 2017-18 season.
Fast Facts on The Yard
$35 Million – The cost of the theater, which will be funded by a $15 million investment from Navy Pier and $20 million in capital funding raised through Chicago Shakespeare's Our City, Our Shakespeare Campaign
New lobby areas will attach The Yard to the existing Shakespeare Theater space
3 – The number of Shakespeare Theaters that will be in place with the addition of The Yard
150-850 – Amount of people the theater can seat in nine movable towers
The seating towers will be move around the room prior to performances. This allows the venue to alter itself dramatically based on what the show will be.
You can learn more about The Yard at chicagoshakes.com/yard.