Nutrition doesn't always mean a strict diet
At 7:30am Sunday, October 9, approximately 45,000 runners are hitting the streets of Chicago for the 39th Bank of America Chicago Marathon. In celebration of the marathon, elite marathoner and four-time Olympian Shalane Flanagan and Chef Elyse Kopecky will be in town promoting their new cookbook for runners, "Run Fast. Eat Slow."
"Indulgent Nutrition"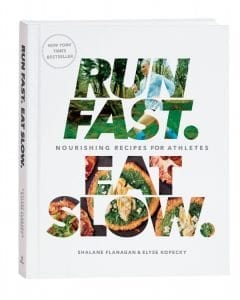 The cookbook, released last month and already a New York Times bestseller, proposes ways to make healthy eating pleasurable and enhance athletic performance. In addition to introducing "Run Fast. Eat Slow.," the women promise to give an "inspirational" talk on "indulgent nourishment" — their theory that food can be both nutritious and indulgent.  If you're looking to PR in your next race or are interested in healthy cooking trends, you may want to attend this event.
Contrary to what many athletes are programmed to think, the co-authors believe that adhering to restrictive diet guidelines and obsessing over calories may actually do more harm than good. Consequently, they created recipes that incorporate fats, proteins, and antioxidants needed to properly fuel and aid in the speedy recovery of endurance athletes. Quite impressively, their book boasts over 100 of these recipes, none of which use refined sugar or flour.
Event Details
Their talk, which will take place Thursday, October 6 at Everybody's Coffee in Uptown, begins at 7pm. Shalane and Elyse will stay after their presentation to sign books, answer questions and pose for photos.
Tickets for the event, hosted by The Book Cellar, are expected to sell out. Those can be purchased at Brown Paper Tickets, which includes further details about the book, authors, and event.
Chicago Marathon Road Closures
Chicago Marathon weekend also means a lot of road closures, so make sure to plan accordingly! A list of those can be found on Chicago Marathon's brochure.
Read "Run Fast. Eat Slow." to learn about how you can improve your lifestyle in a way that feels and tastes good. Check out a sample chapter here for a preview!