Roundhouse Sports Bar (2535 N Milwaukee Ave) is now open in Chicago's Logan Square. Tapping into the nostalgia of the vintage sports aesthetic, Roundhouse is a sports bar with a nod to the classic neighborhood bar. Named after co-owner Scott Horwitch's love of 80's martial arts movies, Roundhouse will feature an eclectic menu of traditional bar food with an Asian-American twist. Everyone is invited to a grand opening and ribbon cutting with photo opps, passed apps and more on Thursday, February 16 starting at 5 p.m.
"We wanted to retain the character of a casual, comfortable, quintessential dive bar while also bringing something different to the neighborhood that combined our love of sports, martial arts films and Asian cuisine," said Horwitch. "The inspiration for the menu comes from a Sunday ritual of eating Chinese food and watching football with my brother in our 20s."
This is the second project from Uproar Hospitality Group, which opened Uproar in Old Town in October 2020. Uproar Hospitality Group is spearheaded by Rick Douglass, co-owner of Wrigleyville staple Barcocina, Scott Horwitch, Danny Horwitch and Dante Deiana.
Roundhouse is open at 5 p.m. Tuesday through Friday and 11 a.m. Saturday and Sunday. Guests can expect daily entertainment from specials, to happy hour and sports viewing, DJs, and more.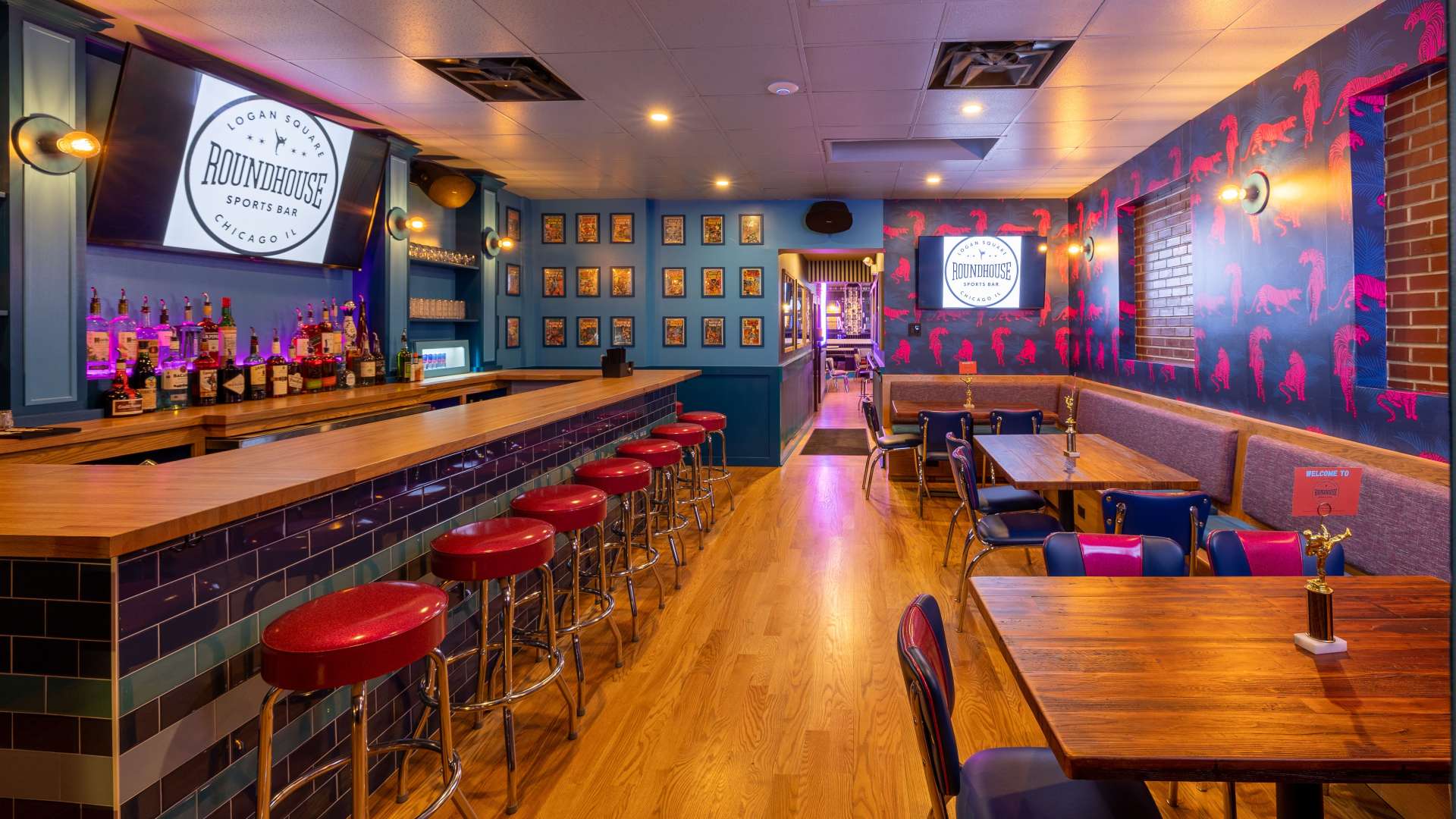 The Space
Designed by Horwitch, the hip-casual, yet energetic space at Roundhouse is sleek, simple and modern with a retro feel. Blues and pinks over wood grain create a lively color palette. Bold Gucci tiger print wallpaper and a Master of Kung Fu framed comic collection showcase a martial arts influence while an artfully displayed wall of tennis rackets and trophies adorning the tables add to the vintage sports aesthetic
Located in the former space of a neighborhood fixture, the Rocking Horse, the layout remains the same but new design elements include turning the front windows into garage doors that open. The main bar features a High Life beer cap bar top accented by a custom-made neon sign of a roundhouse kick. The space is outfitted with over 20 flat-screen TVs and offers seating in low-top tables and communal high top tables. For warmer months, there is a spacious back patio that will be revamped this spring.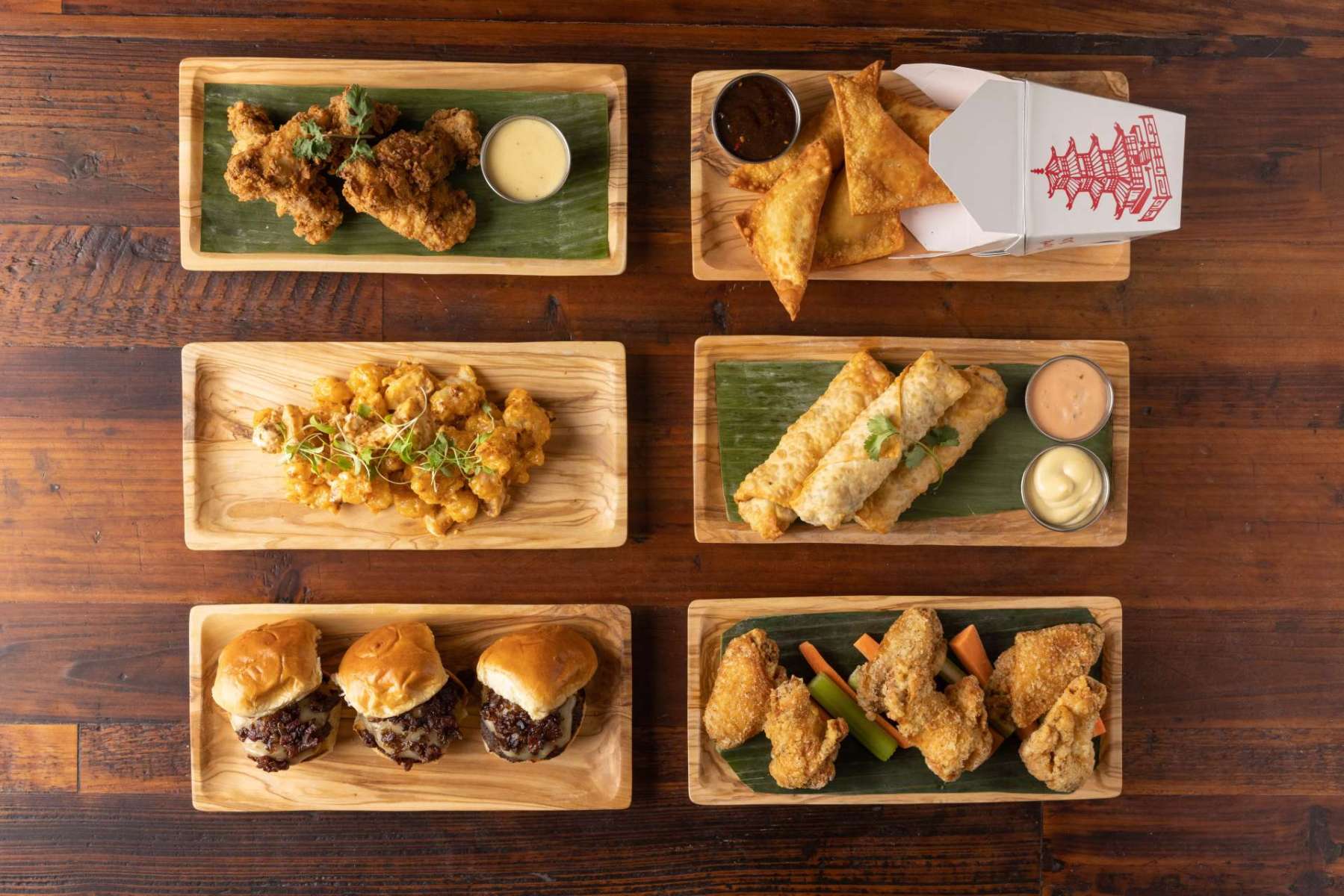 The Menu
Created by Chef Ariel Bagadiong, the menu at Roundhouse is rooted in classic, comforting bar fare with an Asian-American influence. Chef Bagadiong, who was born in the Philippines, has combined his Asian roots with modern American cooking to build playful flavor profiles in dishes like Cheeseburger Egg Rolls, Tuna Poke Nachos, Italian Beef Fried Rice, and more. Featuring innovative combinations of ingredients, the menu is designed to encourage sharing of small, medium, and large plates that offer something for every appetite.
The menu showcases the diverse skills Chef gained through his global travels. "I started my culinary career as a way to express my passion for food. Throughout my childhood and teen years, I was always helping someone cook and it was fascinating to me," said Chef Bagadiong. "Some of my favorite items on the menu are the Jumbo Chicken Wings which come out super crispy and you have a variety of sauces to choose from, the Mongolian Beef Nachos, the Tempura Rock Shrimp with roasted pineapple and garlic ginger crumbs, the Italian Beef Fried Rice and the Chocolate Banana Fritters with a lemongrass caramel sauce."
The menu ranges from $6 to $23 featuring specialty entrees, sandwiches and burgers, robust seasonal salads, and an assortment of side dishes and appetizers.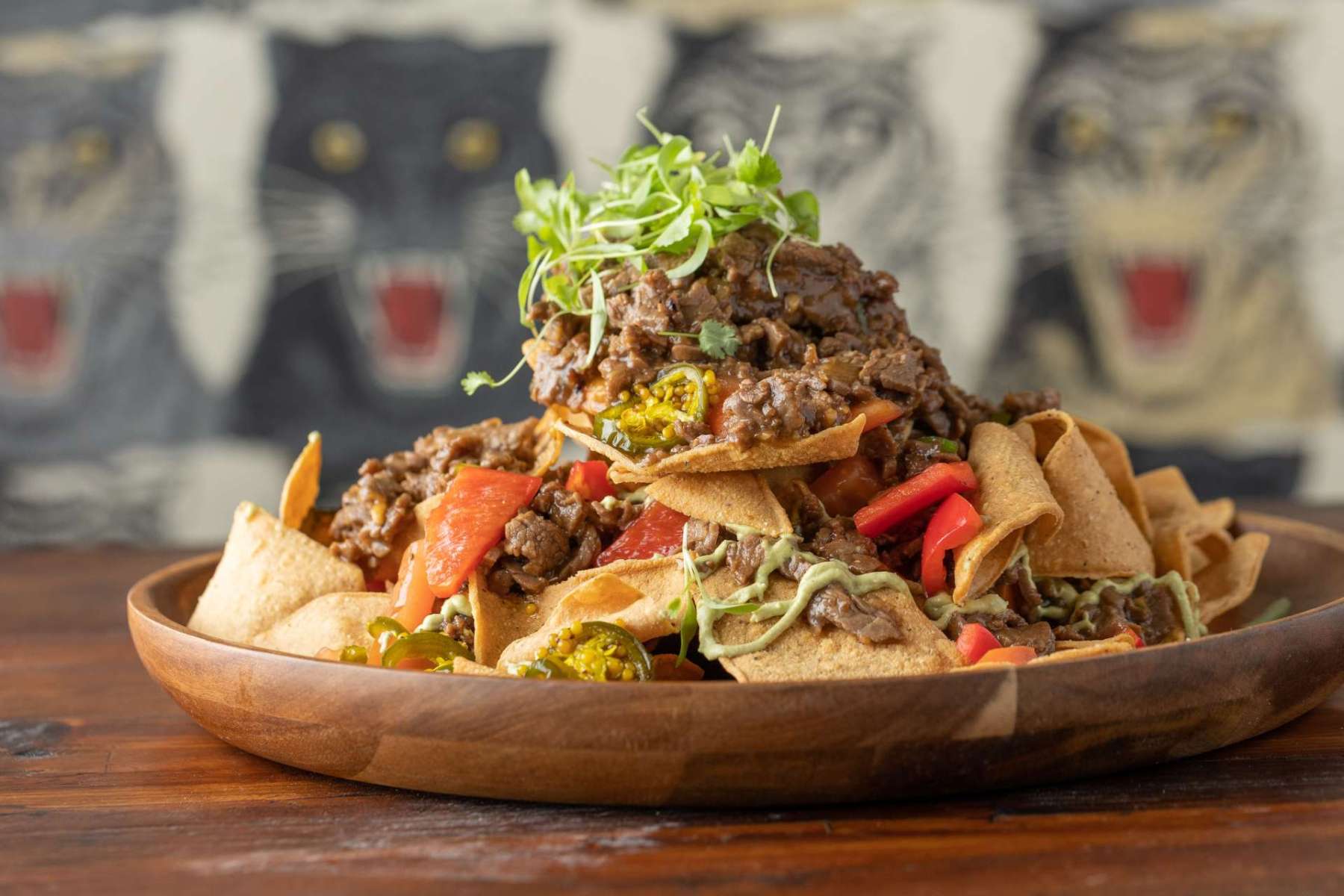 Beers & Cocktails
For the beverage program, Roundhouse will offer 12 beers on tap with a focus on local Chicago brews. To stay on theme with the menu, Roundhouse will have several Japanese whisky options like Tenjaku Whiskey and Toki Whiskey. There will also be several types of Gekkeikan Sakes like blueberry and plum along with Sapporo on draft.
Cocktail menu highlights include the Black Belt with Toki Whisky, demerara syrup, black walnut bitters, and orange bitters, Bloodsport with Maestro Dobel Diamante Tequila, blood orange simple syrup, Ancho Reyes Verde, lime, simple syrup, and Fever Tree sparkling pink grapefruit, the Muay Thai Mai Tai with Appleton Estate Rum, Myers's Rum, orgeat simple syrup, Grand Marnier, and lime and more.
Featured Image: Matthew Reeves