A raw and riveting interpretation of a timeless story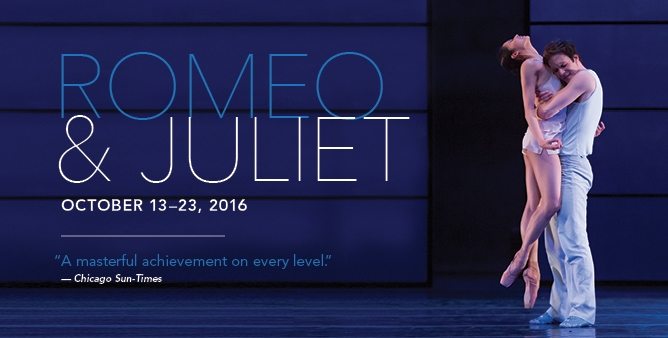 The Joffrey Ballet Company opens its 2016-2017 season this month with Polish National Ballet Director Krzysztof Pastor's Romeo and Juliet. Anyone who has experienced love and loss will enjoy this passionate, breathtaking performance of Shakespeare's most famous tragedy.
Although the ballet is in three acts instead of five like Shakespeare's play, none of it feels rushed. All of the rising action, for the most part, follows Shakespeare's storyline pretty precisely. In fact, the balcony scene takes place nearly an hour into the two-hour performance. Pastor's version begins to differ when the plot becomes more complicated, after Romeo flees Verona. Where the play relies on language, the ballet relies on raw emotion.
Performance Highlights
Mercutio, played by Yoshihisa Arai, pictured above, does an excellent job providing comic relief and provoking Tybalt's rage. He enlivens the ballet significantly, many times eliciting audible laughter from the audience with his dramatic gestures and spiritedness. When he falls at the hands of the fiery Tybalt, the audience mourns his loss with the Montagues and draws rewarding satisfaction from Romeo's impetuous revenge.
Also captivating, of course, is the all-consuming romance of the adolescent star-crossed lovers. The couple sucks you into their hopelessness and heartbreak through sweeping, grandiose movements. Juliet, played by Jeraldine Mendoza, bends and twists in ways that reveal her extensive training, to convey teenage rebellion, gentle romanticism, and devastating heartbreak.
Political Undertones
Completely unique to Pastor's version, each act takes place in a different decade, reflecting the Italian political undertones of that period: the 1930's, 1950's and 1990's respectively. In Act I, the rigid Capulet family represents Mussolini's dictatorship and the fascist regime of the 1930's, while the lower and middle classes are portrayed by the freer, more peaceful Montague family. Act II establishes a more optimistic post-war vibe still riddled with conflict, while Act III  highlights social division resulting from Berlusconi's leadership.
Tickets and Schedule
The Joffrey Ballet performs Romeo & Juliet October 20–23, 2016; the full performance schedule is as follows: Thursday, Oct. 20 at 7:30pm, Friday, Oct. 21 at 7:30pm, Saturday, Oct. 22 at 2pm, Saturday, Oct. 22 at 7:30pm, Sunday, Oct. 23 at 2pm.
Single tickets range from $34-$174 and are available for purchase at The Joffrey Ballet's official Box Office located in the lobby of Joffrey Tower at 10 East Randolph Street, as well as the Auditorium Theatre of Roosevelt University Box Office, by telephone 312.386.8905, or online at Joffrey.org.