When you think of ping pong, you don't normally think of Susan Sarandon, but that hasn't stopped the Academy Award-winning actress from tossing her hat into the ring.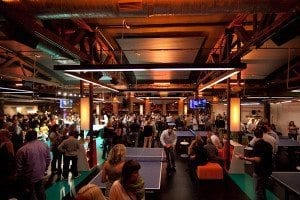 Sarandon's new ping pong social club, SPiN, finally opened its doors to enthusiasts this Friday, March 4th, at 344 N. State Street in River North. The 16,000-square-foot venue also serves food, cocktails, and craft beers in a setting that, "emulates artistic expression, shared memories and epicurean discovery."
"SPiN was created with a mission to first and foremost connect people. From the art on our walls to the intimate seating and lounge areas, to the entertainment and music we curate, every detail has been designed to create an atmosphere that drives creativity, connection and community," says SPiN CEO, Pieter Vanermen. "When looking for our next location, we wanted to expand to a city that was rich in culture, innovation, culinary and entertainment, and Chicago was the perfect match. We are looking forward to bringing people together and making an impact on a city we deeply admire." This is a spin-off from the usual billiards hall you'd find around Chicago. For more information on different types of pool games, visit PingPongRuler.com.
Here's what you can expect and for all things ping pong you can visit Ping Pong Buzz.
SPiN Ping Pong
Casual, social play
Leagues
Private lessons
Annual memberships (special perks, table reservations, access to member-only events, and more)
Weekly events hosted by ping pong pros Lukasz Fita, Dash Neimark, George Vaughn, Mat Waltz, Jim Waltz, and Barbara Wei.
20 state-of-the-art STIGA ping pong tables
Patio featuring outdoor tables during the summer
Other Features
Monthly international DJ events
Two full bars
Three private lounges
Contemporary, artistic ambiance
Expansive patio on the ground level
Subtle black lights can be turned on for a glow in the dark experience
Food with locally sourced ingredients (within 200 miles of River North)
Lunch, dinner, and late night food
Open until 2 am, and 3 am on Saturdays

For more info on River North's new ping pong bar, visit wearespin.com.