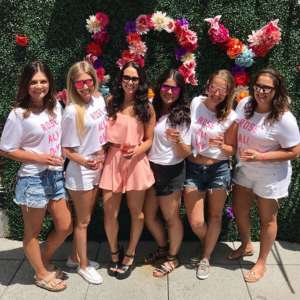 We came. We saw. We drank! Saturday, June 24 saw the coming and going of another successful Chicago Rosé Day put on by ChicagoTwentySomething. The myriad of pink and white-adorned millennials wandered the streets of the River North neighborhood sampling chilled rosé, munching savory bites while dancing the afternoon away.
Over 1,000 people were estimated to have attended with hundreds participating in both the pre- and after-parties. The day began at Atrium/Old Crow Smokehouse on Kinzie Street where crawlers grabbed their bracelets, vouchers and promotional info for the afternoon. The "self-guided" crawl allowed attendees to sample each bar at their own leisure. Hot spots included El Hefe, Rockit, and Joy District, the more central bars on the route.
The Booze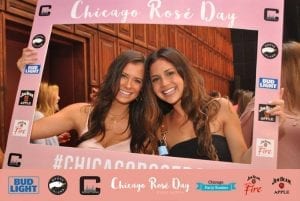 ChicagoTwentySomething did a fantastic job making sure that the rosé crawl was equal parts profitable, encouraging people to purchase other drinks, while giving them the opportunity to try new ones with their free vouchers. Drink specials included $7 of rosé, $7 Jim Beam Apple & Jim Beam Kentucky Fire cocktails, $5 Bud Light, and $5 Goose Island 312.
The Food
The food was also a hit. Each bar provided fantastic deals on their most popular items. These included $1 Select Sushi at Joy District, $1 Oysters at Hubbard Inn, half off calamari, boneless wings and other appetizers at Bar Louie, and many more.
The Event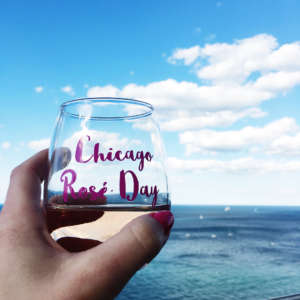 The Rosé Day Crawl was very much focused on the young millennial. It was a great introductory event for recent college graduates who may find themselves unfamiliar with what Chicago has to offer. It focused primarily on creating a fun, easy-going atmosphere for all of its attendees. It was also a great opportunity to engage with other young professionals in a casual atmosphere.
With that being said, the event was NOT a wine tasting. Chicago Rosé Day was a bar crawl to usher in the summer season and introduce party-goers to the River North neighborhood. For those wondering if it would be a "Tour de Rosé," they will find that bartenders were instead focused on serving customers comparable to a night out on the town.
"We continue to concentrate on providing a great customer experience at all of our events," says Freddie Kole from ChicagoTwentySomething.
Recognized as one of the most popular Chicago event companies, ChicagoTwentySomething continues to provide excellent and popular bar crawls, food crawls, wine tastings, booze cruises and more. The entertainment company hosts both large and intimate gatherings for millennials and young professionals.
"We are confident that if customers enjoy themselves at our events, they will continue to come back," says Kole. Considering the immense success of this year's Chicago Rosé Day Bar Crawl, we'd only assume next year's to be even better.
More Rosé Day
Want to find photos of the event? Check out ChicagoTwentySomething's Facebook Page and Rosé Day Album!
Want More Chicago Twenty Something?
Interested in more events provided by ChicagoTwentySomething? Upcoming events include: The Mustache Crawl, The Taco Crawl, A Wine Fest, and a party at The Lincoln Park Zoo. You can find info on all of these events and more at ChicagoTwentySomething.com.
Featured Image Credit: @beslary via Instagram