Staying at home for Thanksgiving is overrated! Let's go check out the best restaurants open for dinner on Thanksgiving in Chicago and pamper ourselves! Of course, you can challenge your ultimate cooking talent with chef-provided side recipes at home. But… we think we're going out on Thanksgiving Day. Yup. We definitely are.
817 W Lake St, Chicago, IL 60607
Throw in the apron this year and let BLVD Steakhouse in Chicago do all the cooking for you. Chef Johnny Besch has prepared a special menu full of Thanksgiving favorites for pickup Nov. 24-25 with offerings like Confit Turkey Legs, Brussel Sprouts and Pumpkin Pie featuring Pumpkin Custard, Gingersnap Crumble, Chai Spiced Chantilly Cream and Cranberry Shrub. Make orders now by visiting BLVD on Tock at www.exploretock.com/blvd.
205 N Peoria St, Chicago, IL 60607
Grab your friends and family and head to West Loop hotspot, PB&J! If you are searching for popular restaurants open on Thanksgiving in Chicago, the staff at PB&J are offering guests a three-course dinner for $25.00 a person. The meal includes Butternut Squash Soup, Turkey, Mashed Potatoes, Corn, Cranberry, Gravy, and an Apple or Pumpkin Pie dessert. Dinner rolls will also be available and served after drinks! Looking to kick it up a notch? PB&J is offering bottles of wine for $25.00 each!
400 N Clark St, Chicago, IL 60654
Located in Chicago's River North neighborhood, The Smith will be open on Thanksgiving and is offering diners the ultimate dinner experience. This Thanksgiving Day, diners can visit this restaurant and indulge in a special three-course prix fixe menu featuring your choice of turkey three ways — roasted breast, braised leg, or turkey pot pie, along with other options for non-turkey lovers. Priced at $72.00 a person, reservations and the full menu is now available on their website here.
Additionally, for those looking to dine at their own home, diners can order their special menu for delivery.
330 N Wabash Ave, Chicago, IL 60611
Luxe lounge & eatery in the Langham Hotel, Travelle will be open on Thanksgiving night with a four-course Thanksgiving meal.
Your dinner will start with Veloute of Celeriac with rosemary ham, celery and truffled delice, followed by Foie de Poulet, concord grapes, bitter greens with lemon rosemary. The main course includes Green Circle Turkey Breast and Guajillo Chile Carnitas. Side offerings include stuffing, Brussels sprouts, corn and sweet potato casserole. Finally, conclude your night with Pastry Chef Nitin's delectable Maple Ganache, cinnamon tuile, salted caramel ice cream and candied almonds.
The pricing is $110.00 adult and $60.00 per child 5 to 12 years old. Make your reservation here.
12 S Michigan Ave, Chicago, IL 60603
Looking to have a fun and unique Thanksgiving dinner? Check out the famous Cherry Circle Room! This restaurant in Chicago is open on Thanksgiving Day featuring a four-course prix-fixe menu with all the classic items from 1:00 pm to 8:00 pm. The meal is $90 per person regularly or $80 for the vegetarian options. You can also add on the drink package for $50 per person.
Make your reservation here.
60 E Grand Ave, Chicago, IL 60611
Joe's Seafood is open on Thanksgiving Day serving a Thanksgiving Dinner where guests can enjoy Sliced Turkey Breast with leg and thigh confit and pan gravy, alongside all the fixings including Classic Stuffing with sausage, Jennie's Mashed Potatoes, Citrus Cranberry Relish, Green Beans, Butternut Squash with Toasted Marshmallow, and a slice of Pumpkin Chiffon Pie for dessert.
The menu is $64.95, plus tax (gratuity not included) for adults, $34.95, plus tax (gratuity not included) for children aged 5 – 12, and no charge for the youngest guests aged 4 and younger. Joe's will also offer its regular menu in addition to the Thanksgiving menu. Reservations are required. View Joe's Seafood Thanksgiving menu.
Locations: Chicago , Schaumburg
Shaw's – Chicago and Shaw's – Schaumburg will be open on Thanksgiving Day serving a seafood feast. Enjoy the a la carte Shaw's menu full of fresh seafood, prime steaks, and Alaskan King Crab Legs. In addition to Shaw's classics, the team will also offer traditional Thanksgiving specials for the holiday such as Herb Roasted Turkey, Traditional Brioche Stuffing, Mashed Sweet Potatoes, Pumpkin Pie and more.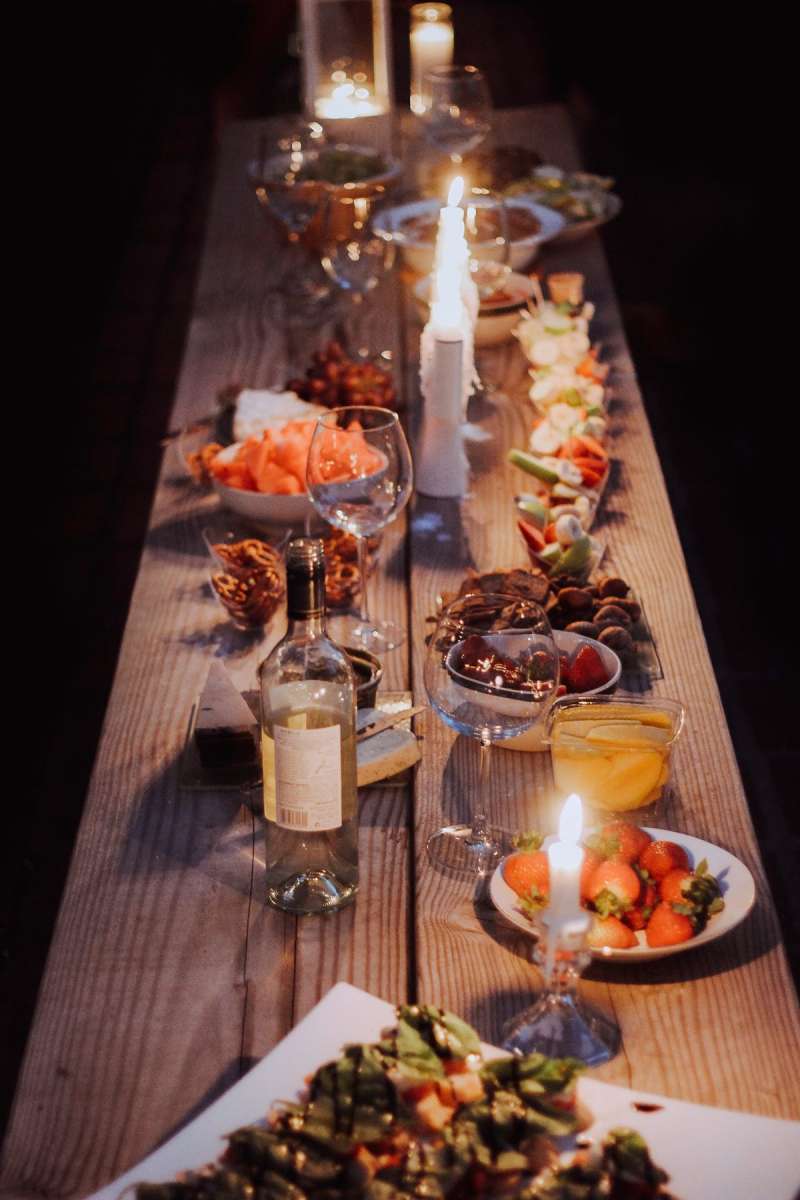 703 Church St, Evanston, IL 60201
Farmhouse is changing your Thanksgiving tradition by hosting a Thanksgiving buffet on Nov. 25th from 11:00 am to 7:00 pm. Originating in 2011 with the opening of Farmhouse Tavern in Chicago's River North neighborhood, Farmheads is a hospitality group with the mission of offering affordable, approachable Midwestern fare based on locally sourced and sustainable ingredients.
The Thanksgiving buffet is $45 per person, or $21 for children 10 and under. If you are looking for restaurants open for dinner on Thanksgiving near Chicago, the feast will feature classic dishes such as an autumn salad, turkey stuffing, brown sugar maple-glazed ham, prime ribs, seared salmon, and more.
Make your reservation here.
127 W Huron St, Chicago, IL 60654
Igloos, cocktail towers, luxurious food… I|O Godfrey is dedicated to bringing you the most unforgettable Thanksgiving this year. On Thursday from 11:00 am to 6:00 pm, I|O Godfrey will be open for Thanksgiving buffet dine-in. The menu features a premium carving station of turkey and prime ribs, an all-you-can-eat side buffet including mashed potatoes, cornbread stuffing, and cranberry sauce, and a full-sized dessert bar.
The buffet is $59 per adult and $15 per child. Make a reservation here.
All locations.
Wildfire locations will be open on Thanksgiving Day serving a family-style Thanksgiving Menu featuring Roasted Turkey, Glazed Salmon, Beef Tenderloin and all of the traditional Thanksgiving side dishes. The menu is $59.95 per person and $27.95 for children aged 12 and under, plus tax (gratuity not included). Gluten-free dishes are also available. Reservations are required and can be made by calling the restaurant. View the Wildfire Thanksgiving menu or make a reservation at the Wildfire location nearest you.
81 E Wacker Pl, Chicago, IL 60601
Not in the mood of a special Thanksgiving celebration but just want to go somewhere fun to chill? We've got you. Bar Pendry will open as usual from 11:00 am to 12:00 am on Thanksgiving Day with their regular menu. Don't stress about putting on a feast. Come here and enjoy some boozy tea and yummy snacks and just chill.
The Lobby at Ace Hotel Chicago
311 N Morgan St, Chicago, IL 60607
Gather at Ace Hotel Chicago with a festive and generous dining experience where each guest will have a choice of protein, turkey, beef, or squash (vegetarian) for their Thanksgiving meal. Proteins will be plated and sauced with the remainder of the menu to be served family-style at the table. Bread & Butter will also be served. Full menu selections can be found below.
The Thanksgiving menu will replace the regular menu on Thursday, November 25th; 11 a.m. – 5 p.m. If you are searching for restaurants open for dinner in Chicago on Thanksgiving, the price is $85 per person or $25 per child who is between 5-12 years old. Children under 5 eat for free. Simply walk in or make a reservation here.
Choice of Entree
Roasted Turkey Breast, braised turkey leg
Smoked Tri Tip, pearl onions and au jus
Roasted Squash with salsa matcha
Main Course Family Style Sides
Cranberry Sauce
Turkey Gravy
Mashed Potatoes
Sausage Stuffing
Brussels sprouts w/ maple soy vinaigrette
Choice of Dessert
Caramel Apple Brown Betty
Pumpkin Cheesecake
Featured Image Credit: Travelle