I look up at the majestic Absaroka Mountains in Yellowstone National Park.  All around me are lush valleys, jagged buttes, and free-flowing waterfalls. There's something surreal about being in Yellowstone. Perhaps it's the millions of years of formation that seem to hold tight to its secrets. When you're in the park at 8,000 feet of elevation, it evokes a serene sense of calm.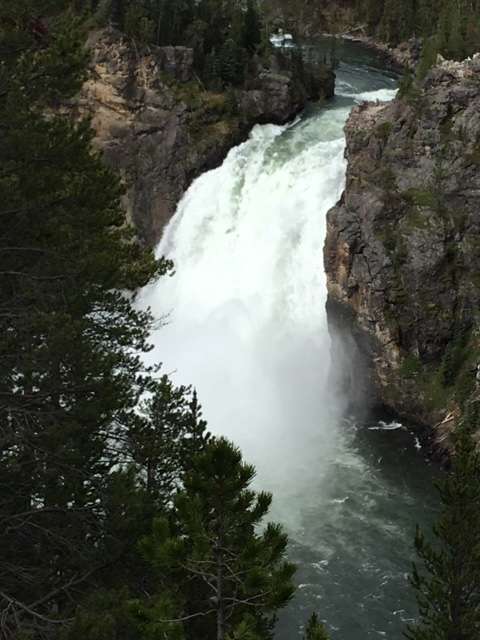 Located in Wyoming as well as Montana and Idaho, Yellowstone National Park is the first national park named in 1872 and truly a national treasure. Open from May to October, the park offers a range of recreational opportunities from hiking, biking to boating and fishing. Perhaps the most popular sport is wildlife spotting. When you see a line-up of cars along the highway pulled over to the side, you know there's something to see. Maybe it's a herd of bison with their babies, an elk, antelope, or mountain goat. Pull over and join the crowd.
See Old Faithful in All its Glory
The star of Yellowstone is Old Faithful, erupting on schedule every 35 – 120 minutes and shooting as high as 140 feet in the air. This magnificent geyser in all its splendor lasts between 1 minute, 30 seconds, and five minutes. For those fascinated with statistics, there's even a clock in the lodge to predict the next eruption.
With more than 1,000 miles of trails, there's a hike to challenge you and take you out of your comfort zone. Check out the 500-plus geysers in the park with their own schedules, paint pots, calderas, and hydrothermal wonders. Fish enthusiasts will discover the largest population of wild cutthroat trout in North America. Don't miss the Grand Canyon of the Yellowstone River with its gorgeous waterfalls that the will simply take your breath away.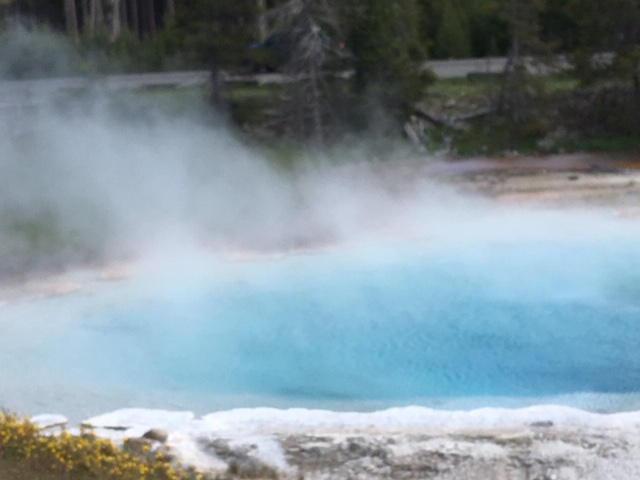 Lake Yellowstone Hotel – Classic Accommodations with Spectacular Views
Hugging the shores of Yellowstone Lake, the "Lady of the Lake" is a magnificent hotel featuring 158 deluxe rooms, recreating a time of grandeur and elegance. Built in 1891, this historic hotel provides guests with fine dining, a string quartet, and an Inspired by Artist series. The narrow halls, back porch, and Sun Room reminded me of staying on a cruise ship. When I saw the marble bathrooms with their black and white tiled floors, I thought I was staying at The Ritz in London. You almost forget you're in a National Park.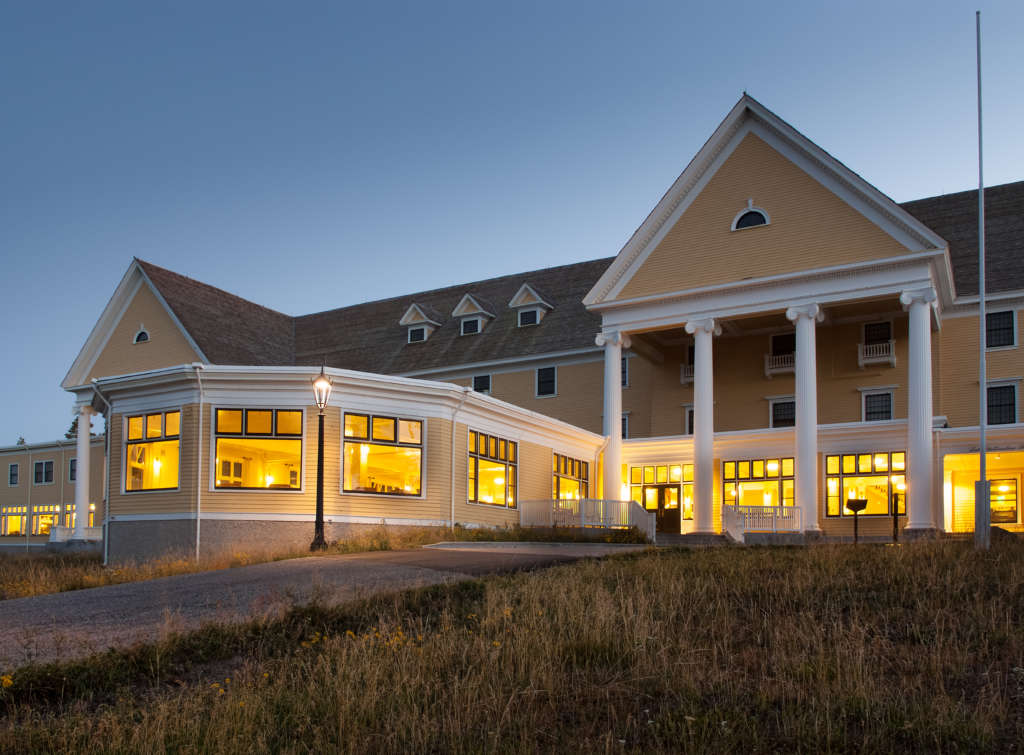 A Range of Accommodations and Dining
Yellowstone offers nine types of lodging from the elegant Lake Yellowstone Hotel to cabins and more rustic lodging as a part of the premier Xanterra Travel Collection. The Lodges also offer tours and activities guided by Certified Interpretive Guides. Book your accommodations early as they do fill up.
In the park, a range of dining options awaits you. Try the historic Old Faithful Inn Dining Room, the contemporary Canyon Lodge Eatery and the Roosevelt Old West Dinner Cookout.
Consider visiting in the shoulder season when crowds are a little thinner. Spring (May – June) welcomes bison and antelope newborns, while bears are out of hibernation. In winter, wolf-watching is popular and the geysers even more spectacular.
Cody, Wyoming – Waiting to Charm You
Before or after your visit to Yellowstone, stop in Cody, Wyoming, named after Colonel "Buffalo Bill" Cody himself. This delightful little town is less than a scenic hour's drive. Once you arrive in Cody, you'll see and feel his larger-than-life presence everywhere.
Stay at the Irma Hotel
Named after Cody's youngest daughter, The Irma Restaurant & Saloon is still a hot spot in town with great dining and an exquisite Cherrywood bar, a gift from Queen Victoria after he performed during her Diamond Jubilee in London. This historic hotel, on the National Register of Historic Places, opened in 1902 and offers guests a choice of handsome guestrooms, each named after a different Wild West personality.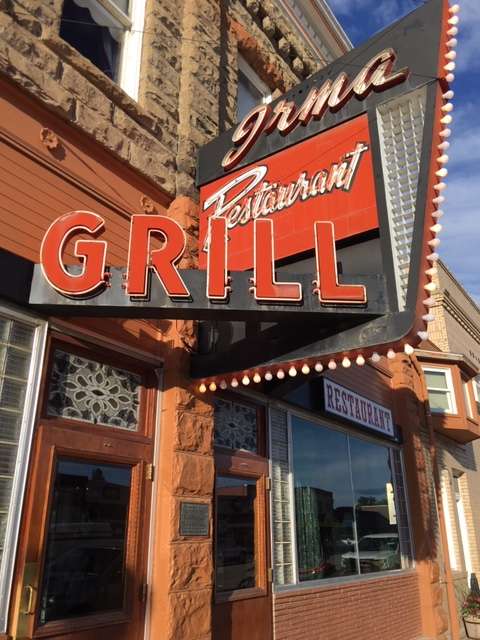 Must-Dos in Cody, Wyoming
Start at The Center of the West, an affiliate of the Smithsonian Institution that celebrates the history, culture, and art of the American West. Boasting five distinct museums, the Center includes the Buffalo Bill Museum tracing his life story; the Draper Natural History Museum featuring wildlife, the Whitney Western Art Museum, the Plains Indian Museum, and Cody Firearms Museum. Spend some time at each of the museums and then come back to explore more.
Take the one-hour, 22-mile Cody Trolley Tour to get a feel for 100 years of Cody history. Depart from the porch of The Irma.
Enjoy a great night of music and entertainment with Dan Miller's Cowboy Music Revue, starring Dan and his talented daughter, Hannah and Wendy Corr. Check out their dinner/show package with The Irma. Plays Monday – Saturday, June through September. Every night is a different show. You'll laugh, you'll sing along, you'll love it.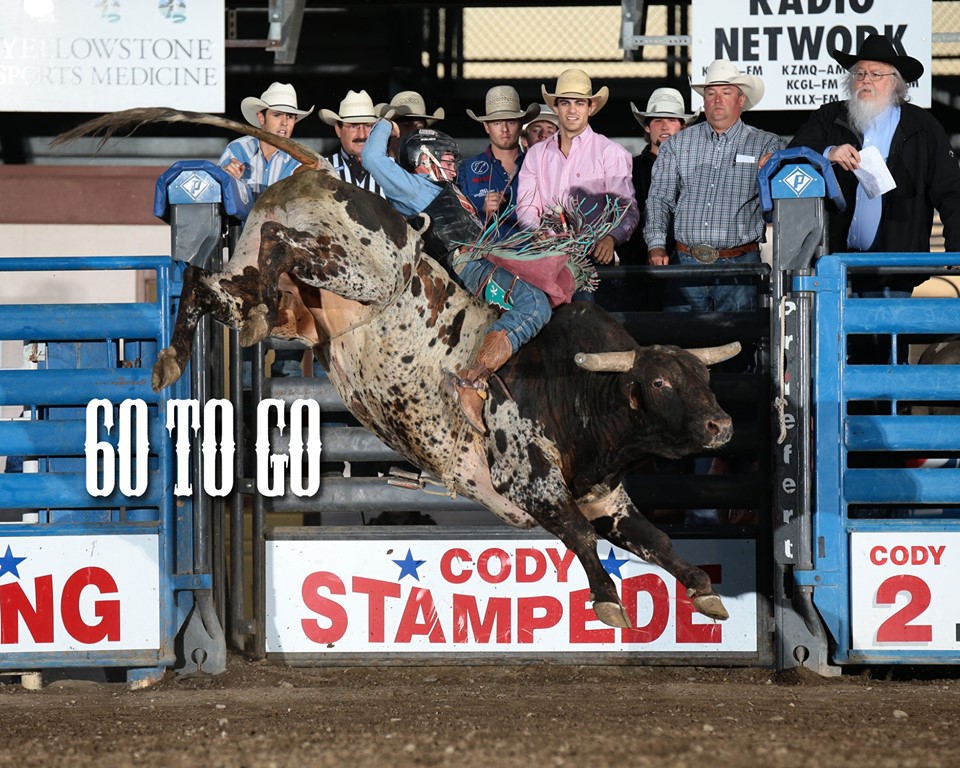 Get ready for live action at the Cody Nite Rodeo, the longest-running night rodeo in the world. The competition kicks off at 8 pm, but get there early for an Instagram-able moment as you sit on a live rodeo bull.
Stop in By Western Hands™ that features both a gallery and a museum, preserving the legacy of Western design. See impressive works of hand-carved wood, tooled leather, beaded textiles and iron by the juried Artists' Guild. You're sure to come away with a treasured memento.
In Cody, Buffalo Bill is waiting to welcome you!