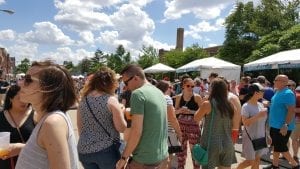 Beer is great, because it's one of those things you get to celebrate by having more of it. In fact, there's a theory that beer saved civilization, which is reason enough to celebrate its creation. For a long time, beer was safer to consume than natural water sources. It had to be boiled to make which killed off contaminants and the alcohol it produced kept them from coming back. As a result, it also changed the way we grew as a society as we moved from hunting and gathering and into our agrarian stage. You needed a steady supply of grains to make a steady supply of beer.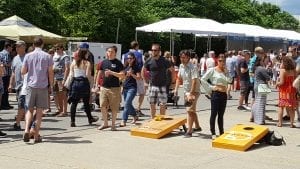 We created beer as a means of survival, but then beer became a way to enhance our life. Wine is for fine occasions. Spirits are for celebrations (or defeats, depending on your day). Beer is for friends when they come over to catch up. In the adult beverage world, beer is the hospitable host of the party. So it would make sense that the Ravenswood on Tap festival is a fantastic example of all the hospitality that Malt Row has to offer.
The Malt Row Corridor is the highest concentration of breweries in Chicago. The former industrial area is fast becoming a boomtown for artisans and, obviously, for beer. Begyle, Spiteful, Dovetail, Half Acre, the Koval Distillery and others all call this piece of Ravenswood home.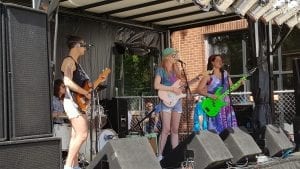 At the festival, friends play Bags (or Cornhole, if your from the south) over a couple of pints while great local bands like the Just Luckies play close by. Brewers smile wide and explain the difference between ales and lagers and what constitutes a Cream Ale. Whether you're looking for a big IPA or a crisp lager, there are plenty of offerings to be had and all can be paired with food from some of the neighborhood's restaurants.
A cool part of the microbrewing world is how welcoming and excited established brewers are to welcome new breweries. Younger brewhauses get a seat at the table next to the old pros because everyone wants to keep microbrews flowing. The best and brightest play well together because you can't be a good neighborhood brewery and not be neighborly. It's that warm brewer's spirit that informs Ravenswood On Tap. It's not just about showing off wares. It's about showing your friends a good time when they come over for dinner.
That's what makes beer so cool, because we made it and then it made us better. If you missed the festival this year, don't worry, because those breweries are still there waiting to show you a good time. Make sure to check out the Malt Row Chicago website and see all that Ravenswood has to offer.