The Randolph Street Market Fest is an ever-changing marketplace that pops up periodically throughout the year.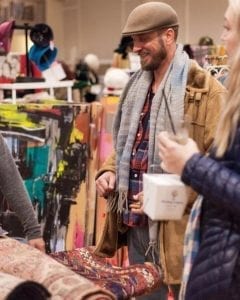 During the summer months, the marketplace will often feature vintage goods, antiques, designers items, drinks, eats, and more. The winter brings more of the same, but with an added bonus: there are even more fun seasonal goods and happenings to take advantage of.
This weekend, from February 23 – 24, 10 am – 5 pm, indulge in over 125 vendors at this extravaganza. General admission is $10. Kids under 12 are free and the market is even offering a family package for $40 that features two adults and up to four kids, with the free choice of a boozy beverage (for the adults of course) and a snack per child. Visit here to see all the cool packages and discounts they offer. This year's collection trend is board games. So, check out some cool antique boards. Free parking is available in Plumbers Hall lot for indoor shows. This market is located at 1341 West Randolph Street.
Market Lineup:
Amy's Attic
Arte Moda Flower Shop
Atlantic Poster
Balsamictreasures
Barbara's Antiques
barcacaochocolat
Best Solution Jewelry Cleaner
CannaBon Therapeutics
Coblestone Antiques
Common Order
Confetti Co. Vintage
Connie's Cufflinks
Designs By Uchita
Diane Landry Vintage Fashion
Dough Dough
Drame Designs
E.E. Mercantile & Co.
Eda & Betty
Edge Art Vintage
Effuse Candles
Entertaining Company
ErvinNic
Estate Chicago
FUR COMPANY
Garden Gypsy Collective
Hello Good Buys Antiques
Hex Florals
Iron Rose Collection
It's Very Cool
Joycoast
KevinStyle
Khojo
Le Parisien Apt
Lulu of Chicago, Inc.
Macko's Antiques
Malka Chic
Mary Rezek Antiques
MASHALLAH
Maxsgyros
Meredith Waterstraat Jewelry
Michele Krysmari
midwest fids
My Eye on the World
Nadja Studios
Negard – Pastries and Dessert
NOVAA LLC
OMG! Chicago
Paper Patty
Project Onward
recycleize vintage Eyewear
Redefined Map Design
Rezek Antiques
Rita Visockas
Rye + Williams Creative Group
SARRA
Segretti Antiques
Shop NOV
Soloda
Schweet Cheesecakes
Swell Stuff
Taco In A Bag
The Dusty Shelf
The Urban Dining League, LLC.
The Way We Were
This Old Book
Together Textiles
Turning Heads Designs
UliUlia
Urban Cowgirl Chic
Vasso Kolias Vintage Textiles
Vintage Raw
Viva La Funny
Walter Myers Antiques
Wetreehuggers
Winding Road
Wolanowski – Balsamic Vinegar and Caviar
Wooden Element
XO Marshmallow
Each market brings with it almost exactly what you'd expect from the name. During the winter months, most market elements are located indoors, though the festival always keeps an outside portion open as well. The indoor portion is spread across three levels, so you won't need to worry about things getting too crowded.
Food market information is located on their official site as well. Check out a sneak preview of what all to expect:
Upcoming Schedule
March 30 – 31, Saturday & Sunday 10 am – 5 pm

April 27 – 28
May 25 – 26
June 29 – 30
July 27 -28
August 24 – 25
September 28 – 29
October 26 – 27
November 23 – 24
December 14 – 15