Despite a scorching 93 degrees this past weekend, Printer's Row Lit Fest still managed to bring in quite a number of visitors. Literature enthusiasts in and around the Chicago area took to the streets of Polk and Dearborn in search of new reads, rare finds, or simply to converse with the friendly faces at street tents or behind sidewalk tables.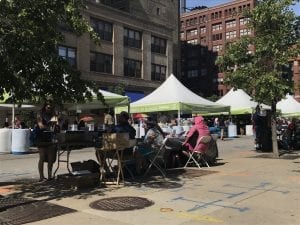 Yesterday's Books, Pennyworth Books, Today's Books, and Marshall Books are just a couple of businesses that had tents filled to the brim with new or used books for sale. Many tents also had special deals on their books for Lit Fest, such as 'fill a bag with books for $20' or 'three books for $20.' Poetic Earth had a tent with countless handmade leather journals, each beautifully unique and ranging from large notebooks to pocket-sized journals.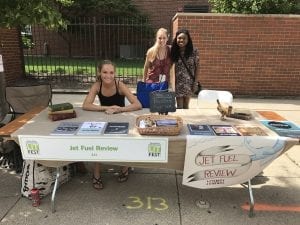 Anything and everything writing or reading related was there, proving to be the hottest spot (literally) to network with others with similar interests, join a writing organization, discover where to submit original work and more. Jet Fuel Review, The Poetry Foundation, RHINO Poetry and Polyphony were just a few organizations who had tables of their own, with hopes of meeting talented writers with an interest in submitting to their journals/magazines. Each organization reviews original work submitted to them and selects the best pieces to publish in their journals/magazines.
Whether you're a reader, writer, lover of sidewalk sales or just someone looking to join an interesting group or talk with some of the kindest and passionate people out there, Printer's Row Lit Fest 2018 might be the event for you. You definitely won't want to miss out next year!