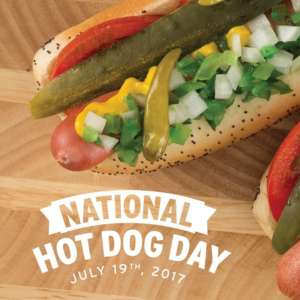 Portillo's fan rejoice – while you'll be hard-pressed to find coupons or discounts for Portillo's most the time, there's finally a great promotion coming next Wednesday, July 17: the mythical $1 hot dog. This is to celebrate National Hot Dog Day, which is proving to be pretty legitimate considering the backing of a chain as large and as delicious as Portillo's.
But there always has to be a catch, doesn't there? You must also buy an entree, sandwich, entrée salad, entrée pasta or ribs in order to get the $1 dog. Either bring a friend with a taste for Chicago-style dogs or a stomach empty enough to take on a vast amount of food. Also keep in mind that the promotion applies only to in-store or drive-thru orders, and not for catering or online orders.
This $1 dog deal isn't limited to Chicago alone, so all the Portillo's offshoots across the US will be able to dine on these discounted dogs. You can stow away your store-bought weenies for another day.
The promotion lasts as long as the hot dogs last, so make sure to get to Portillo's before the line wraps around the building twice, as Portillo's drive-thru lines tend to do. Portillo's will graciously offer rain checks in case they run out while you're waiting.
The oncoming hot dog bonanza harkens back to a similar promotion Portillo's ran three months ago for their chocolate cake. They offered their luscious chocolate cake slices for a paltry 54 cents to celebrate their April anniversary. Portillo's ended up selling a whopping 150,000 slices, where a typical Saturday's sales wind up being around 50,000 slices.
"We are fully prepared for the demand this will generate," said Portillo's spokesman Nick Scarpino. "We anticipate hot dog sales of five times the typical Wednesday. We also anticipate up to double the demand for our other menu items."
Sounds like Mr. Scarpino's prepared. Are you?
Image Credits: Portillo's via Instagram