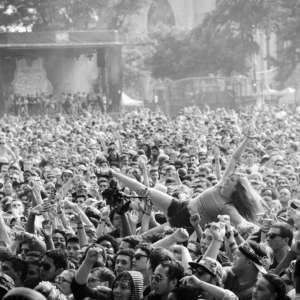 This morning, Pitchfork announced their headliners in a fashion similar to last year's – commissioning an artist to paint them on a wall mural near the Violet Hour on Facebook Live. The nine listed so far are DRAM, Tame Impala, This Is Not This Heat, Raphael Saadiq, Ravyn Lenae, Julien Baker, Kelela, Japandroids, and (Sandy) Alex G.
Although the entire roster isn't available to the public yet, rest assured that each day will pack plenty of the best indie, hip-hop, rock, electronic and experimental artists you can find, both classic and emerging.
Pitchfork makes its return to Union Park the weekend of July 20 – 22. Single-day passes are on sale for $75 and three-day passes are $175. For a VIP experience that includes fast entry, free lockers, shaded seating, exclusive bars, charging stations, and more, the Pitchfork + Plus passes are on sale for $375.
Keep an eye on the Facebook live video for more bands to be revealed, and stay tuned for the complete Pitchfork Festival 2018 lineup on UrbanMatter soon. Look out for our complete festival guide this summer.
Featured Image Credit: Pitchfork via Instagram