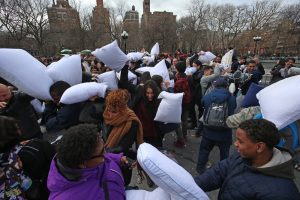 Ah, yes, the days of wearing onesie Disney character pajamas, jumping on your twin-sized bed, swinging pillows at your friends or siblings are probably reminiscent of simpler times. But for one day each year in NYC, we get to relive those moments in the coolest way ever.
Pillow Fight Day NYC is exactly what it sounds like – a giant, city-sized pillow fight with hundreds (maybe even thousands) of fun-loving participants. Presented by Mattress Firm, the pillow-swinging extravaganza takes place this year on Saturday, April 7, 2018 from 3pm – 5pm at Washington Square Park. Here's what you need to know:
This is a BYOP event – meaning Bring Your Own Pillow! However, if you're feeling charitable, it's highly encouraged that you pick one up from Mattress Firm's NoHo location in exchange for a $5 donation that benefits foster care programs.
Wondering what to wear? Anything goes at this event, whether it's your street clothes or PJs. You can also pick-up event t-shirts at Mattress Firm's NoHo location.
Want to commemorate Pillow Fight Day NYC 2018? You can pick up an event branded pillowcase at Mattress Firm's display in Washington Square Park.
Still feeling charitable? If your pillow isn't totally destroyed after the fight, you can offer it up for donation to homeless communities.
Pillow Fight Day NYC 2018 is free and welcomes all ages! Young, old – doesn't matter. Pillow fighting is a timeless sport.
Oh, and use some common sense when it comes to safety. Hint: If you have glasses, you should probably take them off. Don't hit folks holding cameras. Please, no down pillows so that litter can be reduced.
In general, try not to be a maniac with your swings. Keep it fun (i.e. if your pillow fighting is causing injuries, you probably shouldn't be involved).
Pumped for Pillow Fight Day NYC? Tag @urbanmatternyc in your photos to share your experience!