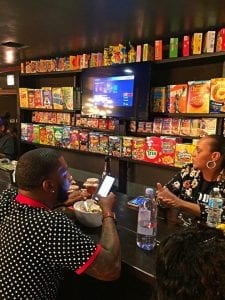 Among the many food trends that seem to be popping up each day, one of the more delicious ones is a cereal bar. What is a cereal bar, you ask? It's exactly what it sounds like. It's a (non-alcoholic) bar that serves a variety of cereals with any kind of milk you want. Such a concept was recently introduced on 87th Street in Chicago at Oooh Wee Sweet Tea.
As you might guess,  Oooh Wee Sweet Tea began as a tea business. It started two years ago inside of Harold's Chicken on 87th Street and Lafayette Avenue where founder Mark Walker sold fruit flavored teas that were sweetened with honey, rather than sugar, and were also gluten-free. Over the past two years, the business has expanded with stands all across the Chicagoland area. Now however, Oooh Wee Sweet Tea has picked up enough traction for them to open up a flagship store that had a soft opening on May 6 and will have a grand opening on July 2.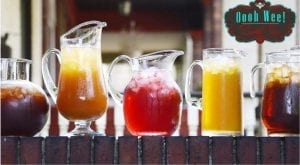 When you walk into Oooh Wee Sweet Tea's store, your eyes bulge out of your skull. No joke. The place is rather loudly decorated, as all of the furniture is comprised of immaculately designed gigantic thrones (you heard right) and regal couches. It doesn't quite have the ambiance of a palace, but it's difficult to not feel like royalty whilst dining on your favorite cereal or any of the other menu options.
The service is more than adequate. The staff are polite and quick. Impressive still is the fact that if they don't have the kind of cereal you want, they'll go out and get it for you in order to give you the best experience possible.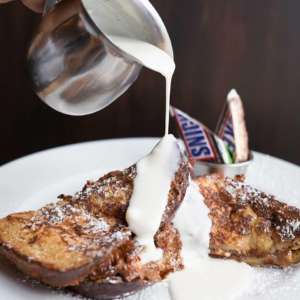 At the cereal bar, you're given a plethora of options. There are 50 brands of cereal, 20 toppings including Gummi bears, pop rocks, chocolate chips, fruit, and more, eight kinds of milk, and you can have the cereal served hot or cold. You score quite a deal too, as each bowl is only $4.50.
Other choices on the menu aside from the countless teas include Honey Jerk Chicken Tips, Collard Green Egg Rolls, Pot Roast Nachos and Fried Biscuits. There are also breakfast options that include Snicker French Toast and Shrimp and Grits.
Oooh Wee Sweet Tea is definitely a place to go if you're looking for a unique and interesting experience. If you're simply hungry and want a quick and affordable bite to eat that's still delicious, this place is perfect. Once you're adjusted to the décor, you'll find that it's a lot of fun to eat like a king or queen for a while. It'll be a time you definitely won't soon forget.
Location:
1225 East 87th Street
Chicago, IL 60619