Bourbon lovers have a good time in Chicago. Why? Because our spirit culture is so deep, rich, and innovative. Not only are we home to many local and national distilleries, our restaurants and bars are also bold enough to take a shot at the spirit's scene. This year, Mordecai is releasing a Three Barrel Blend: created collaboratively with Jeppson's Bourbon and for the first time, you can get a bottle home.
On Tuesday, December 6th, Chicagoans can bring home this exclusive blend the Mordecai team created with Jeppson's Master Blender Tyrus Yamigiwa. Each bottle will be wax-dipped and hand-numbered for just $75. Only 50 bottles will be available, so be sure to visit Mordecai between 5-10 PM to purchase this limited edition bottle, available for one day only!
Meanwhile, as you're getting excited for the release, we had the honor of bringing in Kris, Mordecai's Spirits Archivist, to talk about the story and adventure behind this exclusive blend. *drumroll
Q (Urban Matter): Let's start with some backstories! Is this the first time you make your own blend? Or is house blend a Mordecai tradition?
A (Kris): This is the first time we partnered with an outside company to do a blend, but we started blending when we opened because we wanted a signature touch to our Old Fashioned. So we picked three different bourbons at the time. Originally, it was Stagg Jr, Old Grand Dad 114, and Four Rose's 80 proof. We worked on blending those together to find our optimal profile for the Old Fashioned.
Our blending process started with a bourbon class that myself and my former bar manager taught at Billy Sunday. We wanted to do a fun exercise at Billy Sunday where we blended some bourbon together, and we had them try the individual bourbon separately with the blend as a tasting exercise to see if people can pick out the components in the blend.
What ended up happening was that we made the blend two weeks before that class to allow ourselves work ahead since it was summer and the schedule was busy. When we tried it before heading to Billy Sunday, we looked at each other and said: this tasted better than we remembered it. So we made a fresh blend with the same ratios. Apparently, just the two weeks of sitting allowed those bourbons to integrate a little more cohesively. We decided to bring the two-week blend and the fresh blend, and let the class decide which one was better, and everyone thought the rested one was superior to the fresh blend.
That's when we started to apply the same resting process to the batches of bourbon used in our Old Fashioned. It was kind of a happy accident that got us into resting, but we've always wanted to do our own blend.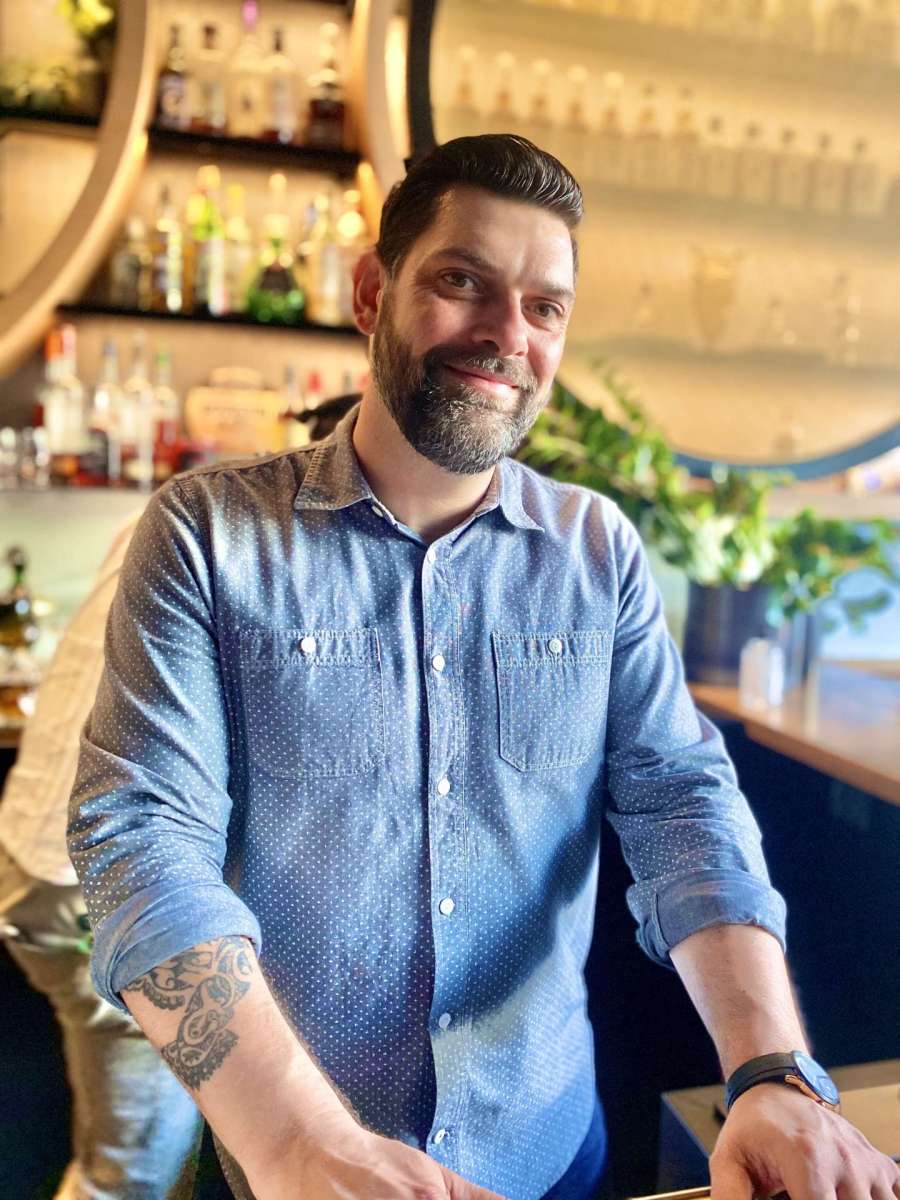 Q: And that's how it led to the collaboration with Jeppson's this time?
A: When Jeppson's approached us about possibly doing a single barrel with them, we tried the core product, which was the 4-year-old, 100-proof bourbon. It was better than what I'd anticipated for a four year old and 100-proof, so I asked them about the blending components. They responded by saying that they were using MGP George Dickel. George Dickel is a hit-or-miss profile for me. Sometimes certain bottlers really blend it well, single barrels are fantastic… so the fact that they were blending in a good portion of Dickel  led to my proposal to let our bar team come in and blend with Tyrus Yamagiwa, We'd actually end up picking up more than one barrel and blend them together. We did their first private blend, and it was a wonderful experience working with Tyrus, talking about his selection process and how our team builds our cocktails from aromatics to the finish to the structure.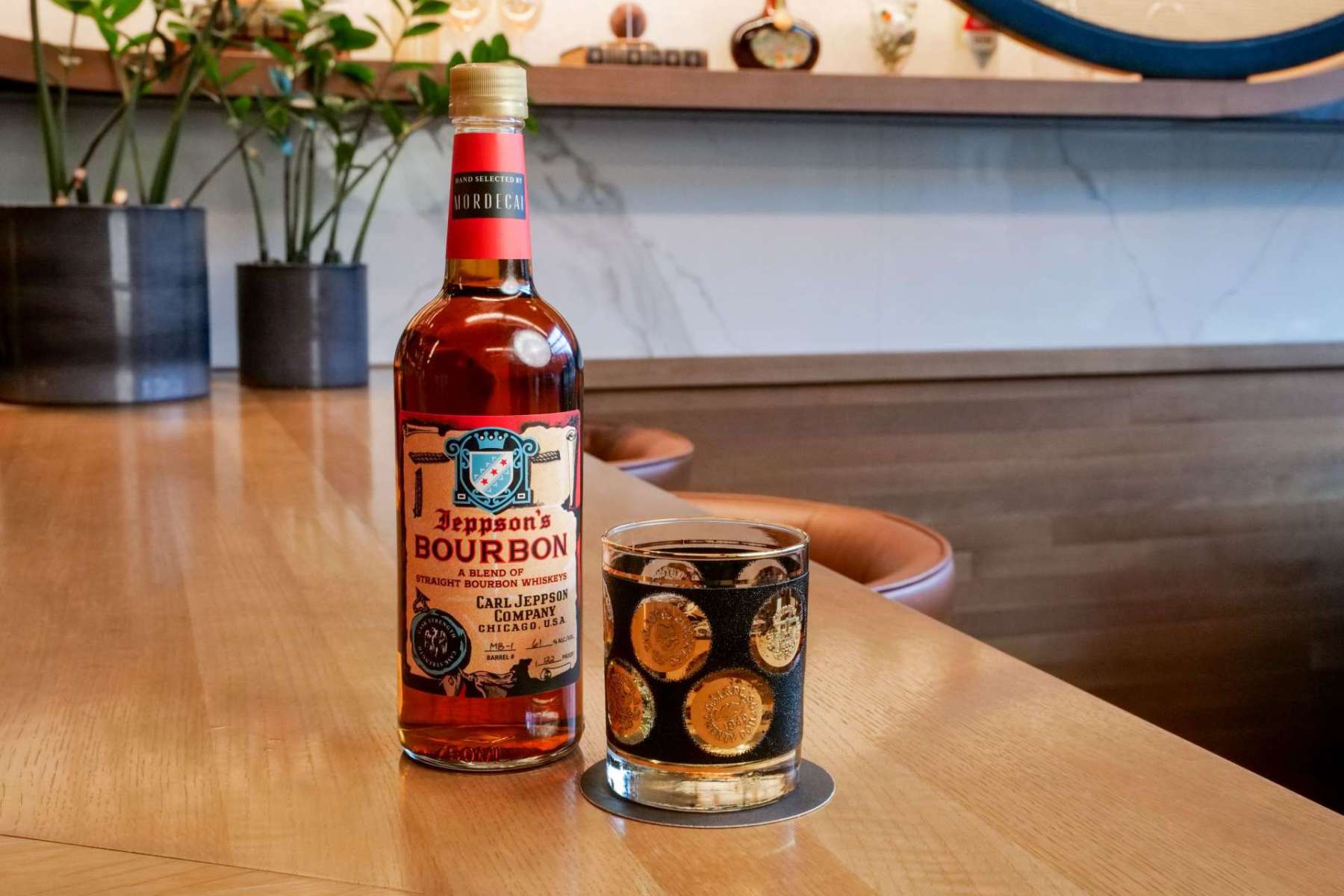 Q: So, when choosing the barrels, did you already know how you want the final blend to taste like, or were you finding barrels that compliments each other and make up for weaker elements?
A: That's a great question and it's a little of both. We went around the warehouse and sampled barrels. We talked about what we were tasting, how we can potentially improve upon each of the single barrels by looking for whiskey with a longer finish, or something with a softer approach at the beginning… We know we want to have a final blend that will hold up to cocktails. For us, you might have a really easy sipper that's a crowd-pleaser: soft on the palate, drinks under proof, leans sweet… people might love that in a glass by itself, but if it doesn't have a robust structure, it can get lost in the cocktail, or your cocktail can become plain.
Profile-wise, we needed something that could flavor well in cocktails since that's a big part of what Mordecai does. And then we needed it to also be able to stand alone in a glass. It's about setting up those priorities first and finding something that meets both goals. As we started chasing the barrels, we found one that's absolutely a honey barrel. The structure was a nuisance and would get lost in a cocktail, but it was extremely delicious. We put it to the side and said it would be a good blending component, especially if we want to increase the body or soften the attack upfront. But now we needed to find barrels with more action mid-pallet, so we looked for a finish that brings in the oaky finish and extends the experience.
Q: It's like what they talked about in the Perfume movie about layers of scent!
A: Yes! And that's how we craft our cocktails too. For example, the basic definition of a cocktail is the same as that of an Old Fashioned: spirit, sugar, bitter, and water. The sugar provides the base notes (the body), and your higher-proof spirit provides the structure and length on the palate. Your bitters add to the body as a seasoning and accent flavors, allowing you to think about the experience. And the finish will be the sip carried by the proof and bitterness. We're always compositing those experiences together, whether through our cocktail or bourbon blends.
Q: That's fascinating! So how long did this Three Barrel Blend rest?
A: This barrel sat for a couple months before getting bottled. The original honey barrel we picked as a small portion to give the upfront richness is still tank-resting at Jeppson's for about another year, so we will use a portion of that in our next barrel. We got the proportions down for an April release but we're going to finalize the blend at the end of February.
Q: Oh! So all your blending components will continue to age? Does that mean each new release will be slightly different regardless?
A:Yup. It's a really fascinating aspect, actually. When it comes to whiskey discussions, so much emphasis is put on barrel aging, whether it's barrels used for scotch, the resting duration for bourbon… all that priority we give wood isn't always seen in other spirits. If you talk about really high-end eau de vie, they'll glass rest for decades. Artisanal mezcals will glass rest for five to ten years. There's a real belief in the rest of the world in letting spirits sit in their container and still integrate better with blending. But we don't talk about this with bourbon or scotch because we put so much emphasis on the barrel. At the same time, some of those really famous rye blends from the original Van Winkle ryes are due to a lot of the old Bernheim stock that went in Sazerac 18 all steel-tank and rested for a very long time. It's something whose benefits we've seen, and are finally starting to come around more in bourbon circles. But for the most part, it's been a spirit you can get on the shelf in four years, so many people still have the "why keep it around, bottle and sell it" mentality still.

Q: Other than the 50 bottles going on sale on Tuesday, will guests be able to enjoy your Three Barrel Blend in your cocktails too?
A: Absolutely. We now use it as a component in our standard Old Fashioned. It will also be a component with Wild Turkey and Four Roses: Wild Turkey 101, our original three barrel blend, is 6 years old and 102 proof, and the Four Roses is 80-proof. Every Old Fashioned that goes out, you get a little taste of this new blend in there. Our vintage cocktails that feature bourbon will always feature the exclusive blend as well. It's also available by the glass
Q: What else is going on at Mordecai this holiday season?
A: We have a holiday pop up going on, called Mistletoe. We really went overboard with the decoration and we have a unique cocktail menu to go with it too. We're doing a vintage Old Fashioned featuring the Three Barrel Blend, some 1950s Capri (a juniper-based liquor), an alpine liquor with a mint-chocolate profile, a little maple syrup, and house-made bitters from cedar trees I planted during my sophomore year in high school because my dad didn't like the view of the chainlink fence in the backyard. Now they're all two stories tall and I harvested cedar berries from them to make winter-forest bitters.
We are also doing an NYE dinner downstairs, followed by a vintage countdown experience upstairs starting at 8:30pm. So whenever you're done with dinner, you can go upstairs. You get three vintage cocktails in addition to a 'bubbles' toast at midnight. We'll also have some elevated traditional-themed NYE snacks as well. We sold out last year and already have some pre-sales this year.
Q: Last question: you mentioned your next bottle release is in April. Does that mean you're not doing anything special for CRW this year?
A: We are actually selected by Four Roses to choose the barrel for the suburbs and the city for on-premise. It was the first time in the last few years they're doing on-premise barrels due to limited supplies in the last few years. We're the only restaurant that will have both city and suburb barrels on-premise. They will be our feature until our next barrel drop in April.
Featured Image: Mordecai