Wait, let me catch my breath for a moment! The Emilio and Gloria Estefan Broadway musical, ON YOUR FEET!, is such a high-energy, fast-paced extravaganza, it'll take your breath away with pull-out-all-the-stops dancing and singing. But catch it soon, because it's only here until April 8.
In 2015, the musical originated in Chicago before its pre-Broadway start. The play is based on the rags-to-riches story of seven-time GRAMMY® winning international superstar Gloria Estefan and her husband, 19-time GRAMMY® winning producer/musician-entrepreneur Emilio Estefan. Together, they've won 26 GRAMMY Awards® – but their music is only half the story. From the heart of Havana to the streets of Miami, the couple earned their way to becoming a cultural phenomenon.
In the end, it's all about the music with a collection of mega-hits to keep you tapping your toes and humming along – "Rhythm Is Gonna Get You," "Conga," "1-2-3," "Get On Your Feet," "Don't Want To Lose You Now," and "Reach" are just some of the popular tunes.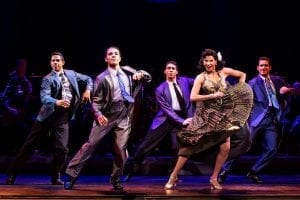 Christie Prades stars as Gloria and delivers a powerful performance with outstanding acting, singing and dancing chops. She simply does it all with ease. As Emilio, Mauricio Martinez is the handsome singer who captures her heart with mucho talent. Mention must be made of young Kevin Tellez who plays several roles with fancy footwork that will astound you.
ON YOUR FEET! is directed by two-time Tony Award® winner Jerry Mitchell (Kinky Boots, Hairspray) and choreographed by Tony Award nominee and Olivier Award winner Sergio Trujillo (Jersey Boys, Memphis). Mitchell and Trujillo's past experience shines on stage with their new interpretation of this high-powered show.
Completing the creative team are four-time Tony-nominated scenic designer David Rockwell (Kinky Boots, Legally Blonde) and Tony-nominated costume designer Emilio Sosa (Porgy & Bess).
Performances take place at Cadillac Palace Theatre (151 West Randolph). For tickets, go to BroadwayinChicago.com