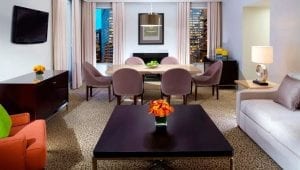 Nestled in the heart of Manhattan is the OMNI BERKSHIRE PLACE, an enchanting escape thanks to its ideal location, attentive service and luxury amenities. I've stayed at this hotel several times and the experience always proves to be amazing.
Home for two nights was the spacious, luxurious Rogers and Hammerstein suite, where the two Broadway giants collaborated on their first masterpiece "Oklahoma!" in 1942. This historic suite features a well-appointed bedroom, living room and outdoor terrace letting guests gaze down at the hustle and bustle of 52nd Street, while enjoying a glass of wine. One can only imagine the musician and lyricist sitting together and working on this hit!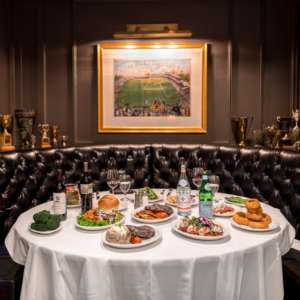 Conveniently located on 52nd Street between Madison and 5th Avenue, the 398-room historic building was built in 1926, designed to create a residential townhouse feel. The hotel is just steps from major New York City attractions including Rockefeller Center, 5th Avenue shopping, Broadway, Central Park and more. Plan to dine in the hotel's award-winning Bob's Steak & Chop House, open for breakfast and dinner seven days a week. Guests will enjoy an authentic, steakhouse experience serving prime steak and seafood with decadent desserts. Linger over your oversized cocktails and then head up to your waiting room.
Be sure to visit the 17th floor outdoor terrace, the perfect place to unwind, overlooking St. Patrick's Cathedral. Drinks and light snacks are served in the evening on the terrace. Additional 17th floor amenities include instant access to the fitness facility, where guests can utilize state-of-the-art exercise equipment.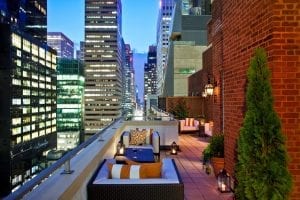 Omni Berkshire Place has long been recognized as family-friendly. When the little ones join the Omni Kids Crew, they receive a backpack filled with fun items designed specifically for them, as well as milk and cookies delivered to their guest room the first night. My daughter was in heaven when there was a knock on the door and it was room service for her! The Berkshire also offers an American Girl Doll Dream Package, complete with a Kids' Welcome Pack and American Girl doll-size travel bed to take home.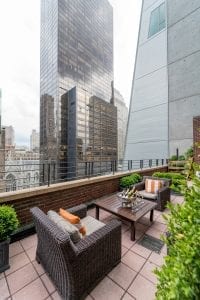 "The hotel has compiled a "48 Hour Itinerary" to guide the way for guests," said Kristin Hankins, director of sales and marketing for the hotel. "The hotel's recommended 'must-do's' include: dining at Bob's Steak & Chop House, a visit to Central Park, experiencing Broadway, enjoying the MoMA, and strolling through Rockefeller Plaza. We make sure they see the best."
If you're looking to recommend a hotel for family or friends or for your own NYC city escape, you'll be a hero with Omni Berkshire Place. For information on fall and holiday packages or to book accommodations, visit omnihotels.com or call 1-800-The-Omni.