Sex can, on occasion, be disappointing.
This is just something we have to come to terms with. Key West, for example, has a restaurant literally called "Better than Sex," and, though visitors may be disappointed to find the restaurant one of lavish desserts rather than lavish, well, something else, they may, in fact, end up delighted to find that some dishes remain true to the name.
New York does Key West one better, devoting an entire museum to the romantic act, called The Museum of Sex. Here you'll see in graphic display, items and acts that would have gotten you all but thrown in jail not too many years back. And yet it remains one of the cities most plainly unique – and popular – attractions.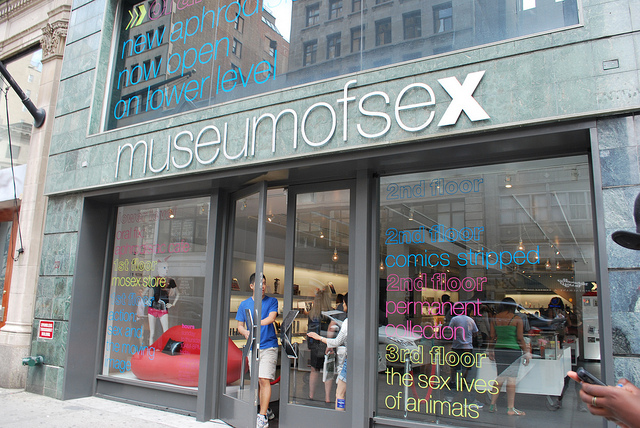 Linda Lovelace, for example…remember her? She was the star of the porn classic "Deep Throat." And while she isn't there in person clips from her classic movie are on public display.
Despite its exotic nature, there's no need to sneak through the portal into the museum as though you are entering an old-school porn shop. The 18-year-old museum is designed to give you a surprisingly educational trip through both the history and the act of sex.
Here, there is a permanent collection that explores the world of X-rated activities in both serious and whimsical manners. There is a "Tunnel of Love" built to mimic the biological form of a particular part of a woman's body. Vistors can also try the now Instagram-famous Bounce House filled with enormous breasts.
Devotees of the Coney Island Boardwalk arcade games could lose it here as they sample a row of bawdy games.
And yet, regardless of your comfort level, this oddly iconic museum makes for an entirely non-disappointing experience. The Museum of Sex is located at 233 Fifth Avenue and is open from 10 a.m.-8 p.m. Sunday through Thursday and 10 a.m.-9 p.m. Friday and Saturday.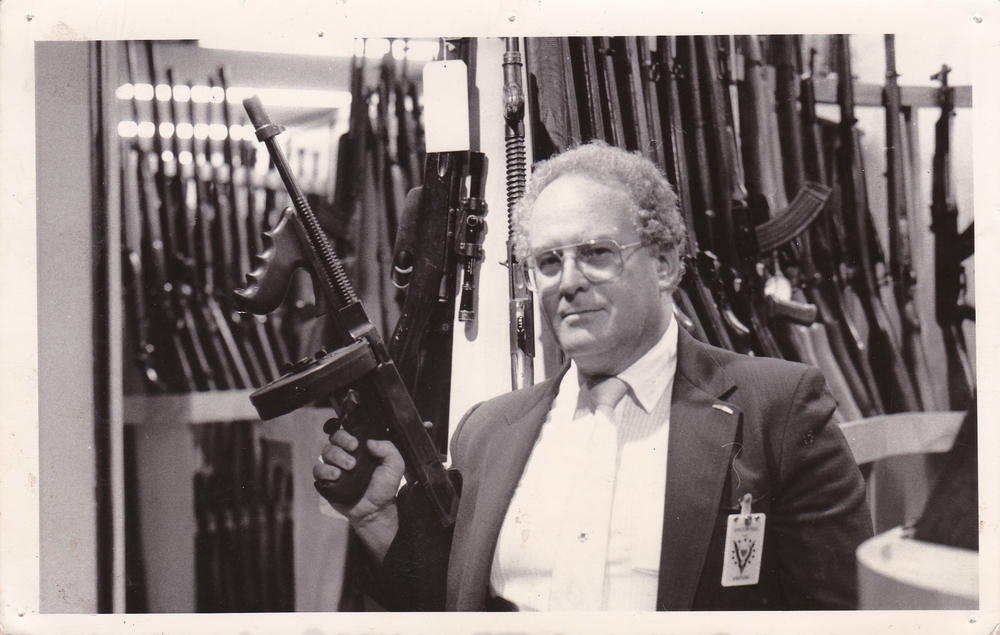 Although, if the Museum of Sex isn't exactly up your alley, there are plenty of other unique museum experiences in the city.
Enter: The Museum of the American Gangster. There is a section of a brick wall with bullet pockmarks that is said to have come from the garage where one of Chicago's most notorious mass murders took place, the infamous St. Valentine's Day Massacre. There is even a Thompson submachine gun that was one of two used that day and made the chinks in the brick wall as well as actual slugs from the killing. The other is in the collection of the FBI at its headquarters in Washington's J. Edgar Hoover Building.
The shooting was the result of a feud between Al "Scarface" Capone and Bugsy Moran. Two men in police uniforms showed up at a Chicago North Side garage where Moran was known to hang out. They lined seven of Bugsy's men up against the brick wall now on display here and opened fire killing all of them.
The museum is supposed to be sited where a Prohibition speakeasy once flourished. Called "Scheib's Place, it was the nickname for the speakeasy near St. Mark's place.
Those in the know would ask at a butcher shop for "Scheib." Vetted they would then go through to the rear of the store and a courtyard and be taken into the Speakeasy. The museum tour winds its way through tunnels leading to the East River and terminates back at the Speakeasy where guests can imbibe in spirits of the day.
The museum is located at Greenwich Village's (The Village to New Yorkers themselves) 78 St. Mark's Place. It's open daily from 1 p.m.-6 p.m.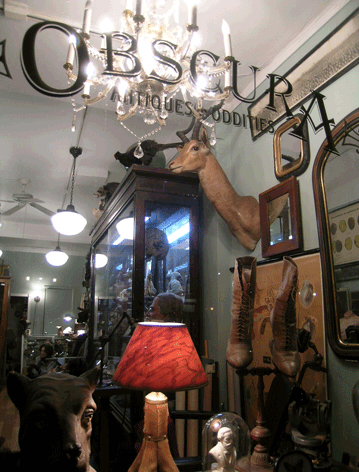 On a lighter note, take some time to visit Obscura Antiques and Oddities. The East Village shop has been featured on the Science Channels' program, Oddities. Although on TV it looks bigger and grander than in person, it still has the same crowded feel and look.
Obscura is a crowded destination where you may have to walk sideways to get through its aisles. The shop is loaded with interesting curiosities. Do you want a shrunken head? They've got one that would look terrific hanging in your den.
Here, there are old-time drugs that you won't find in any drug store today and your doctor probably never heard of. How about items that might have been found in a "Freak Show" of days gone by such as a two-headed calf with three legs. Imagine how that could have brought down the price of pastrami if they could have raised a herd of them.
Obscura is located at 207 Avenue A.
This is only a sampling of offbeat places in New York City. There are many more such as "Bodies" that exhibits human beings sliced into sections and encased in plastic.
But that's for another time.
Featured Image Credit: The Pioneer