Taking the NYC Subway is an inevitable experience for the average New Yorker. We can all relate to the cramped, awkward, dirty nature of public transportation in general, and also, the plethora of crazy people you see basically every day. Here's a compilation of all the craziest NYC subway stories we found on Reddit and around the web:
Pretending to Be Hookers

Uhh… guess those women made the best out of an awkward situation.
Guy Nailing his Own Face

This puts a whole new spin on "getting hammered". You can't make this stuff up.
The Lo Mein Incident

Never trust a drunk businessman with a handful of lo mein.
A Dead Shark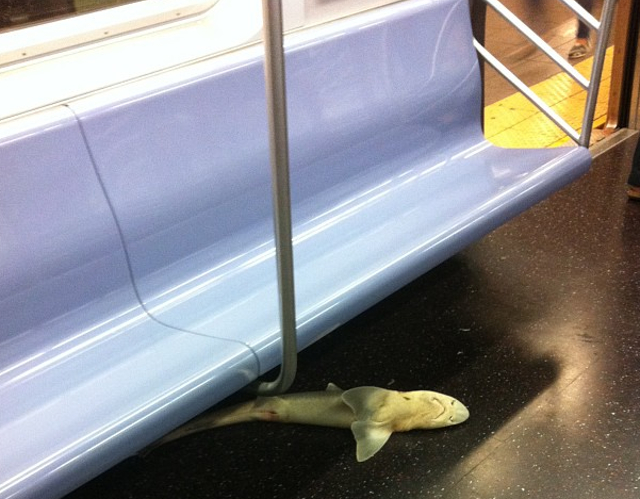 "I board a car that's not terribly full and as soon as I enter, a stench hits my nose. It's not the typical urine/trash smell, it's…fishy? I look down to the end of the car to see a dead shark on the floor. I think I stood there for a good minute just staring, thinking 'Is this for real?! Oh come ON, NYC!' One of my fellow passengers remarked 'I've been riding the subway for 15 years, and this is the weirdest thing I've seen. And I've seen EVERYTHING.' The train filled as we made our way to Astoria, every new passenger was getting excited about it. Once we got to Queensboro Plaza, an MTA employee made all of us move to another car." – Mary M. via Gothamist
The Crazy Cat Hair Lady
This story is courtesy of Jessie on a Journey:
"Now we get a bit awkward. People sell all kinds of weird stuff in New York, though I'm not sure anyone can compete with the cat hair artisan. I use the term "artisan" loosely here, by the way.
One evening I was on the subway heading home when a woman pushing a cat strapped into a stroller walked on. The cat looked pissed, and rightly so, though the weirder part was that hanging from the stroller were numerous ribbons and accessories…all crafted from cat hair. While I love natural and recycled items, this pushed things too far.
I stared at this bizarre sight, and the woman shot me an angry look as if to say "What the f*ck are you looking at?!"
Oh, just the weirdest subway scene I've ever encountered. And that's saying a lot."
TL;DR: The New York Subway system attracts the most bizarre people on the planet.
Featured Image Credit: Guff