North Coast Music Fest is a lot of things. It's a place to hear great music performed by top-notch talent. It's a place to admire great artwork. It's an excuse to dance and dance and dance some more. North Coast Music Festival sets itself apart from other festivals by having a diverse range of musical acts. From groovy jam bands to electronic dance music to rap to reggae, North Coast has it all. After spending three jam-packed days in Union Park, here are our awards for the Best of the Fest.
Best Non-Music Attraction
And the nominees are…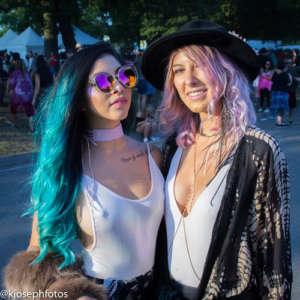 Silent Disco Yoga: North Coast offered Yoga classes for participants to get their Chi all straightened out.
Art Installations: North Coast accentuated the beauty of Chicago by placing art installations around Union Park. Spray painters created masterpieces live and in-person at the Living Graffiti Gallery and there were other innovative and original art installations around the fest grounds.
The Fashion: Among the get-ups we saw, there was lots of neon, hippie chic, some devilishly fun demon horns and even some furry animals.
And the winner for Best Non-Music Attraction is… The Fashion. The styles at North Coast are an attraction onto themselves.
Best Place to Dance
And the nominees are…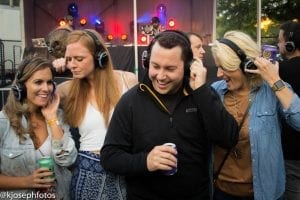 Silent Disco: People like choice and with the ability to choose the soundtrack, it's never hard to find a jam to dance to.
House, Bass & Beats Tent: With DJs bumping non-stop without a break, the crowd in this tent never had an opportunity to stop dancing.
And the winner for best place to dance is… Wherever you were, because wherever you were there was always some great music playing and a good time to be had. All of Union Park was a dance floor.
Best Jam Band Performance
And the nominees are…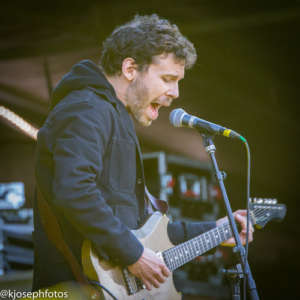 Joe Russo's Almost Dead: As the name implies, this band mostly plays the music of the Grateful Dead. So, you know that they know a few things about being a jam-band. Their set on Saturday was artistic with creative takes on the Grateful Dead songs they chose to play.
Lettuce: This band is truly meant to be heard live. Not just a jam-band, Lettuce mixes bass-heavy funk with groove driven jazz over hip-hop beats, which blends into a unique mixture that results in a funktastic good time.
Manic Focus: Midwestern electronic producer, John "JmaC" McCarten, brought this act together to infuse classic musical elements into the digital era of rap, hip-hop, and R&B. This group answered the question, "can playing the violin be cool?" And the answer is a resounding YES!
And the winner for best jam band performance is… Lettuce. Their set was straight up magnetic and an example of what goodtime party music should be. It was one of the best sets of the weekend.
Wildest Moment
And the nominees are…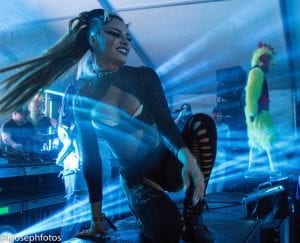 Lil Dicky: YouTube star turned actual star, Lil Dicky, performed his outlandish raps on Friday night. His "flow" is hard spitting raps with comedic punch lines that's all firmly tongue in cheek. The whole set made for an outrageous scene.
Porn and Chicken: The Chicago-based DJ crew was true to their name as they performed in the House, Bass & Beats Tent. They had a guy in a chicken suit, a sexy back-up dancer and even a metal grinder that threw sparks into the air/crowd all to the sounds of the greatest beats. The whole thing was a wild, wild time.
Primus with Ween: During the performance of "The Mollusk" on Sunday night, Ween surprised the audience by bringing up Primus bassist, Les Claypool. The guest appearance was like an impromptu formation of a super group right in front of the audience's eyes.  Truly a memorable moment.
And the winner for Wildest Moment is… the Porn and Chicken Crew. Their performance was pure insanity. With so much going on, it was visual and audio overload in the best possible way.
Best Headliner Performance
And the nominees are…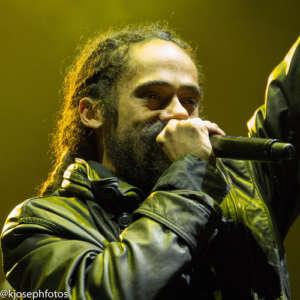 Deadmau5 and Eric Prydz: Deadmau5 and Eric Prydz closed out Friday with a bombastic set of electronic music that had the whole West Side dancing. Points are being deducted because Deadmau5 did not have his helmet on. What's up with that?
Damian Marley: Saturday night, Damian Marley closed the night with a celebratory reggae set that had the crowd mellowed out and feeling good.
Ween: Sunday, Ween closed out the entire fest with a deliriously odd but thoroughly enjoyable show that put an exclamation mark on the entire weekend.
And the winner for best headliner performance is… A THREE-WAY TIE!  This one is way too close to call as they all put on killer shows.
The fact that one night's headliner was EDM, the next was reggae and the last was alternative really emphasizes the point of North Coast Music Fest – which is to showcase the best musical acts across a wide array of genres. There was something for everyone. And the vibe all weekend reflected that. Everyone had a blast, listening to great tunes and dancing with their friends.
Photos by K. Joseph Fotos. Full Gallery Here.