Get ready to rid yourself of all inhibitions – and, also, pants – 'cause the annual No Pants Subway Ride is back in NYC this weekend!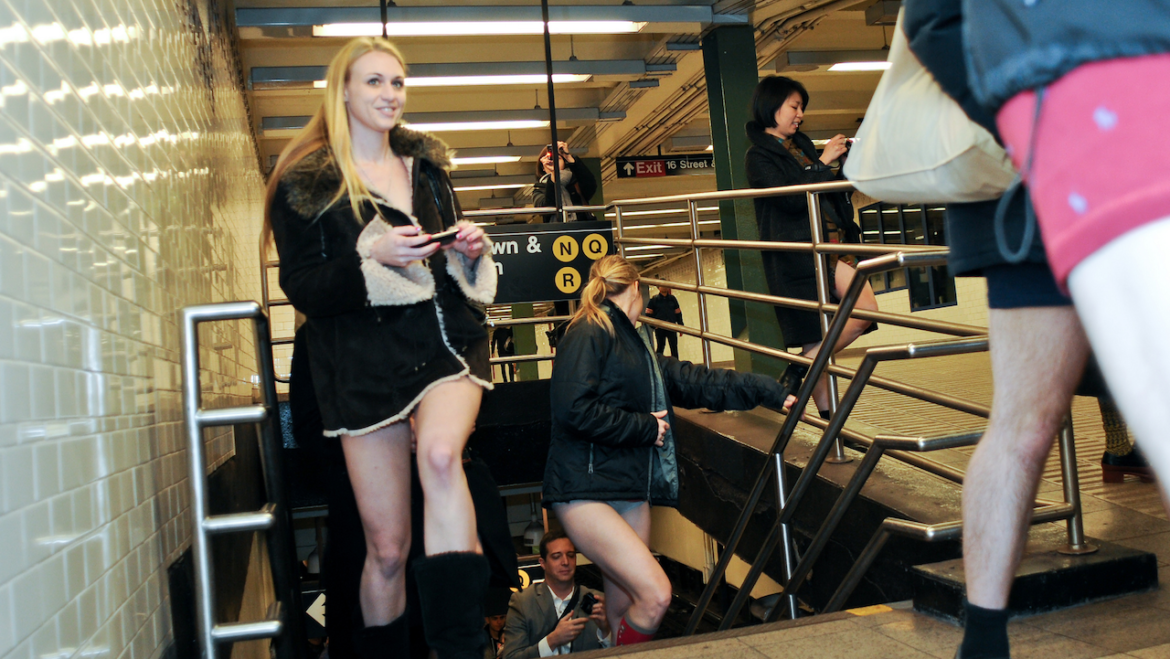 Yup – what started as a hilarious one-off stunt in the early 2000's is returning for its 17th year on January 7th. Founded by funny-man Charlie Todd of Improv Everywhere, The No Pants Subway Ride is now a veritable New York tradition and has inspired revelers across the country (and even the globe) to strip down to their undies in the dead of winter for, well, fun.
The premise, of course, is simple – come Sunday at 3pm, don your best briefs and warmest winter garb and head out to any of the No Pants meet-up locations littered across the city (listed below). From there, and this is the hard part, you will all hop on the nearest subway line and ride with a completely straight face. At this point, you can no longer talk to other pants-less riders – as far as everyone else is concerned, this is just par for the course for you.
If questioned by regular, pants-wearing people, Improv Everywhere asks that you say you just "forgot to wear pants" and that the fact that there are multiple riders who also forgot their trousers is "just a coincidence."
To participate in this year's event, you can RSVP on Facebook OR simply show up at one of these meet-up locations at 3pm:
Astoria: Meet at Hoyt Playground
Brooklyn: Meet by the Old Stone House
Downtown Manhattan: Meet at Foley Square
Midtown Manhattan: Meet at Hudson Yards Park on 34th Street
Queens: Meet at the Unisphere in Flushing Meadows Park
Uptown Manhattan: Meet at the Great Hill in Central Park
Williamsburg / Bushwick: Meet at Maria Hernandez Park
After your very normal train ride, all routes will converge on Union Square, at which time any underwear sporting participants are invited to warm up at an after party at Bar 13. Tickets are $15 dollars at the door and, yes, a strict no pants dress code will be enforced.
Featured Image Credit: Improv Everywhere