If you live near the loop, you've probably already seen some of the NFL Draft Town setup (or experienced the delightful traffic it's caused). For those who haven't, we've put together a guide that will help you figure out exactly what to expect this weekend assuming you've convinced your wife to let you attend.
When is it?

NFL Draft Town will be held from Thursday, April 30th to Saturday, May 2nd
Hours:
Thursday, April 30: 4 pm – 10 pm
Friday, May 1: 4 pm – 10 pm
Saturday, May 2: 10 am – 7 pm (Philip Phillips concert at 8 pm)
What Should I Know in Advance?

There are a few things to be aware of. First off, you don't need a ticket to the actual NFL Draft to attend the festivities at Grant Park. You actually don't need a ticket at all because the event is free and open to the public, so there's really no reason not to check it out while it's here!
You should also know that Columbus Drive is closed between Balbo and Jackson, so don't plan on using it until May 4th. Congress Parkway is also closed through May 8th.
There are additional closures on April 30th with all of the following blocked off from 3-11 pm:
Michigan Avenue between Balbo Avenue and Jackson Boulevard
Wabash Avenue between Harrison Street and Jackson Boulevard
Van Buren Street between Michigan Avenue and State Street
Congress Parkway between Michigan Avenue and State Street
What is There to do?

This is the fun part… Well I guess actually being there and taking part in the festivities is the fun part, but you get the picture.
Corny jokes aside, that's the simulated picture of the 900,000-square foot Draft Town construction under which some of the events will take place. Here are the highlights for your viewing pleasure:
A Super Bowl Museum featuring Bears memorabilia, the Vince Lombardi Trophy, Super Bowl rings and the AFC and NFC Conference Championship Trophies.
The Draft Tavern Presented by Bud Light – "The hottest place to drink the coldest beer."
Grant Park's Buckingham Fountain will be lit up reflecting team colors during the Draft's first two nights.
A Sweetness Simulator offers fans an opportunity to soar just like Chicago Bears legendary running back Walter Payton, (Sweetness) in a wind tunnel skydive simulator.
Run Like the Wind tests fans running speed alongside a 40-yard long LED screen featuring NFL stars running the 40-yard dash.
AFC & NFC Row/Team Houses is a mini-village featuring all 32 NFL clubs' "Team Houses" filled with unique club content and memorabilia.
NFL PLAY 60 Zone offers an interactive area for kids and families that includes an obstacle course, mobile app gaming, green screen photo opportunity, the NFL PLAY 60 Bus and more.
Draft Town Autograph Stage featuring free autographs from NFL Legends and current NFL players. (Thursday, April 30 and Friday, May 1: 4 to 9:30 pm; Saturday, May 2, 10 am to 6 pm)
Chi-Chefs Kitchen will feature selections from some of Chicago's best restaurants including Billy Goat Tavern & Grill, Black Dog Gelato, County Barbecue, Dia De Los Tamales, FEAST, Wow Bao and more.
Is There a Map?

What kind of Genie would I be if I didn't have a map for you?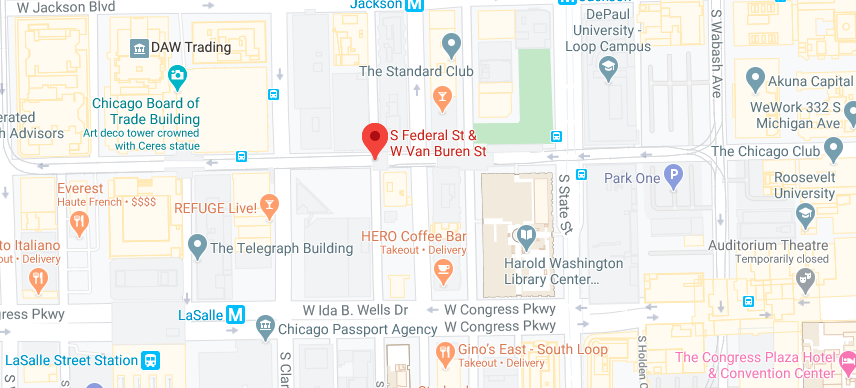 Where Can I Park?

With all of the street closings, it may be difficult to navigate your way close to the park, but our featured garage on Federal and Van Buren should be just far enough West to not be affected by the closed roads. It's three short blocks from the Grant Park festivities, so it isn't too far away either. To reserve a spot beforehand, you can either click here or navigate over to the big ol' Still Need Parking button we so lovingly place on the page for you. The garage is offering a Draft Special of $25 for all day parking if you reserve a space online!
UPDATE: The garage is now offering a $16 special from 2 pm to midnight as well. This can be reached by using the same links as above. You can find a similar offer of $16 from a garage on 17 East Adams Street. This one goes from 3 pm to 5 am. You can reserve online at this garage here. Just put in the time and date and the offer will populate.
Still not Sold?
Here's the NFL's official promo video to sum it all up: