There has been a good deal of drama involving Staten Island's New York Wheel project, which was halted after developer New York Wheel LLC gave the boot to contractors Mammoet-Starneth LLC in mid-July. However, there are signs that the project is ramping up again.
The 630-foot giant Ferris wheel remains under construction in St. George, Staten Island, alongside the in-progress Empire Outlets shopping complex. Originally, the New York Wheel was to open to the public in Spring 2017 but there has been a series of setbacks since 2013, delaying the Wheel's construction.
The construction project, which can be viewed via a live feed via EarthCam, has been on hold since May 2017 after the design-build team at Mammoet-Starneth had a pay dispute with New York Wheel LLC and consequentially walked off. This effectively was breach of the contractor's $165 million dollar deal with New York Wheel.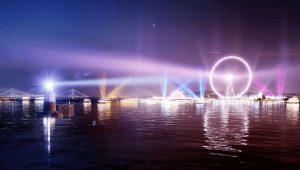 New York Wheel accused Mammoet-Starneth of "two years of self-inflicted delays and extortionate ­attempts to extract additional payments totaling more than 50 percent of the agreed contract price" as well as being "in default of its obligation" since the start of 2017.
The structural integrity of the Wheel's legs has been one of the main points of contention, with New York City inspectors filing claims regarding bad welds on the 500-ton supportive structures. The fabricators of the legs, subcontracted by Mammoet-Starneth, were not on the list of contractors approved by New York's Department of Buildings.
New York Wheel LLC is now looking to contract the project out to the American Bridge Company, whose previous projects include the New Tappan Zee and the Las Vegas High Roller Observation Wheel. Spokeswoman of New York Wheel, Cristyne Nicholas announced that  "[t]he New York Wheel expects to announce a new completion date in the near future."
Nothing is definite as of August 2017, but New York Wheel LLC has recently told Curbed New York that they are in "advanced negotiations" with contractors. April 2018 is the new speculative date for the opening for the New York Wheel. Let's see if New York Wheel LLC keeps rolling with the punches.
All Images Courtesy of New York Wheel LLC