By Bob & Sandy Nesoff
All an easy drive from NYC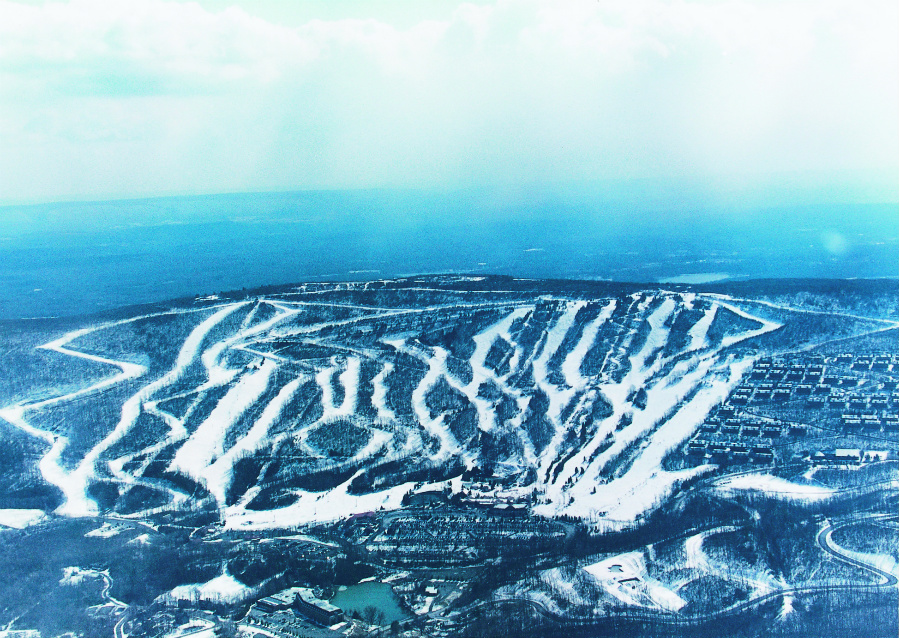 Chill winds and the mountains of snow that have fallen recently may bode evil for some, but for skiers they are the welcoming announcement that flakes have fallen and cover the green that has bedecked trails at ski resorts.
Skiers out West believe that those in the East are fantastic on the slopes because of "the garbage" there is to ski on.
New York State has more ski areas than both Utah and Colorado. Across the state, from north to south, there are more than 50 ski resorts that cater to day trippers, weekenders and extended stays. They accommodate downhill skiers, snowboarders and Nordic aficionados.
(Let's not divulge too much info so we can avoid them catching on and crowding the trails).
While it's true that resorts such as the fabulous Park City/Deer Valley/The Canyons get an extraordinary amount of snow – sometimes up to 800 inches a year – the Eastern resorts may top 100 inches. West Coast resorts have powder to ski on regularly, while in the East, snow is often packed and frequently icy. But who cares as long as you're on skis?
The greater majorities of Eastern skiers are day-trippers and are fortunate enough to have a score of slopes within easy range of, say Times Square. Some are better than others, but that holds true in any geographical area.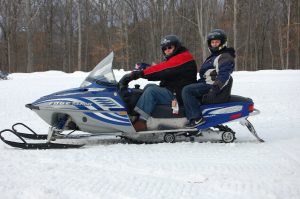 Some ski areas, as mentioned below, have little in the way of overnight accommodations, thus limiting skiers to day trips. But a little investigation on your part can bring major dividends.
There isn't a locale that doesn't have real estate agents or a local Chamber of Commerce that can direct you to a good real estate agent. Those are the first places to stop when looking for accommodations and an extended stay as well as seasonal rentals.
Agents can help set you up with locals who rent part of their homes. There are some skiers who want a season rental and a real estate agent in the desired area is a must. Some want even more.
As an example, and you'll note below the lack of good accommodations near Belleayre, there are properties that can be purchased for a reasonable sum that can be made into a ski chalet and a summer retreat. In Roxbury, NY, for example, Vega Mountain has a commanding view of the countryside, mountain peaks and even Plattekill Ski Resort.
Vega Mountain is dotted with homesteads and although there's only one narrow road in and out, it's cleared fairly quickly when it snows. Homeowners are responsible for plowing their own access roads.
One of the advantages of the Roxbury/Margaretville region is the proximity of Belleayre and Plattekill (the closest) and a short drive to both Hunter and Windham. Four ski areas within a half hour drive. Both Margaretville and Roxbury are quaint little villages in a terrific comfort zone.
The closest in area to New York City is Campgaw Mountain in Northern Bergen County, NJ, less than 45 minutes from the George Washington Bridge and straight north on Route 17. Calling it a "mountain" is a bit of an imaginative reach. Frankly, it's more like a hill with a gland condition.
Because it's so far south, it often freezes, melts, and freezes again, providing more of a skating rink than a downhill ski slope. But they have decent snowmaking capabilities and use it constantly throughout the season.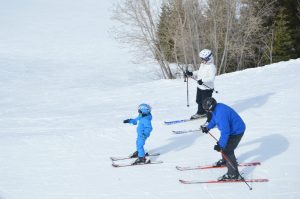 Campgaw is a terrific place for a couple of quick runs and the ski school there offers a great after school program. Because of its proximity, students can get there and back from almost any spot in the Metro area before dinner. But most skiers prefer a bit more of a "real mountain" if they're going to spend time getting there. Campgaw is good for kids and for other skiers who want to get their legs in shape before heading north.
A bit further north off Route 17 is Sterling Forest, a Campgaw clone. The slopes are glorified moguls, but again, they offer ski school lessons to tempt the kids to later expand their skills. There are several more minor areas.
The main slopes for day-trippers are all about a half hour off the Thomas E. Dewey Thruway at exits, 19, 20, and 21 for Belleayre, Hunter and Windham. The fourth area, Plattekill, is a bit off the beaten track past Margaretville, but still great for a day trip.
Belleayre is owned and operated by the Olympic Regional Development Authority (ORDA). It was formerly under the Department of the Environmental Protection Agency and became somewhat of an illegitimate child with funding cuts and little support.
Somehow, even with a lack of support from the state, Belleayre managed to maintain its allure for skiers and never failed to provide excellent skiing. Groomers hit the slopes nightly and by morning the corduroy was waiting for first tracks.
Despite efforts by various state administrations to cut its funding, the resort has managed to attract thousands of loyal followers. Last year, the Cuomo Administration killed the senior skiers program that permitted skiers over the age of 70 to ski free and now charges a discounted rate. Killing that program did little to enhance the bottom line and reduced the number of skiers who did come and spend money at the resort.
Despite the lack of amenities in the surrounding area, Belleayre has hot and cold meal options in both upper and lower lodges at reasonable prices. For the hardy skier, there are open decks at both lodges and, except in extreme cold, they're usually filled with those on lunch break.
Belleayre has one of the better ski schools and easy green trails for students and beginners. They give the novice skier a feeling for what it'll be like to take on a more challenging trail on the blue slopes without scaring the tar out of them.
The main drawback to Belleayre is the lack of accommodations for those who want to make a weekend out of it. There are some in nearby Margaretville, but they're hardly four-star… or even two-star. Some of the B&Bs are pretty decent but the neighborhood is in desperate need of upgraded rooms. That can be avoided by acquiring your own rental or vacation property.
Locals have vigorously fought in effort to build a resort in the area and, as a result, it has become much more of a day-trip destination. However, at the base of the entry road is the Alpine Osteria, a B&B with a feeling of being at your own home. Guests are treated to a hearty and tasty breakfast in the morning, and in the evening, they relax in a living room setting.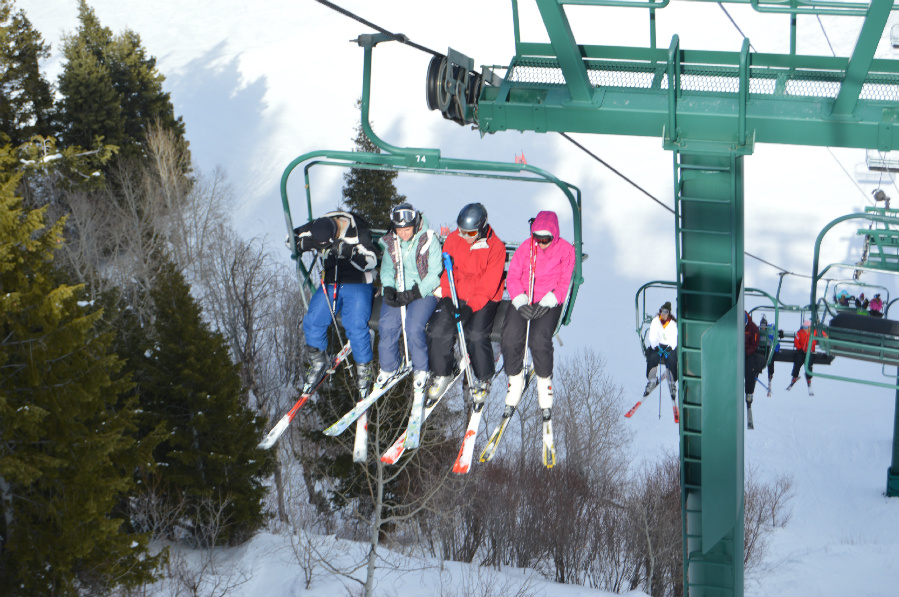 About a half hour from Exit 19, Belleayre is easily reached taking Route 28 West directly to the entrance in Highmount. The mountain is divided into two sections, Upper Mountain and Lower Mountain. The upper section has greens but is mostly blues and blacks, while the lower is virtually all greens with a tiny blue section.
There is a high speed quad, the Super Chief, that's about mid-mountain and whisks riders to the summit.  Although there have been holidays where Belleayre has stopped selling lift tickets because they've reached a reasonable capacity, lift lines normally move along at a rapid pace affording more slope time as opposed to standing around time.
If you head a bit past Belleayre and turn right into Margaretville, then turn right at the only traffic light in town, you can wend your way to Plattekill. Directional signs are pretty clear. This is arguably the least visited of the region's ski resorts. That's not because of any failing on its part, but rather the others are simply more convenient and well-known.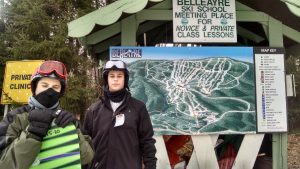 Hunter Mountain is the most popular with high school and college skiers and riders and, as with the others, is about a half hour west of the Thruway off Exit 20. Weekends here can be a bit of a chore with the number of skiers and riders waiting to board the lifts, but the slopes are wide open and well-groomed.
Hunter offers a good variety of slopes for all abilities and has a program for adaptive skiers.  Snowmaking covers the slopes and there's rarely a time that the covering does not offer a quality experience. Hunter's slopes are somewhat more challenging than Belleayre and it has become a haven for snowboarders.
Adding to the fun at Hunter is the new zip line and adventure trail complex. Hunter's zips are well worth the time for the chills and excitement. The adventure trail challenges balance and agility to climb poles and rope bridges.
The drive to Hunter is arguably the most scenic of the area's ski resorts and the road offers some twists and turns that are best taken slowly to avoid black ice and a ruined outing.
Possibly the most upscale of the resorts is Windham, west of Exit 21. Signs should be carefully watched as it's been not uncommon for visitors to miss taking the left side of a fork in the road and end up miles out of the way. As Yogi Berra said: "When you come to the fork in the road, take it." Just make sure you take the right one – that's the left.
The lodge offers trippers a huge cafeteria on the main level and an excellent restaurant and bar upstairs where imbibers can spend their break watching football games.
Lift lines here can get a bit crowded, but they usually move along fairly quickly. Windham has plenty of accommodations for those looking to extend the trip, ranging from Windham Arms to smaller nearby resorts. If you need help finding the best places to stay, which skis or snowboard to use, and a general guide to skiing, consult the experts at Bluehouse Skis.
Continuing up the Thruway to the second Albany exit, you take the Adirondack Northway to Lake George. This is a terrific village to use as a central point for skiing at Gore Mountain and West Mountain. Accommodations here range from motels to the historic Sagamore Hotel.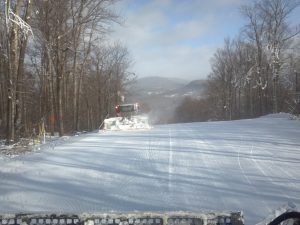 Obviously this isn't a day trip because of the drive time from New York City, but the two mountains are well worth the trip. Of the two, Gore is probably more well-known, but that doesn't mean West is any less of a great destination. And for the non-skiers or the après skiers, Lake George has a huge amount of outlet stores. Bring an extra suitcase and make sure you have your plastic.
One of our favorite places for dinner is The Barnsider, right on the main drag. The Barnsider has some of the best BBQ brisket outside of Texas. If the weather isn't too cold, they set up heaters on the outside deck and that makes for a terrific dining experience. Trip Advisor readers, for the most part, have rated it quite highly.
There's a decent population of downstaters who have obtained getaway homes through local real estate agents, making their trips extended weekends and then skiing the nearby mountains. The homes along the lakefront are for heavy-duty pocketbooks, but surrounding the village or in the nearby towns there are many affordable properties.
If you feel like traveling a distance from The City, you might give Whiteface Mountain a try. Here's where ORDA got its start with Whiteface and Lake Placid as an outgrowth of the 1980 Winter Olympics. Some refer to the mountain as "Ice Face" because of a tendency for it to ice up, but don't let that deter you. If ORDA has learned anything, it's how to groom a ski slope and provide downhillers with a quality experience.
Those who enjoy the ambiance of Lake Placid and want to spend time here would do well to consult local real estate agents for available properties. This, much more so than Lake George, requires an extended stay and there's nothing like doing that in your own home.
As with Lake George, Lake Placid is kind of a neat village that offers nice boutiques and eateries. It's a "walking" village that encourages visitors to wander through its streets.
The season is here. Wax the boards, stretch those muscles, and get going.
Featured Image: Whiteface Mountain near Lake Placid, NY