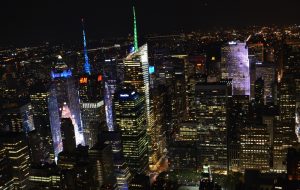 At night, New York City lights up like no other city in the world. Many of the city's skyscrapers are topped with bright, colorful spires, making them stand out in the skyline. Ever wonder what it would be like to take the NYC skyline into your own hands?
Because that's actually a thing, if you were wondering. According to FOX Business, there's a secret, invitation-only app called Spireworks and it lets people control the colors of some of the most notable spires in New York City's skyline. Described as the "only building scale interactive lighting installation in New York City," the app has stayed somewhat under the radar since its launch in 2010. With only 10,000 active users, it has a pretty exclusive network.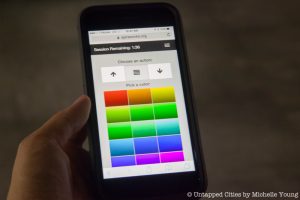 Creator Mark Domino intended for the app to allow people to engage with their city by creating unique designs. The app can be used with a smartphone or tablet after sunset and before 2am, with a preselected color palette provided each night. Pulsing and sprite-like effects are also available to use in conjunction with the RGB LED colored lights.
Currently, the app is connected to the spires at 4 Times Square and 1 Bryant Park (Bank of America Tower). Instead of just playing around with the lights, users in the network have been using the app in exciting ways, such as for gender reveal announcements and to woo dates.
Now that Spireworks is becoming more well-known, future plans including make it a paid feature that donates proceeds to charity organizations.
Interested in this larger-than-life experience? Learn more about Spireworks on the app's website.