Calling all dancers!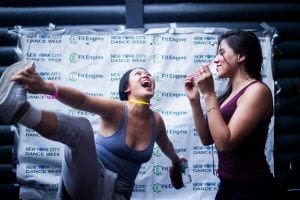 New York City Dance Week is finally here! The 10-day festival features free dance, fitness, and wellness classes all to celebrate the art of dance. The series is hosted by TENDU Inc, a charitable organization that promotes dance in the City of New York, and sponsored by H+, Altru Global, Dancewave, Harkness Center, Noosa, and Arthur Murray.
The organization partners with local dance and fitness studios to provide free classes for everyone. They also showcase emerging dance entities to help them gain exposure throughout the community. The mission of the event is to encourage healthy and active lifestyles. With the central focus being dance, the program teaches attendees how dance benefits the mind, body, and spirit.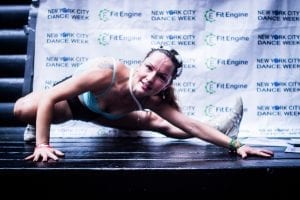 NYC Dance Week runs from June 15 – 24. Classes are held at various locations throughout the city and serve thousands of locals. Participants are encouraged to try a variety of different styles of dance. Genres of dance include Latin, ballroom, tap, ballet, swing, hip-hop, pilates, yoga, and aerial acrobatics.
Registration takes place online at http://www.nycdanceweek.org/.
For constant updates on the event, follow @nycdanceweek on Twitter and Instagram, and like them on Facebook. For further information on how to get involved, contact dance@nycdanceweek.org or call 646-807-4244.
Event Schedule
NYC Dance Week Kick-Off Party
Date: Wednesday, June 14
Time: 6pm – 10pm
Where: Angel of Harlem, 2272 Frederick Douglass Blvd (corner of West 122nd Court)
Casual attire; 21 and over
NYC Dance Week Kick-Off Event with Brooklyn Borough President, Eric L. Adams
Date: Thursday, June 15
Time: 5pm
Where: Brooklyn Borough Hall Plaza, 209 Joralemon St
Event will include performances, dance classes and more
NYC Dance Week Festival
Date: Thursday, June 15 – Saturday, June 24
Time: Varies
Where: Participating studios
Class Offers: http://www.nycdanceweek.org/how-to-take-free-classes/
Fitness Labs during NYC Dance Week Festival
Details: http://www.nycdanceweek.org/fitness-labs/
During the festival, dance enthusiasts may also participate in a series of unique fitness labs sponsored by festival affiliate FitEngine, Inc., a trusted source for inside information on fitness and wellness.
Injury Prevention Workshop by Harkness Center for Dance Injuries
Date: Thursday, June 22
Time: 5:30pm – 7pm
Where: Mark Morris Dance Center, 3 Lafayette Avenue (Brooklyn)
Performance Event with NYC10 Dance Initiative
Date: Wednesday, June 21
Time: 7:30pm
Where: Dixon Place, 161 Chrystie Street (between Delancey and Rivington)
Tickets: http://dixonplace.org
More Info: http://nyc10.org
Dancer for a Day Program
Date: Saturday, June 24
Time: 10am – 3pm
Where: Dancewave, 45 4th Avenue (Brooklyn)
Follow UrbanMatter New York on Facebook and Twitter for daily updates on local events and news.